FirstEnergy Stadium To Host Humane Pennsylvania
Paws & Claus event set for Saturday, December 12th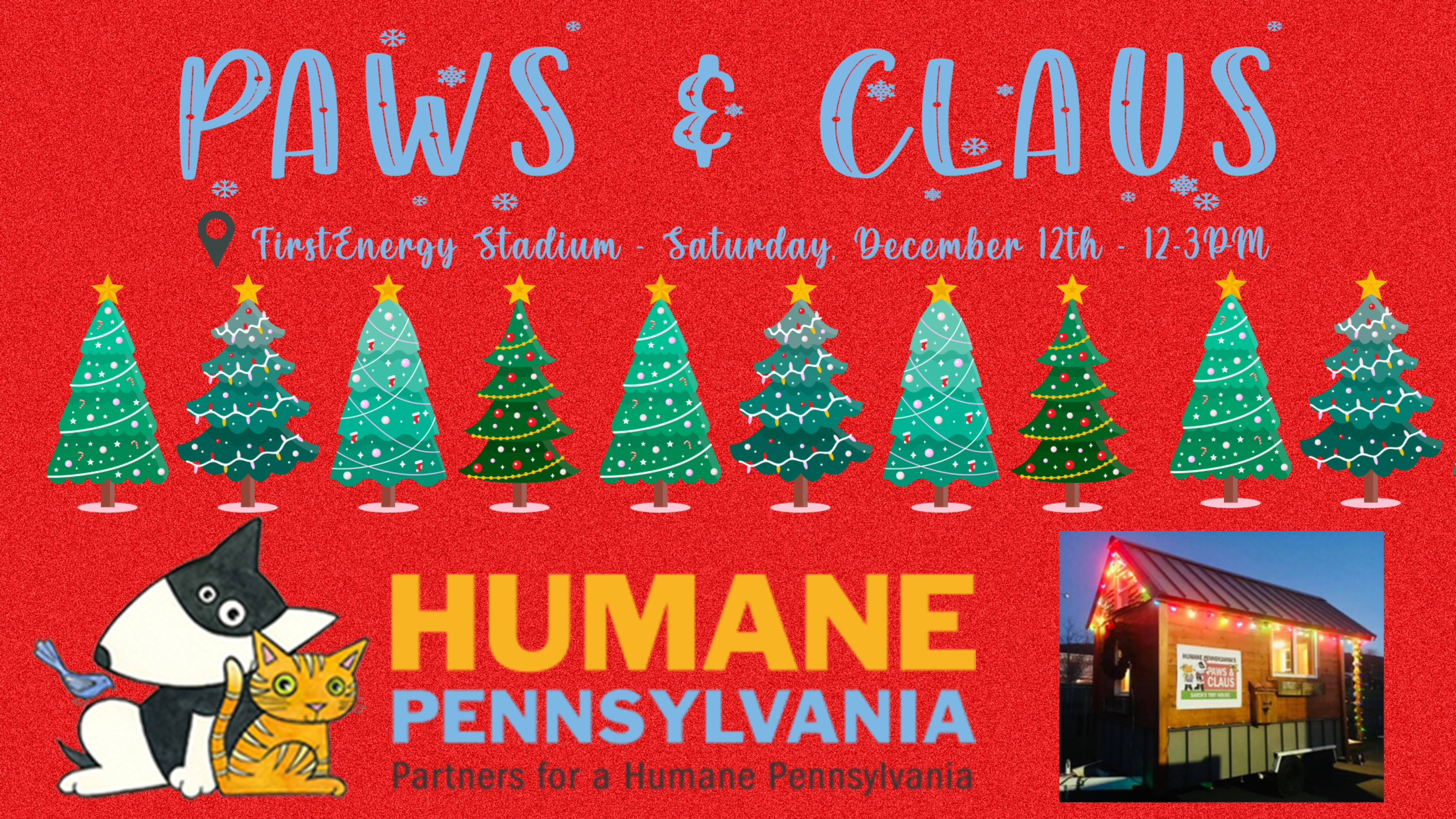 The Reading Fightin Phils are excited to team up with Humane Pennsylvania for their exciting Paws & Claus event this Saturday, December 12th from 12-3pm. Spike's Pet Pantry is seeking donations to help keep their shelves well-stocked for our four-legged friends in need. Additionally, the Fightins Team Store will be
The Reading Fightin Phils are excited to team up with Humane Pennsylvania for their exciting Paws & Claus event this Saturday, December 12th from 12-3pm. Spike's Pet Pantry is seeking donations to help keep their shelves well-stocked for our four-legged friends in need. Additionally, the Fightins Team Store will be open for holiday gifts, including R-Phils merchandise and discounted 2021 ticket books. Join us at America's Classic Ballpark to support Humane Pennsylvania and the R-Phils.
The magnitude of this event cannot be understated. Due to the pandemic, there has been a higher than normal need for pet food. From 12-3pm, community members will have the opportunity to donate pet food and in exchange will receive a complimentary family photo with Santa in front of his tiny house. The event will run as a drive thru food donation drop off in the parking lot of FirstEnergy Stadium. Everyone is asked to remain in their vehicle throughout the donation process. Then, each family will be escorted to take their photo with Santa. Families can remove their masks for the photo, but must put them back on immediately after. Pups are encouraged to join in on the photo, but will not be able to be taken off leash or in the photo by themselves. Through your generosity, Humane Pennsylvania is looking forward to filling their truck for the animals in need in our community!
Anyone who donates will also be given a 10% off coupon for the Fightins Team Store, presented by Steve Moyer Subaru. The store will be open for the entirety of the event for all your holiday shopping needs. The RPhils are excited to feature new gear while still showcasing traditional ballpark merchandise. There is a hat, sweatshirt, or jersey for everyone on your Christmas list! And, set your sights on the 2021 season by purchasing a ticket book or flex bank package. For a limited time, holiday deals are available!
"This event will provide much-needed Christmas cheer to the community, but also help us stock Spike's Pet Pantry," said Lauren Henderson, Director of Events & Corporate Relations at Humane Pennsylvania. "Everyone is encouraged to stop by FirstEnergy Stadium with a bag of dog and/or cat food between 12-3pm and receive a complimentary family photo with Santa! This donated pet food will help hungry pets in need over the coming winter months. And in return receive a COVID safe, but cheerful Santa photo. It's a win-win for everyone!"
This year alone Spike's Pet Pantry has donated over 268,000 pounds of pet food to pet caretakers in need. Paws & Claus will be a fun and significant event to benefit the community. It's also a wonderful opportunity to get into the holiday spirit. Come give back with us to ensure that no pet goes hungry!
FirstEnergy Stadium is located at 1900 Centre Ave, Reading, PA 19605. It is home to the Reading Fightin Phils, the Double-A Affiliate of the Philadelphia Phillies.