Fisher Cats drop third straight at Akron
New Hampshire hits three doubles in loss to 'Ducks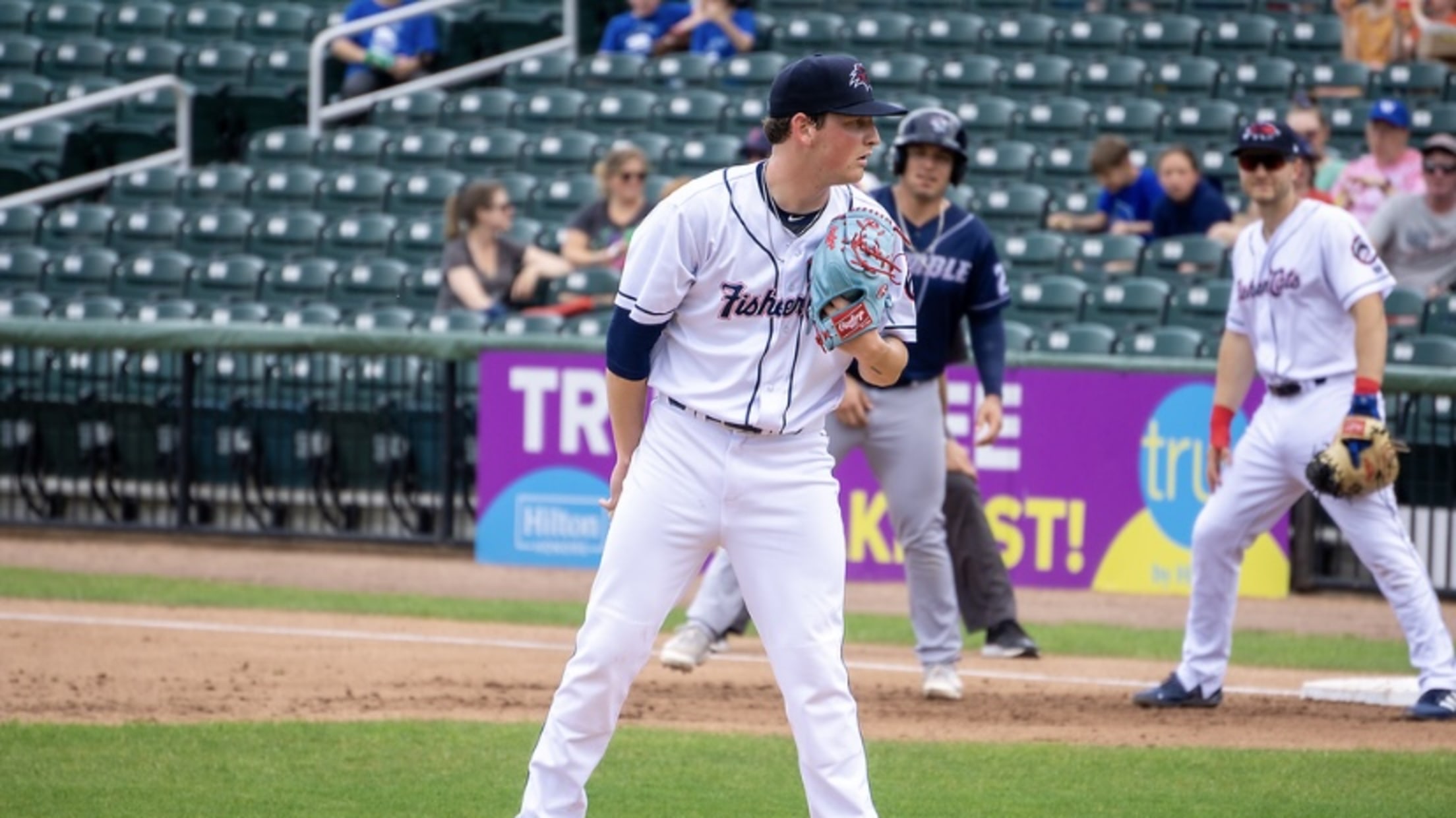 (Photo courtesy of Kristin Basnett)
Akron, Ohio – What began as a pitchers' duel ended with New Hampshire's third straight loss and their seventh defeat in their last nine games. The New Hampshire Fisher Cats (17-24) fell, 4-2, to the Akron RubberDucks (Cleveland Guardians, 26-16) on Thursday evening at Canal Park in Northeast Ohio. Fisher
Akron, Ohio – What began as a pitchers' duel ended with New Hampshire's third straight loss and their seventh defeat in their last nine games. The New Hampshire Fisher Cats (17-24) fell, 4-2, to the Akron RubberDucks (Cleveland Guardians, 26-16) on Thursday evening at Canal Park in Northeast Ohio.
Fisher Cats starter Hayden Juenger and 'Ducks lefty ace Joey Cantillo went mano a mano into the bottom of the third inning. Cantillo retired the first 13 batters he faced, not allowing a runner until the bottom of the fifth inning. Juenger recorded outs on the first seven batters he faced until he allowed a solo homer that put Akron up, 1-0.
Juenger finished with 3.0 innings of work and allowed one hit, one earned run and one walk. He struck out three, throwing 33 pitches, 22 of which were strikes.
John Aiello, Rafael Lantigua and Luis De Los Santos each doubled in the game. Aiello's hit broke up Cantillo's perfect outing, and Lantigua hit double number 13 on his season.
De Los Santos would come in to score on a sacrifice fly by Lantigua. The run tied the game, 2-2, in the top of the eighth inning.
New Hampshire reliever Brady Lail (L, 1-2), had worked four innings allowing just one run, but he gave up a decisive two-run homer in the eighth to Akron's George Valera, the No. 2 prospect for Cleveland according to MLB.com. Valera had three of Akron's four RBIs and gave the 'Ducks their third win of New Hampshire this week, 4-2.
The Fisher Cats continue their six-game set at Akron tomorrow, May 27 at 7:05 p.m. The RubberDucks are 15-3 in their last 18 games.
New Hampshire returns home on Tuesday, May 31 versus the Portland Sea Dogs (Boston Red Sox). Tickets can be found at NHFisherCats.com, via email at [email protected], over the phone at (603) 641-2005, or in-person at the Fisher Cats box office at 1 Line Drive in Manchester.