Fisher, Oaks take home weekly awards
Grizzlies' OF, Dodgers' RHP impress in dominant weeks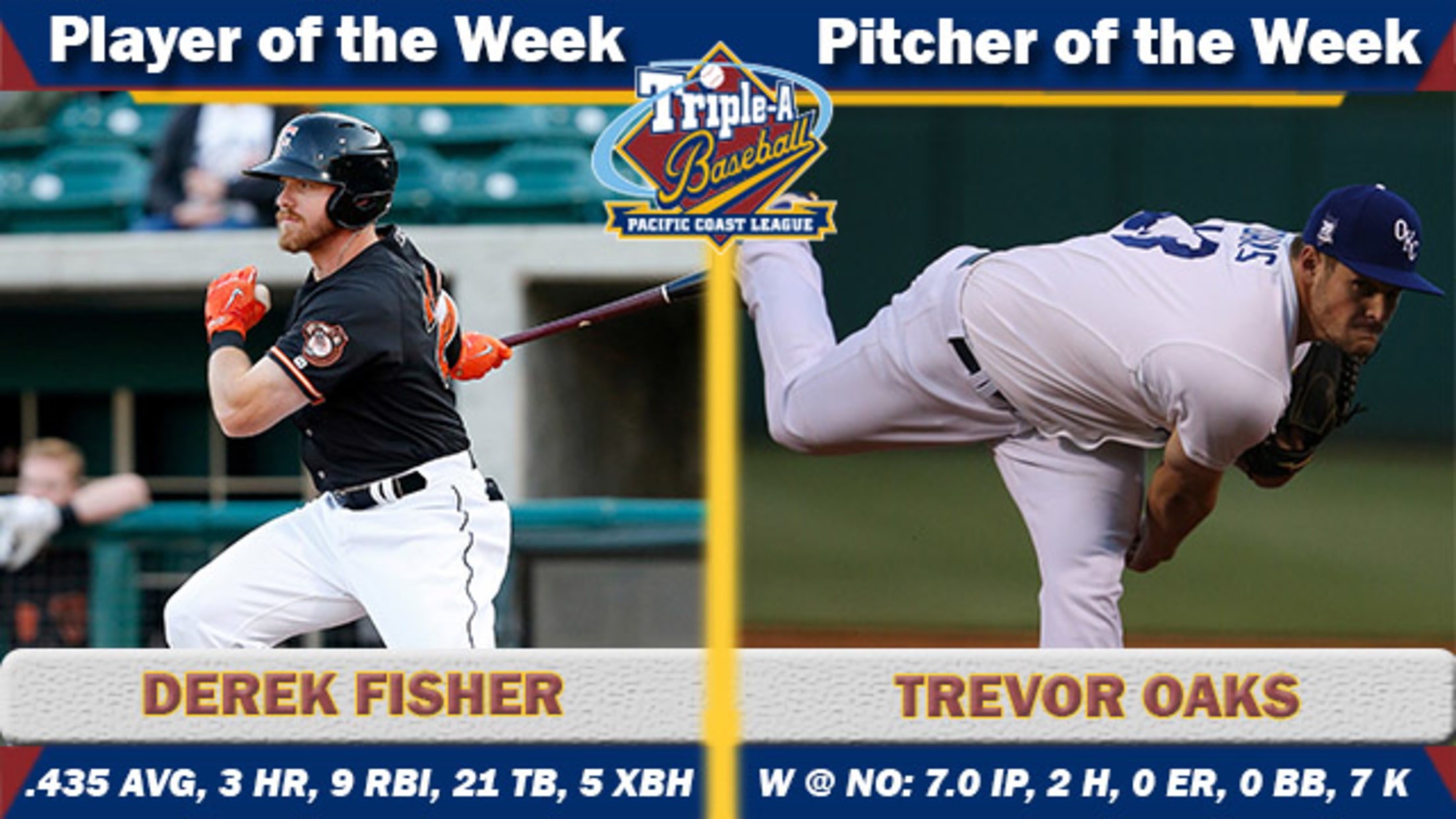 Photo credits: Kiel Maddox (left), Oklahoma City Dodgers (right)
ROUND ROCK, Texas - The Pacific Coast League announced Monday that Fresno Grizzlies' outfielder Derek Fisher and Oklahoma City Dodgers' right-hander Trevor Oaks have been named the League's Player and Pitcher of the Week for the period of May 29-June 4. 
ROUND ROCK, Texas - The Pacific Coast League announced Monday that Fresno Grizzlies' outfielder Derek Fisher and Oklahoma City Dodgers' right-hander Trevor Oaks have been named the League's Player and Pitcher of the Week for the period of May 29-June 4.
Fisher hit .435 (10-for-23) in six games with three home runs and nine RBI, helping the Grizzlies win a season-best six straight games. He ranked in the top five among PCL weekly leaders in RBI (t-1st), home runs (t-2nd), total bases (21, 3rd), slugging percentage (.913, 3rd), OPS (1.413, t-3rd) and hits (10, t-4th). He also reached base safely in 13-of-26 plate appearances and scored five runs.
The 23-year-old recorded at least one hit in five games, including multiple hits in four. He homered in his first three games of the week, a stretch that concluded a string of four straight contests with a home run.
In a win over Albuquerque on Memorial Day, Fisher reached base all five times, going 3-for-3 with two walks and three RBI. He added a two-run homer in each of the next two games. Fisher capped his weekly heroics with two RBI hits in a 3-2 win over Tacoma.
This week has been the extension of a breakthrough year for the Astros' Baseball America No. 9 prospect entering the year. In his first full season at Triple-A, Fisher is hitting .338 (73-for-216) while leading the PCL in total bases (131). He is also tied for the second in the League in extra-base hits (30) and ranks third in hits, slugging percentage (.606) and home runs (14). Fisher was taken by the Astros with the 37th overall pick of the 2014 First-Year Player Draft out of the University of Virginia. This is the Pennsylvania native's first career Player of the Week.
Oaks went seven shutout innings in his only start, May 29 at New Orleans. He retired 21-of-23 hitters, allowing only two singles and setting down the last 17 batters he faced. The 24-year-old threw 59 of his 85 pitches for strikes and got nine groundouts compared to one flyout. For good measure, Oaks added his first career home run, a three-run shot, in the Dodgers 11-1 win.
The California native is in his first full season at Minor League Baseball's highest level. Through 10 starts, he has gone 2-1 with a 3.46 ERA (54.2 IP, 21 ER), the 10th lowest mark in the PCL. He has allowed only 1.65 walks-per-nine innings, the second lowest total among PCL starters. Oaks entered the season as the Dodgers' No. 13 prospect, according to Baseball America. This is his fourth professional season after getting selected by the Dodgers in the seventh round of the 2014 First-Year Player Draft out of California Baptist University. This is his third career Pitcher of the Week award and second in the PCL. He was honored last year for the period of August 15-21 after a nine-inning, 11-strikeout performance.