Five-run first ignites Cards to rout of K-Mets, 7-2
Bandes hits his fourth homer in four days to spark Redbirds to victory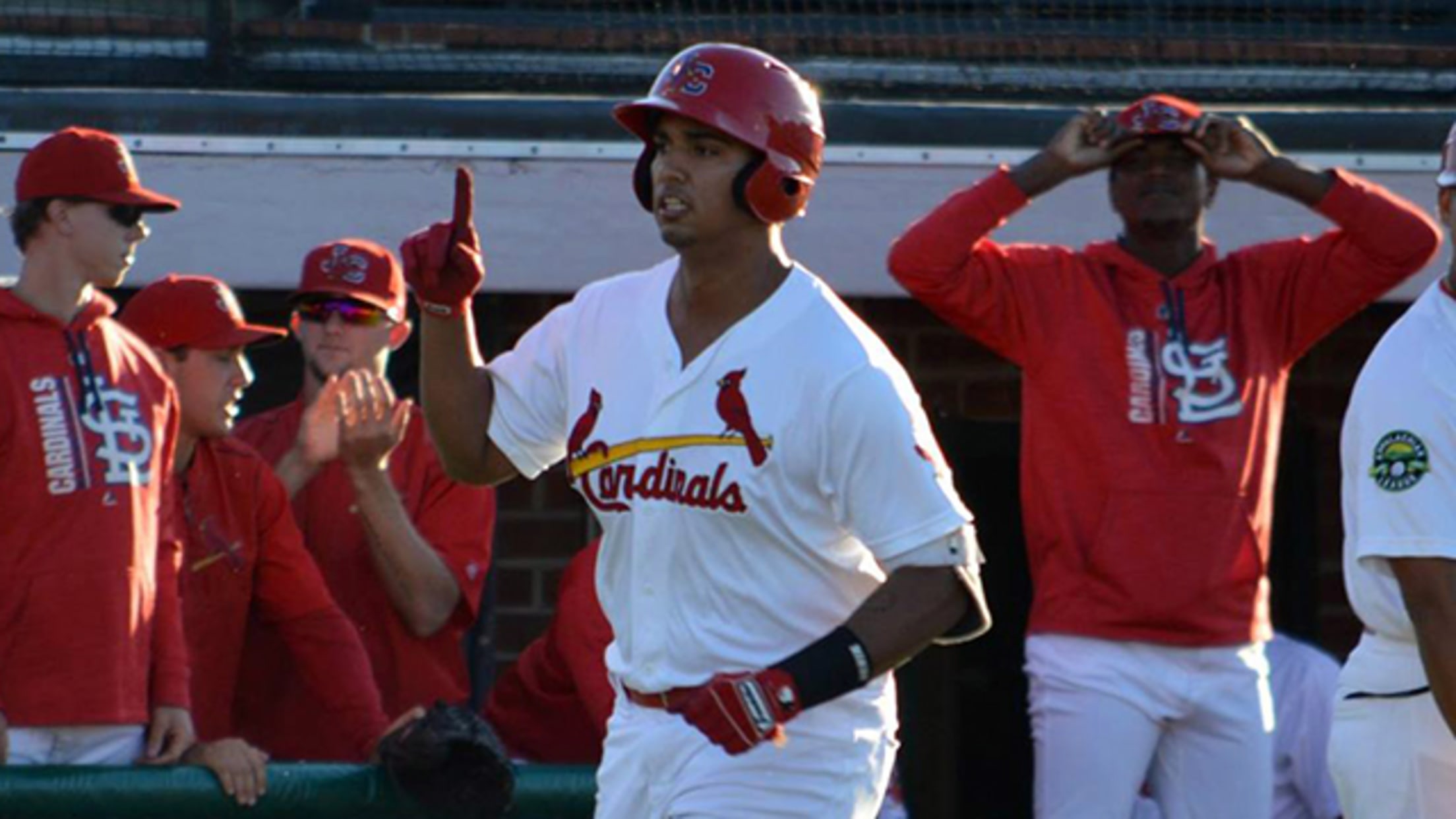 DH Luis Bandes cranked his fourth homer in as many days, as his three-run shot helped the Johnson City Cardinals defeat the Kingsport Mets, 7-2, in front of 1,091 fans at TVA Credit Union Ballpark on Sunday night. (Bret Jacomet)
JOHNSON CITY, Tenn. - The Cardinals erupted for five runs on five hits in the first inning with the big blow coming on a three-run shot by DH Luis Bandes , as Johnson City knocked off the Kingsport Mets, 7-2, in front of 1,091 fans at TVA Credit Union Ballpark.With
JOHNSON CITY, Tenn. - The Cardinals erupted for five runs on five hits in the first inning with the big blow coming on a three-run shot by DH Luis Bandes , as Johnson City knocked off the Kingsport Mets, 7-2, in front of 1,091 fans at TVA Credit Union Ballpark.
With the victory, Johnson City bounced back to the .500 mark for the second time in three days, improving their record to 22-22. Kingsport's loss snaps their three-game winning streak, as they fell to 18-25.
The Cardinals' offense outburst was swift and sweet, scoring five of their seven tallies in the opening frame. After CF Chase Pinder (0-3, R, RBI, BB, SO) was hit-by-a-pitch with one out, C Julio Rodriguez (2-4, 2 R, 2 2B, BB) banged a double off the wall in left. On a 1-1 pitch, Bandes (2-5, R, HR, 3 RBI) hit a cloud-scraping fly ball to left that carried over the 25-foot wall for a three-run homer. The blast - his team-leading seventh of the year - put Johnson City ahead, 3-0.
However, the attack did not stop there. 1B Carlos Rodriguez (0-3, R, BB, 2 SO) walked and 3B Stanley Espinal (2-4, R, 2B, RBI) doubled, putting men on second and third again. RF Carlos Talavera (3-4, R, RBI) hit a bouncer over the pitcher's head for an infield RBI single, extending the Cards lead to 4-0. 2B J.D. Murders (0-2, RBI, BB) capped off the frame with a sacrifice fly to right, giving the Redbirds a five-run advantage.
Johnson City would add single runs in the second and fifth, as well. Proceeding a double by Julio Rodriguez and a hit-by-pitch of Carlos Rodriguez, Espinal made it 6-0 on a run-scoring single to center. Pinder drew a bases-loaded walk in the fifth to make it a 7-1 contest at the time.
Kingsport scored their lone runs in the third and ninth. LF Dionis Paulino (2-4, RBI, SO) smacked a RBI single to center in the third while, SS Hansel Moreno (2-4, 2 2B, RBI, BB, SO) added a run-scoring double off the wall in left in the final frame.
RHP Zach Prendergast (4.0 IP, 6 H, R, 2 BB, 7 SO) lasted just four innings but was solid in his home debut. The 22-year-old allowed only one unearned run - striking out seven - in a no-decision. LHP Jake Dahlberg (3.0 IP, 4 SO) entered in relief in the fifth and sat down all nine men he faced, earning his second professional victory.
Kingsport's RHP Christian James (2.0 IP, 7 H, 6 R, 6 ER, BB) lasted just two innings on Sunday, giving up six runs on seven hits in his third defeat of the campaign.
Talavera (3-4, R, RBI) picked up a game-high three hits for Johnson City and drove in a run. Julio Rodriguez (2-4, 2 R, 2 2B, BB) battered a pair of doubles, while Bandes (2-5, R, HR, 3 RBI) added a single and a three-run jack. Espinal (2-4, R, 2B, RBI) and LF Walker Robbins (2-3, BB) also collected multi-hit games in the win.
Johnson City will look win their sixth-out-of-seven series, as they are expected to send RHP Franyel Casadilla (1-3, 7.94 ERA) to the mound in on Monday. Kingsport is projected to counter with RHP Ronald Sanchez (0-2, 6.33 ERA).
The Cardinals Pre-Game Show will kick off the broadcast at 6:45 p.m. ET, leading up to the 7:00 p.m. ET start at TVA Credit Union Ballpark. Monday evening's contest can be heard on NBCSportsTriCities.com, JCCardinals.com or via the TuneIn Radio and MiLB First Pitch apps.
It will be a Dollar Monday at the stadium, as all hot dogs, candy, popcorn, soda, Dr. Enuf and Natural Light beers will be sold for just one dollar. It will also be ETSU College of Education Night at the ballpark.
Single-game tickets are still available and can be purchased online at JCCardinals.com or by calling the Cardinals' Ticket Office at (423) 461-4866.
ABOUT THE JOHNSON CITY CARDINALS
The Johnson City Cardinals are the Rookie affiliate of the St. Louis Cardinals. Members of the ten-team Appalachian League, Cardinals baseball has been entertaining families and fans of America's national pastime in the East Tennessee region for 80 years. To learn more about the Johnson City Cardinals, visit www.jccardinals.com.
[Empty Body]