Five-Run Fourth Carries Stripers to Win vs. Memphis
Hernan Perez drives in four, Delino DeShields Jr. reaches four times in 8-4 victory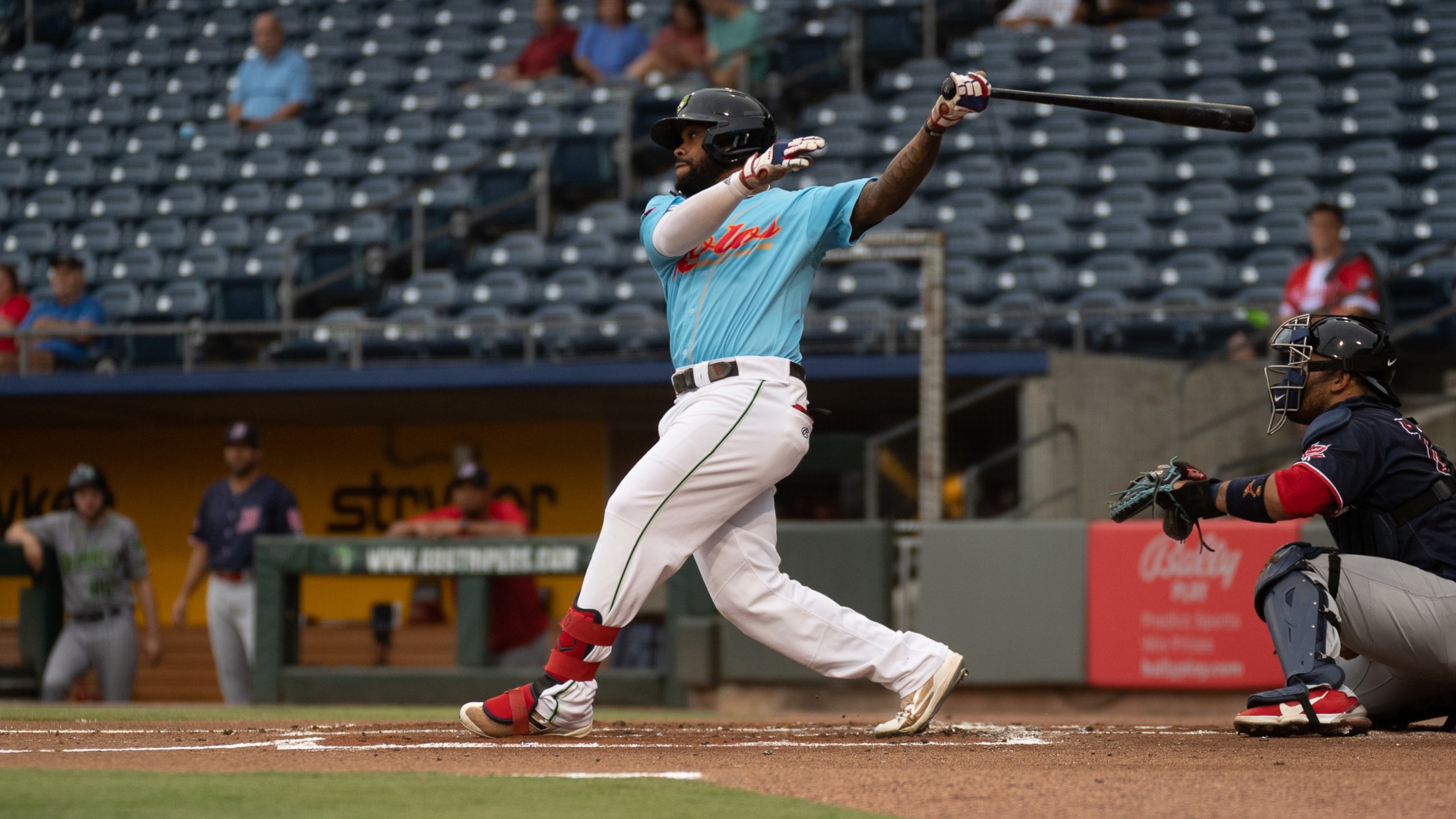 Delino DeShields Jr. slashed three hits and walked in the Stripers' 8-4 victory over Memphis on Wednesday night. (Jamie Spaar/Gwinnett Stripers)
LAWRENCEVILLE, Ga. – A five-run fourth inning was the difference for the Gwinnett Stripers (55-58) in an 8-4 victory over the Memphis Redbirds (58-54) on Wednesday night at Coolray Field. Hernan Perez led the way with four RBIs. [BOX SCORE] Decisive Plays: With the game tied at 1-1 in the
LAWRENCEVILLE, Ga. – A five-run fourth inning was the difference for the Gwinnett Stripers (55-58) in an 8-4 victory over the Memphis Redbirds (58-54) on Wednesday night at Coolray Field. Hernan Perez led the way with four RBIs.
Decisive Plays: With the game tied at 1-1 in the bottom of the second, the Stripers took a 2-1 advantage on Delino DeShields Jr.'s RBI single. Gwinnett put the game out of reach with five runs in the bottom of the fourth coming on a leadoff blast by Ryan Casteel *(13), *Pat Valaika's two-run single, and Perez's two-run double.
Key Contributors: Perez finished the night 2-for-3 (double, sac fly, 4 RBI), while DeShields went 3-for-4 (2 runs, RBI, stolen base). Valaika (2-for-4, 2 runs, 2 RBIs) also had a multi-hit game for Gwinnett. Connor Johnstone (W, 3-2) earned the win in relief of starter Huascar Ynoa, who tossed 3.0 one-run frames. For Memphis, Ivan Herrera picked up three hits (3-for-5, RBI).
Noteworthy: DeShields pushed his on-base streak to 13 games, matching a team season-high set by Chadwick Tromp and Preston Tucker. Perez had his first four-RBI game since 7/26/19 with Triple-A San Antonio.
Next Game (Thursday, August 18): Gwinnett vs. Memphis, 7:05 p.m. at Coolray Field. Radio Broadcast: 6:50 p.m. on MyCountry993.com. LHP Kyle Muller (5-6, 3.27 ERA) for the Stripers vs. LHP Matthew Liberatore (5-5, 5.10 ERA) for the Redbirds. It's Thirsty Thursday™, presented by Michelob Ultra. Fans age 21 and up can get select 12-ounce domestic beers for $2 each, or margaritas from Cutwater Spirits for $5 each.