Fire Frogs' Harrington commands zone
Braves No. 25 prospect allows three hits in seven shutout frames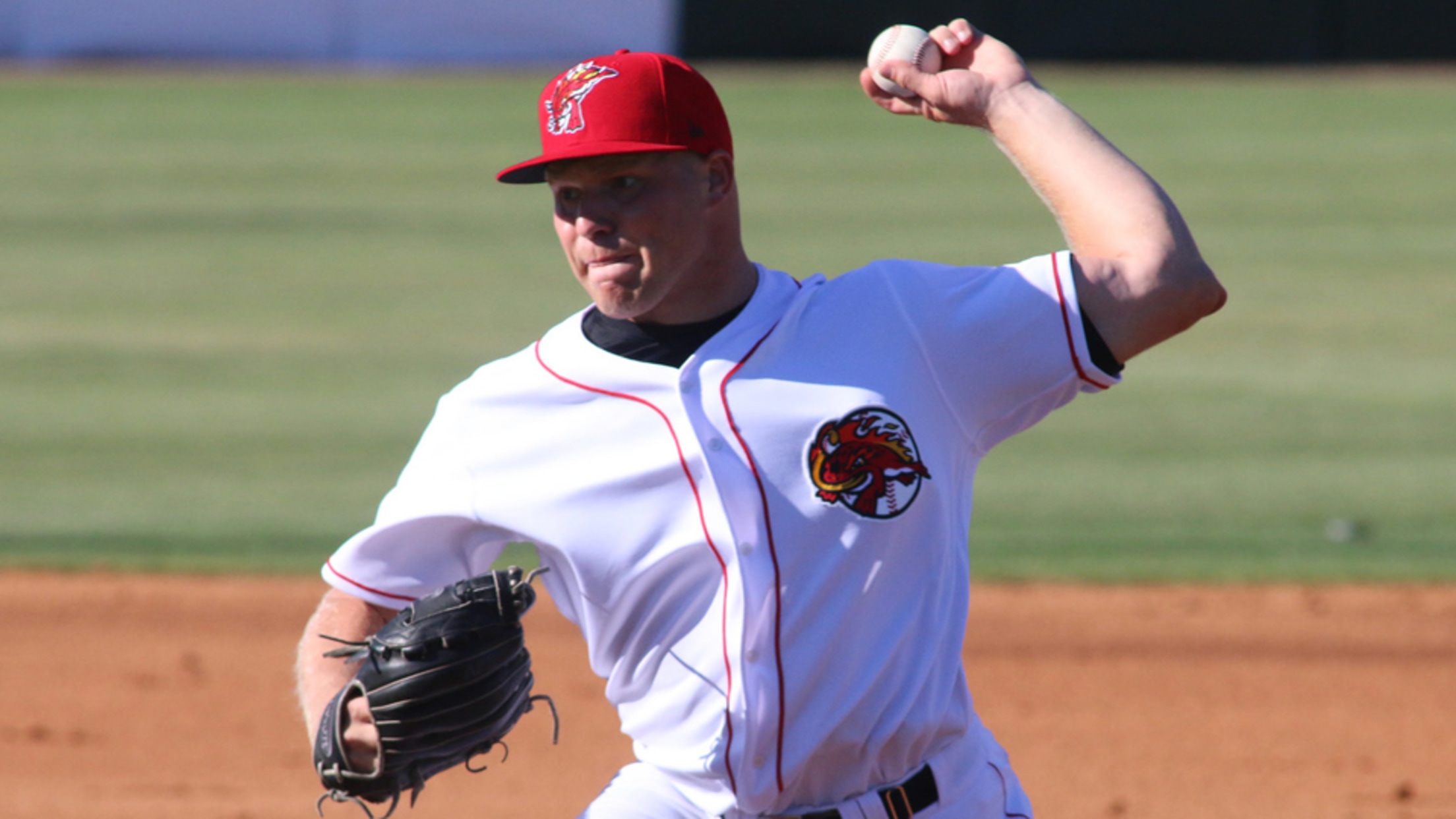 Drew Harrington has held opponents to seven walks in 37 career innings in the Braves system. (Bill Setliff/MiLB.com)
With a philosophy that gives him confidence, Drew Harrington attacks the zone without fear, resulting in a lot of ground balls and few, if any, walks."If you look at baseball, the favor's always to the pitcher. So I figure if I have the advantage already, why not throw it in
With a philosophy that gives him confidence, Drew Harrington attacks the zone without fear, resulting in a lot of ground balls and few, if any, walks.
"If you look at baseball, the favor's always to the pitcher. So I figure if I have the advantage already, why not throw it in the zone and let my defense make plays for me," he said. "So that's the mind-set I take at it. I don't try to nibble around or pitch around people or anything like that. The odds are always in my favor."
On Sunday, he really showed off that mentality, Atlanta's No. 25 prospect scattered three hits without a walk over seven scoreless innings before Class A Advanced Florida fell, 5-0, to Clearwater at Spectrum Field. He struck out three.
Box score
Throwing 56 of his 79 pitches for strikes, Harrington forced 14 groundouts as he pitched the longest -- and arguably the best -- start of his young career.
"I think so much of this game is about trust, trusting yourself and trusting your teammates," he said. "I trust myself and I trust my stuff that I can get ground balls when I need them and things like that for the most part. So that's just how I try to work."
Harrington shook off a couple early singles with a double play and strong defense. After the second knock in the second, the 22-year-old went through 13 Threshers without allowing another hit.
"My two-seam; I was able to keep it down, low in the zone. Breaking ball felt good most of the day and the changeup really started to come along later on in the day," he said. "So just keeping the ball down around the knees was really helping me."
In the sixth, Harrington allowed a one-out single to Mark Laird. During that at-bat, the Phillies prospect fouled a ball off catcher Jonathan Morales' foot, resulting in the backtop's exit. With Wigberto Nevarez behind the plate, Harrington forced Grenny Cumana to ground out, then picked off the No. 2 hitter to end the inning.
Harrington secured his second scoreless outing of the season with a hitless seventh. The 2016 third-round pick lowered his ERA to 2.42 with just two walks and 15 strikeouts in 22 2/3 innings in the Florida State League. After dominant outings for Louisville against the University of Miami, Florida State University and the University of South Florida in college, Harrington finds humor in the fact that he continues to do well in the Sunshine State.
"Florida has been pretty good to me for some reason. I don't really know why that is," he laughed. "I enjoy being here and the weather is a lot better here than where I was in college, so that's a plus. But I don't really try to think about things like that too much, but it does kind of seem like I like to state of Florida."
After Harrington's exit, the Threshers broke through with a five-run eighth. Left fielder Herlis Rodriguez led the way with a two-run single to center field.
Clearwater starter Blake Quinn matched Harrington pitch for pitch. The right-hander gave up four hits and two walks while fanning six over six frames. Reliever Ranfi Casimiro (1-1) took over in the seventh, allowing just a hit over two scoreless innings.
Kelsie Heneghan is a contributor to MiLB.com. Follow her on Twitter @Kelsie_Heneghan.