Four-Hit Shutout Spins Loons to Victory
DeLuca tallies three of four Great Lakes hits and game's lone RBI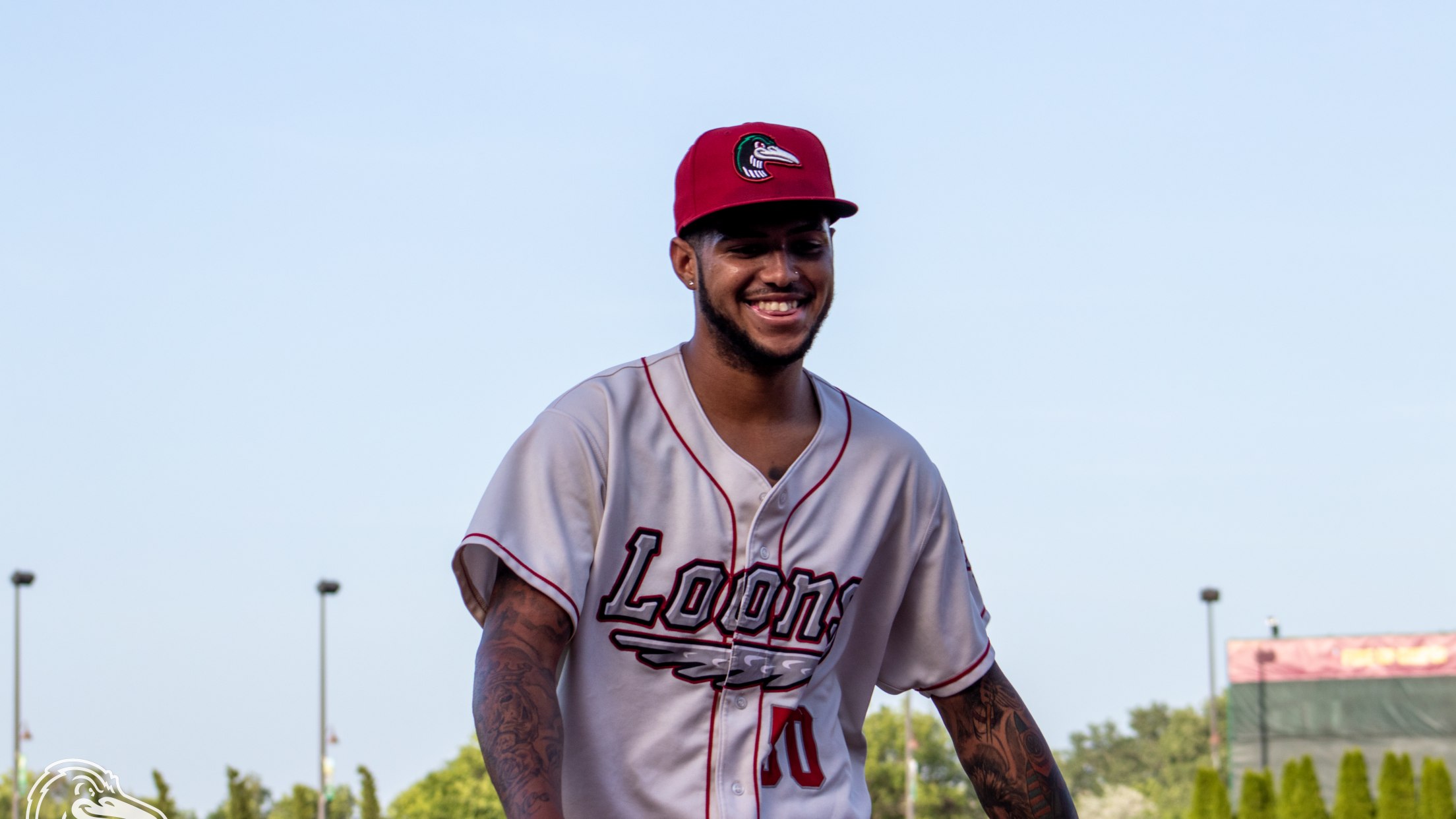 MIDLAND, Mich. – Minor League Baseball's hottest series is at Dow Diamond this week between the Great Lakes Loons and the Dayton Dragons. This set has everything. 24 total runs in a game Tuesday. Extra-inning pitchers' duel Wednesday. Dayton comeback win Thursday. Loons comeback win Friday. On Saturday, the Loons
MIDLAND, Mich. – Minor League Baseball's hottest series is at Dow Diamond this week between the Great Lakes Loons and the Dayton Dragons.
This set has everything. 24 total runs in a game Tuesday. Extra-inning pitchers' duel Wednesday. Dayton comeback win Thursday. Loons comeback win Friday.
On Saturday, the Loons had a pitchers' duel go their way, pitching a combined four-hit shutout to earn a 1-0 victory.
The Loons (46-28, 6-2 second half) started right-hander Carlos Duran, who was excellent again. In his fourth start for Great Lakes this season, Duran spun three innings of two-hit baseball, walking one, striking out two, and keeping Dayton scoreless. Duran has now tossed 10 innings to begin his Loons season without allowing a run.
Great Lakes, the Los Angeles Dodgers' High-A affiliate, then turned to right-hander Emmet Sheehan (W, 4-2), who earned his fourth straight win in relief. Sheehan went 4 2-3 innings, allowing just a pair of hits and two walks while punching out seven Dragons in his outing, and not allowing a run. In Sheehan's last 13 2-3 innings, he has not allowed an earned run.
Dayton (43-31, 4-4) also had a great start to the game on defense, thanks to Evan Kravetz (L, 4-2). In the first four innings that Kravetz tossed, he allowed just two hits. The fifth inning is when the Loons finally broke through against him. Kekai Rios led off the inning with a triple, then with two outs, Jonny Deluca doubled to score him. DeLuca finished the game 3-for-4 with a pair of doubles and the only RBI of the game. He had three of the Loons' four hits, the only other was the Rios triple.
The final line for Kravetz, who took a tough-luck loss, read 5 2-3 innings, four hits allowed, four walks, seven strikeouts, and one earned run.
The Dragons, High-A partner of the Cincinnati Reds, then turned to Carson Rudd, who was impressive out of the bullpen. He tossed 2 1-3 innings of hitless baseball, allowing just a walk while striking out three.
After Sheehan was done in the eighth inning, Great Lakes called upon southpaw Jeff Belge (SV, 3), who entered with two on and two out in the frame. Belge struck out the final batter, then faced the minimum in the ninth inning to earn the save. He struck out two batters in total.
The Loons now hold a 3-2 lead in the series, and an 8-3 edge in the season series with the Dayton Dragons, which continues Sunday at Dow Diamond. Sunday's game is the final one in the regular season between these two clubs. Nick Nastrini (1-2, 4.35 ERA) toes the rubber for Great Lakes, opposing fellow righty Thomas Farr (0-4, 6.17 ERA) for Dayton in a 1:05 p.m. start. It's a team photo giveaway day at Dow Diamond – tickets are still available at Loons.com.
The Great Lakes Loons have been a Single-A partner of the Los Angeles Dodgers since the team's inception in 2007. Dow Diamond serves as the team's home and also houses the Michigan Baseball Foundation, a 501(c)(3) non-profit public charity, and ESPN 100.9-FM. For tickets or information about the Loons, call 989-837-BALL or visit Loons.com.