Four Shuckers spin team's first no-hitter
Burgos, Snow, Ramirez, Lopez combine on seven-inning feat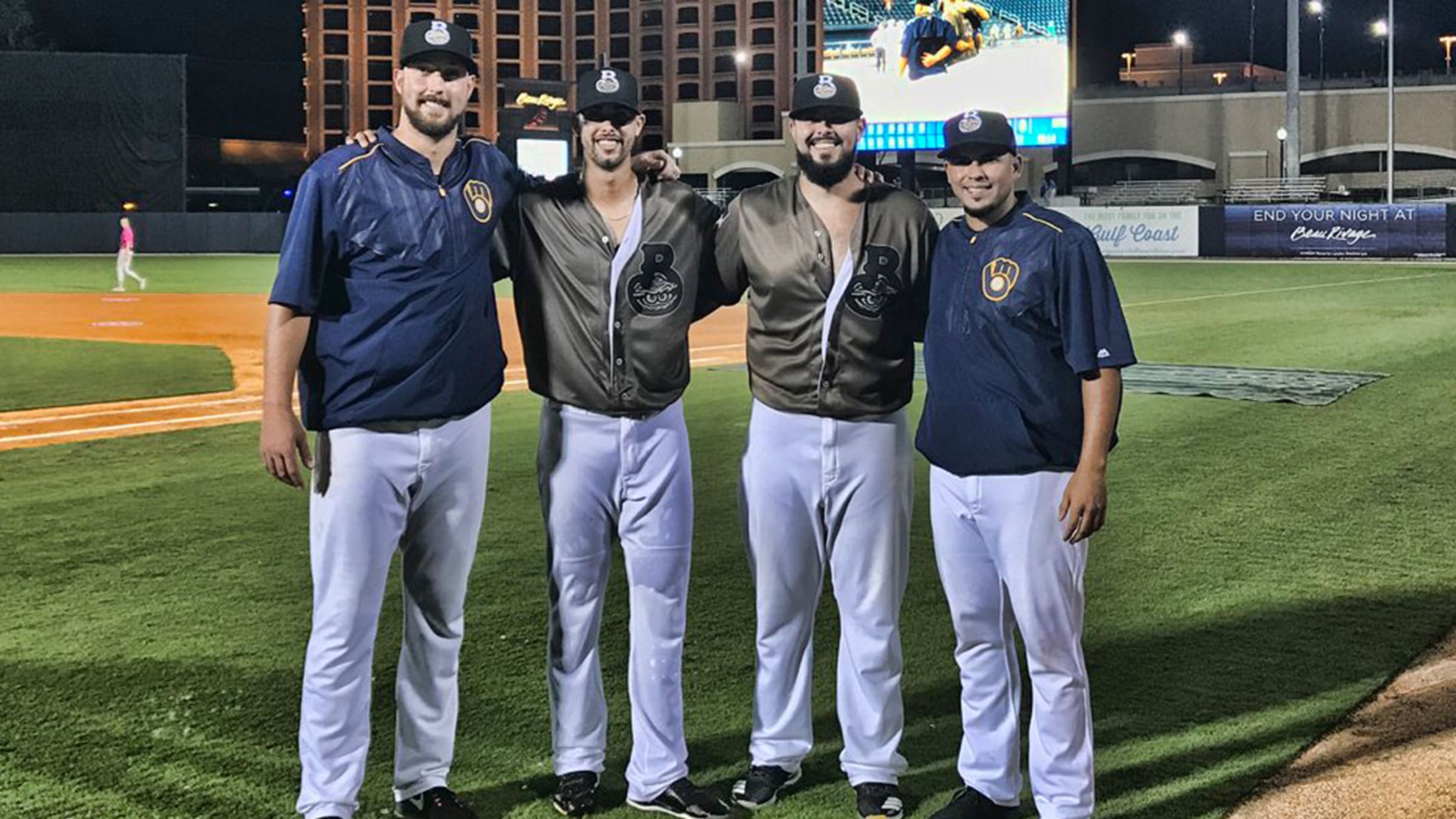 Forrest Snow, Jorge Lopez, Nick Ramirez and Hiram Burgos make history in the Southern League. (Biloxi Shuckers)
Having dropped the opener of Monday's doubleheader, the Double-A Biloxi Shuckers knew they were in for a bullpen game in the nightcap. They didn't realize they'd also make history at MGM Park.Spearheaded by an abbreviated outing from Hiram Burgos on the eve of a promotion, Biloxi delivered the first no-hitter
Having dropped the opener of Monday's doubleheader, the Double-A Biloxi Shuckers knew they were in for a bullpen game in the nightcap. They didn't realize they'd also make history at MGM Park.
Spearheaded by an abbreviated outing from Hiram Burgos on the eve of a promotion, Biloxi delivered the first no-hitter in club history as Burgos, Forrest Snow, Nick Ramirez and Jorge López combined to silence Tennessee over seven innings in a 1-0 win.
Burgos' imminent return to Triple-A put Shuckers manager Mike Guerrero in a tight -- though not unexpected -- spot with his pitching staff. In the opener, the Shuckers used two relievers en route to a 4-1 loss.
"We tried to match it up, and I think the guys we matched up with their lineup did really well," Guerrero said. "The guys went out there and just made pitch after pitch. It was awesome to see."
The 30-year-old Burgos made 11 appearances for Colorado Springs in the Pacific Coast League this year and posted a 7.58 ERA before being sent down to Biloxi on July 17. He rediscovered his form with the Shuckers. Entering Monday night, the righty's ERA was 2.55 on the strength of back-to-back wins. His fifth outing proved to be a limited one.
Box score
"He needs to make his next start in Triple-A, so it was planned that he'd have a short leash to go out there," Guerrero said. "We wouldn't let him go more than a certain amount of pitches. So he went out there, gave us a couple good innings, set the table, set the tone. Everybody else that followed did identical stuff to what Burgos did."
The Puerto Rico native was perfect over two innings, fanning a pair of the six men he faced while throwing 15 of 21 pitches for strikes.
Snow entered and set down the first five he faced before issuing a two-out walk to David Bote in the fourth frame. The 28-year-old rebounded to retire the next four to cap his three innings.
The thought of a no-hitter didn't hang heavily because the nightcap wound up being a close game. Troy Stokes Jr. belted a solo home run to left-center field in the bottom of the first, and the Shuckers spent the rest of the night ensuring that lead stood up.
"We just wanted to win the ballgame," Guerrero said. "We weren't focused on the no-hitter. We were focused on trying to win the ballgame. I think that's the most important thing for a team, and if you can accomplish a thing like throwing a no-hitter, it's obviously a good accomplishment for everybody."
For the sixth, Snow gave way to Ramirez, who walked Ian Rice with one out but didn't allow anything more. The task fell to starter-turned-reliever Lopez for the seventh with the save on the line.
"I think he's making a big improvement," Guerrero said of Lopez's transition to a relief role. "His secondary stuff is coming around, and he looks aggressive coming out of the bullpen. That's a good thing for him and for us to see."
Lopez was perfect in the final frame. Needing only eight pitches, seven of which were strikes, Milwaukee's 2011 second-round pick overwhelmed Carlos Penalver, Bote and Yasiel Balaguert for Biloxi's first no-hitter since the franchise opened play in 2015.
"There are not many times that you can see these types of things that you can accomplish, a no-hitter," Guerrero said. "I think they really enjoyed it, and it's something for them to be proud of to be a part of it. A 1-0 win on a no-hitter is a really good accomplishment for the pitching staff. The bullpen did an awesome job."
• Get tickets to a Shuckers game »
Able to capture the twinbill split, Guerrero noted his team's improved play over the past few weeks. The Shuckers are in the heat of the Southern League South Division's second-half playoff hunt, one game behind of first-place Mobile.
"The guys have been energized the whole time," Guerrero said of his team, which has won 11 of its last 14. "The first game was decided as a late-inning ballgame. We had an opportunity and didn't come through, but the second game, we only got one run. The only run of the game was a home run in the first inning. That's what baseball does to you. It's unpredictable."
Tyler Maun is a contributor to MiLB.com. Follow him on Twitter @TylerMaun.