Four-Run Eighth Powers Scrappers Past Crosscutters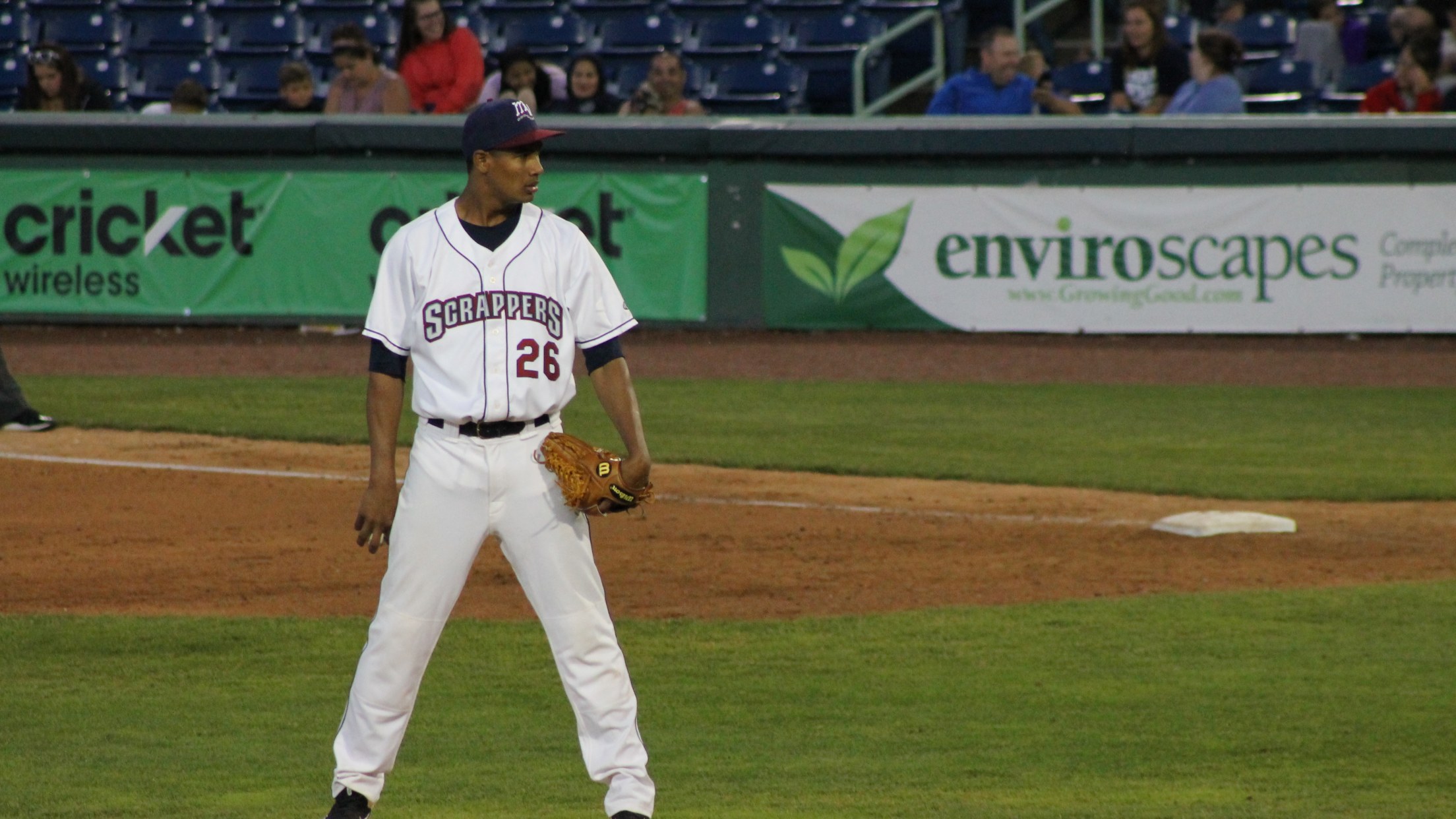 NILES, O.H. - The Mahoning Valley Scrappers evened the three-game series with the Williamsport Crosscutters on Tuesday at Eastwood Field. The Scrappers earned a 7-2 win over the Crosscutters with help from its best hitter, an unlikely hero, and a big inning.Williamsport (17-26) broke silence in the top of the
NILES, O.H. - The Mahoning Valley Scrappers evened the three-game series with the Williamsport Crosscutters on Tuesday at Eastwood Field. The Scrappers earned a 7-2 win over the Crosscutters with help from its best hitter, an unlikely hero, and a big inning.
Williamsport (17-26) broke silence in the top of the first inning off of Mahoning Valley (27-15) starter Juan Mota. Ben Aklinski and Rafael Marchan led off the game with consecutive singles. Madison Stokes then grounded into a double play, which allowed Aklinski to advance to third base with two down. Just as he did on Monday, Edwin Rodriguez drove in the game's first run. A single to left field brought in Aklinski and gave Williamsport a 1-0 lead out of the gate.
Scrappers shortstop and New York-Penn League batting leader Tyler Freeman took initiative on both response runs. The first was scored in the bottom of the first without recording a base hit. Freeman was hit in the foot by a pitch with one out. As Mitch Reeves stepped in, Freeman stole second base. He then advanced to third on a wild pitch from Crosscutters starter Ethan Lindow and subsequently scored on a throwing error by catcher Jesse Wilkening. That knotted the game up at 1-0.
Mota recovered to shut Williamsport down in the second inning. He hit Danny Meyer with a pitch to lead off the frame, and Matt Kroon singled with two outs. Mota erased the scoring threat as he got Ben Aklinski to ground into a force out to end the inning.
Freeman then put a charge into an Ethan Lindow fastball for his second home run of the season. A solo shot to left field put the Scrappers ahead, 2-1. Freeman's home run also extended his hitting streak to 13 games. This is the second time this season that Freeman ran a hitting streak of at least 13 games - the first occurred from June 17 until July 3.
Williamsport responded in the sixth inning off of Mota. Madison Stokes slugged his first professional home run over the left field wall to tie the game at 2-2. Mota tossed 6.2 innings, allowing two earned runs on six hits. He struck out six batters and did not allow a walk. He was pulled in favor of Luis Santos in the seventh inning.
Ronny Dominguez was batting .182 in 12 games with Mahoning Valley entering Wednesday. His second extra-base hit as a Scrapper broke the draw in the seventh inning, as the Scrappers capitalized on another miscue by Williamsport catcher Jesse Wilkening. Angel Lopez struck out swinging on a pitch in the dirt to lead off the inning. Wilkening's errant throw to first base allowed Lopez to reach second base. After Jason Rodriguez popped out and Henry Pujols grounded out, Dominguez delivered an RBI triple off of Crosscutters reliever Robinson Martinez. That plated the go-ahead run for the Scrappers, giving them a 3-2 lead.
The Scrappers put the game out of reach with a four-run eighth inning. Jose Fermin reached second on an error and stole third as Mitch Reeves was at the plate. After Reeves drew a walk, Hosea Nelson delivered Fermin in with a double to right field. Nelson's double gave the Scrappers a 4-2 lead. After Angel Lopez was intentionally walked, Jason Rodriguez grounded to Williamsport second baseman Matt Kroon. He bobbled the ball and was only able to throw to first to get Rodriguez out. That allowed Reeves to score, Nelson to go to third, and Lopez to go to second.
Henry Pujols then brought in two runs on a ground-rule double to right field. Williamsport right fielder Danny Mayer could not make the play as the ball bounced over the fence, allowing Nelson and Lopez to score. That gave the Scrappers a 7-2 lead that held until the end of the game.
The Scrappers and Crosscutters wrap up its series on Wednesday at Eastwood Field. Mahoning Valley's three-time NYPL Pitcher of the Week Luis Oviedo (3-2, 1.71 ERA) is scheduled to oppose Williamsport's Francisco Morales (3-2, 6.11 ERA) at 7:05 p.m.
Wednesday is Military Appreciation Night, presented by NECA/IBEW Electricians and 570 WKBN. Fans who show a valid military ID receive two FREE upper box seat tickets. Wednesday is also Wendy's® Wednesday. Get buy one, get one free upper box seat tickets with a Wendy's receipt or voucher from participating Wendy's locations. It's also Wendy's Foster Care Adoption Night, presented by The Dave Thomas Foundation.
For tickets, call or visit the Chevy All Stars Box Office at Eastwood Field at (330) 505-0000 or click here.