Four-Run Sixth Pushes Shuckers To 4-1 Win Over Wahoos
Erceg Goes Career-Best Five Frames, Picks Up First Win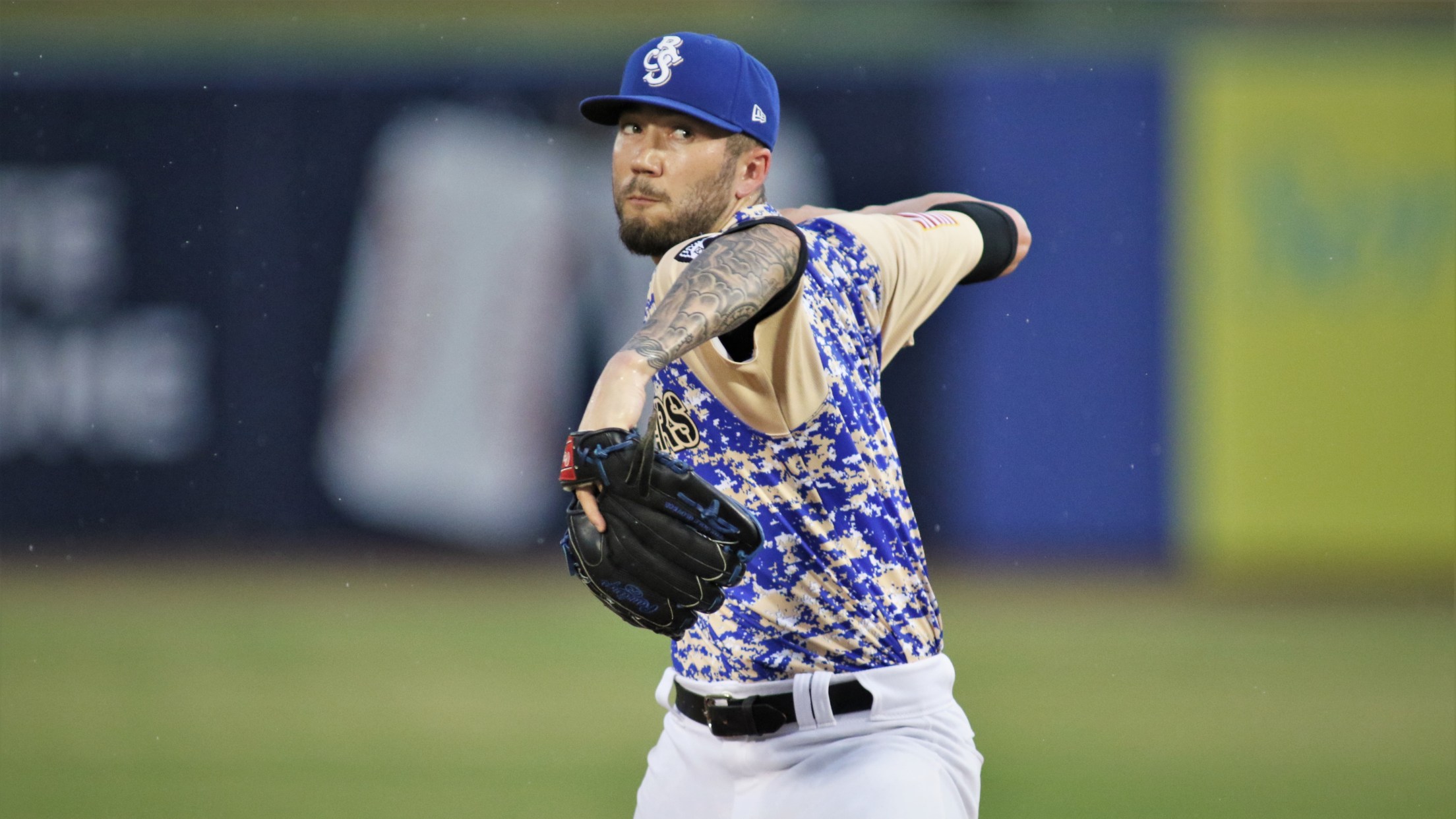 (Photo - Mike Krebs)
For a second consecutive night, the Biloxi Shuckers' (35-59) pitching staff held the Pensacola Blue Wahoos (47-47) to just one run in a 4-1 victory on Friday night at Blue Wahoos Stadium. RHP Lucas Erceg (W, 1-5) worked through the first three innings without allowing a base runner. In the
For a second consecutive night, the Biloxi Shuckers' (35-59) pitching staff held the Pensacola Blue Wahoos (47-47) to just one run in a 4-1 victory on Friday night at Blue Wahoos Stadium.
RHP Lucas Erceg (W, 1-5) worked through the first three innings without allowing a base runner. In the fourth, Peyton Burdick reached on a throwing error that allowed him to move to second. After a walk to J.J. Bleady, Erceg struck out Jerar Encarnacion and Chris Chinea grounded out to third, advancing both runners into scoring position. Burdick came in to score on a wild pitch, but Erceg struck out Bubba Hollins, keeping the Shuckers within a run.
The Shuckers' offense was held in check during the first five innings by LHP Will Stewart (L, 5-7), who allowed three base runners on an error and two walks but didn't allow a hit.
Erceg returned for the fifth and faced just three batters, setting a new career high by tossing five innings and allowing just one unearned run while striking out four.
Biloxi produced all the offense they would need in the sixth. Hayden Cantrelle was hit by a pitch to start the inning and a single by Korry Howell and a walk by Garrett Mitchell loaded up the bases. David Fry was hit by a pitch from Stewart, forcing in the tying run. LHP Andrew Nardi entered the game for Pensacola and uncorked a wild pitch, allowing Howell to race in from third to put the Shuckers up 2-1. A walk to Alexander Palma loaded the bases again, and after a strikeout of Chad Spanberger, Tristen Lutz singled to left field, driving in two more runs to give the Shuckers a 4-1 advantage.
The Shuckers bullpen took over in the sixth with RHP Zach Vennaro (H, 5) taking the hill. Burdick singled with one out and Encarnacion followed two batters later with a single, putting men on first and second with two outs, but Encarnacion was thrown out by Fry as part of an attempted double steal, bringing the sixth to a close.
RHP Peter Strzelecki (H,6) issued just a walk in the seventh, striking out two in a scoreless frame. RHP Zack Brown (H, 2) recorded two outs in the eighth before departing with runners on first and second for RHP Taylor Floyd (H, 2), who struck out Encarnacion to strand both base runners.
Floyd returned for the bottom of the ninth. Chinea singled to begin the frame and Hollins walked, but Floyd responded by striking out Demetrius Sims. Floyd was lifted for RHP J.T. Hintzen (S,1), who induced a fielder's choice from J.D. Orr that got the lead runner before striking out pinch-hitter Riley Mahan for the final out in the game.
With the series even at two games apiece, the Shuckers continue their six-game matchup with the Blue Wahoos on Saturday evening. Biloxi is set to send RHP Jesus Castillo (3-7, 5.60) to the mound against Wahoos' RHP Jeff Lindgren (4-8, 4.55) for a 6:05 pm first pitch. The game can be heard locally on Cruisin' WGCM AM 1240/FM 100.9.
Individual tickets are on sale for all 2021 Shuckers home games and promotions for August can be found here. Full Shuck Nation Memberships and Half Shell Shuck Nation Memberships, flex plans and group outings are available by calling 228-233-3465 and selecting Option 3.
ABOUT THE BILOXI SHUCKERS:
The Biloxi Shuckers are the Double-A Affiliate of the Milwaukee Brewers. The Shuckers play at MGM Park in Biloxi, Mississippi and are members of the Double-A South. For more information, please visit biloxishuckers.comand follow us on Twitter @biloxishuckers and at facebook.com/biloxishuckers.