Mejia next brick in potential Indians dynasty
Catching prospect heralds new generation of first-place talent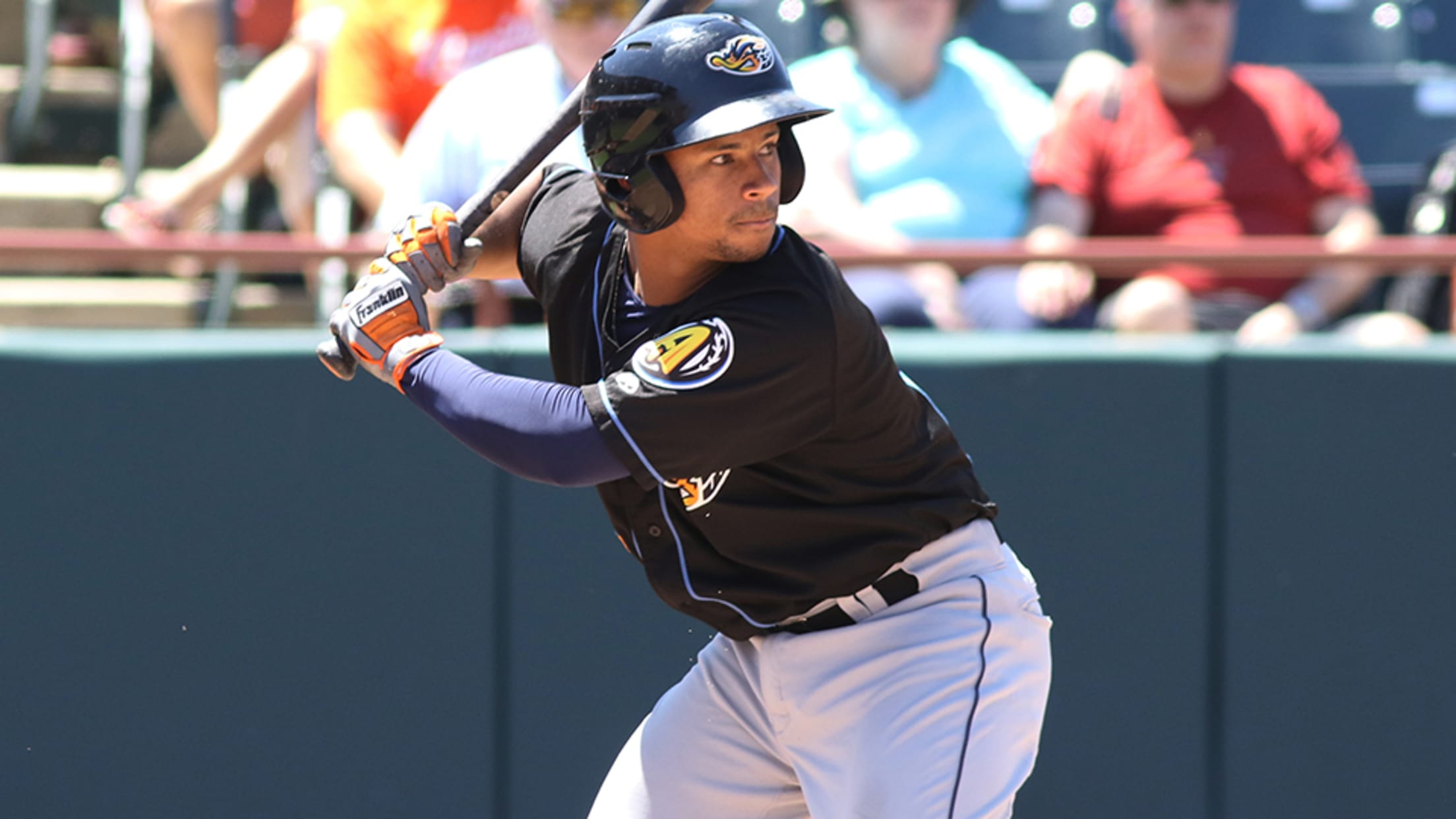 Before earning his first call to the Majors, Francisco Mejia posted a .297/.346/.490 line for Double-A Akron. (Andy Grosh/MiLB.com)
This offseason, MiLB.com is taking a look at the most outstanding campaigns by players in each system across Minor League Baseball and honoring the players -- regardless of age or prospect status -- who had the best seasons in their organization.While compiling an American League-best 102-60 record, complete with a
This offseason, MiLB.com is taking a look at the most outstanding campaigns by players in each system across Minor League Baseball and honoring the players -- regardless of age or prospect status -- who had the best seasons in their organization.
While compiling an American League-best 102-60 record, complete with a record-setting 23-game winning streak, the Indians boasted a wealth of well-developed talent at the Minor League level. Brought about by the success of the Major League club, the Tribe were afforded the invaluable luxury of patience.
Cleveland let some prospects take steps forward without actually climbing the organizational ladder. Of the 12 players to receive Organization All-Star honors, nine spent the entire season with the same Minor League club, while the other three played in no more than five games on another level, including Greg Allen's five-game rehab stint in the Rookie-level Arizona League.
Indians Organization All-Stars
Catcher -- Francisco Mejía, Akron (92 games): The 21-year-old maintained his status as the club's top prospect after a historic 2016 season and put together a .297/.346/.490 slash line with 14 homers, two triples, 21 doubles, 52 RBIs and 52 runs scored this year.
"We were really excited about the attitude he brought to the field every day," Indians director of player development James Harris said.
The performance earned Mejia -- MLB.com's No. 13 overall prospect -- Eastern League Rookie of the Year honors as well as his first promotion to the big leagues, leapfrogging Triple-A and joining the Tribe when rosters expanded on Sept. 1. The native of the Dominican Republic led Eastern League catchers with 86 assists and threw out 18 of 60 would-be basestealers.
"I think initially, when people look at him, people talk about the bat, but one of the things that we saw this year is this guy is a catcher," Harris said. "He improved his English skills and his relationship with pitchers. He did a better job calling a game. He established himself in our organization as a catcher."
First baseman -- Bobby Bradley, Akron (131 games): Bradley came on strong as a professional ballplayer after being drafted in 2014 and has displayed consistent numbers at the plate while showing off impressive power potential. The team's third-ranked prospect batted .251 -- a 16-point uptick from last season -- in his first taste of the Double-A level. The 21-year old fit well in the middle of an Akron lineup that featured three of the league's top six home run hitters, clubbing 23 long balls and driving in 89 runs, which tied for tops among the club's Minor Leaguers.
"We knew what he can do offensively," Harris said. "We were hoping he could show it to us defensively and he did that this year. How did he do that? He took care of his body; he brought some focus into his work."
Second baseman -- Ronny Rodríguez, Columbus (117 games): The 25-year-old made the most of his second crack at the International League, leading the Tribe's Triple-A squad with 130 hits and 15 stolen bases.
"He brings hard work. He brings versatility," Harris said. "He's a guy that helps you fill out your lineup card by knowing you can put him in there somewhere."
Rodriguez posted career highs with a .291 average and .324 on-base percentage while enjoying a 54-point surge in slugging percentage. The veteran also provided his usual versatility in the field, playing six positions for the second year in a row.
Third baseman -- Joe Sever, Akron (118 games), Columbus (two games): Another Minor League veteran, Sever's steady climb up the organizational ladder included a two-game stint in Columbus in June, his first action at the Triple-A level.
The 27-year-old led the RubberDucks with 124 hits while batting .283/.335/.387 with seven homers, 54 RBIs and 46 runs scored. He played playing the bulk of his games at third base but also was used as a first baseman and corner outfielder, finishing with a .936 fielding percentage.
"We were excited about what he brought this year form a leadership standpoint, from a work ethic standpoint and he played a pretty good third base for us, too," Harris said. "He was an example for our younger guys at that level."
Shortstop -- Willi Castro, Lynchburg (123 games): The 20-year-old paced the Carolina League co-champion Hillcats with 136 hits, again proving capable of handling an aggressive assignment. The team's ninth-ranked prospect batted .290/.337/.424 with 11 homers, 58 RBIs and 69 runs scored, all of which were career highs. For the fourth consecutive season, Castro played exclusively at shortstop, compiling a .953 fielding percentage.
"When we talk about complete players, he did it for you offensively and defensively," Harris said. "Earlier in the season, he was kind of feeling his way through that level, but he started to have success as the season went on. … Defensively, he kind of showed you exactly where he was from an athleticism standpoint."
Outfielders -- Richie Shaffer, Columbus (131 games): After bouncing among four organizations in the offseason, the 26-year-old found a home with the Indians. The .227/.338/.464 line posted by the 2012 first-round pick fits his profile, but the power numbers were too big to be ignored.
"He showed a lot-a-bit of power," Harris said. "He hung his hat on that this year and that was consistent. That happened quite a bit. I'd love for the average to step up with that soon. But this is a guy that you can trust to show up at the park and work hard day in and day out."
Shaffer belted a career-high 30 homers for the Clippers to lead all Indians Minor Leaguers while tying with Bradley with 89 RBIs.
Mitch Longo, Lake County (55 games), Lynchburg (five games): A wrist injury delayed Longo's season debut until mid-May and a flareup sidelined him from May 19-June 26. The 2016 14th-round Draft pick tore up the Midwest League upon his return, leading the level by batting .365 through the end of August before earning a promotion to Lynchburg for the rest of the regular season.
In 60 games across the two levels, Longo batted .376/.448/.541. The 22-year-old went 6-for-13 (.462) with a homer, five RBIs and four runs scored in three playoff contests with the Hillcats.
"The great thing about Mitch is he doesn't strike out and he gets on base, which is exactly what you want young players to do," Harris said.
Greg Allen, Akron (71 games), Arizona League (five games): The No. 9 prospect in the organization had a shaky start to the season, suffering a broken bone in his left wrist that caused him to miss most of May and all of June. But 2017 had a happy ending for the 24-year-old. Allen joined Mejia on the jump from Double-A to The Show after batting .264/.344/.357 with 21 stolen bases and 16 doubles for the RubberDucks.
"When he stepped in, he stepped in where he left off," Harris said. "He wasn't just up there with the big league club, he was up there to contribute. … That's a credit to how he carries himself, how hard he works and how good of a teammate he is."
The 2014 sixth-round pick appeared in 25 games for the big club over the final month of the season, going 8-for-35 (.229) with a homer, six RBIs, a steal and seven runs scored.


Designated Hitter -- Martin Cervenka, Lynchburg (112 games): The 25-year-old took another step forward in his development, six years after signing with the Tribe out of the Czech Republic. Cervenka hit .278/.343/.418 and posted career highs with eight homers, four triples, 24 doubles, 57 RBIs and 59 runs scored.
"He was able to help us behind the dish, he was able to help us in the DH role and he was able to contribute at a high level to a championship team," Harris said.
Cervenka split time with Daniel Salters behind the plate, catching 56 games and throwing out 16 of 40 would-be basestealers.
Right-handed starting pitcher -- Triston McKenzie, Lynchburg (25 games): The Indians' top pitching prospect began the season as a teenager getting his first experience at the Class A Advanced level and finished as the 20-year-old Carolina League leader with 186 strikeouts. Throwing 143 innings in his first full season, MLB.com's No. 20 overall prospect went 12-6 with a 3.46 ERA while holding opponents to a .203 average.
"He's a guy that's going to wow you when you come to the park, and he does that consistently," Harris said. "When he shows up and he's on the bump, you got a chance to win."
Left-handed starting pitcher -- Shawn Morimando, Columbus (26 games): The final numbers don't paint an accurate picture of Morimando's brilliant season, but the 24-year-old forced his name into the conversation and earned his first call to the Majors in July. He was 10-9 with a 4.41 ERA and 128 strikeouts over 159 1/3 innings in the International League.
"When you get to that level, when you're in Triple-A, you're hoping that guys can stream together some appearances to be able to make themselves options," Harris said. "He was a guy who was able to put some consistency together in spurts that allowed him to be in that conversation from time to time."
The 2011 19th-round pick made nine starts in which he allowed one run or fewer while going an average of more than six innings per start.
Relief pitcher -- Argenis Angulo, Lynchburg (41 games): The Venezuela-born, Texas-educated 23-year-old worked his way into a closer role, which Harris said is not typically reserved for one person. Angulo converted 15 of 17 save opportunities while going 5-2 with a 2.29 ERA and 68 strikeouts over 55 innings.
"That's a championship-level team and it wasn't championship-level [by] accident," Harris said. "His name just kept coming up because of what he was able to do and how he carried himself, the work he put in and the fact that the team could depend on him in leverage situations."
Gerard Gilberto is a contributor to MiLB.com. Follow and interact with him on Twitter, @GerardGilberto4.