Fred Biletnikoff to Throw Out Ceremonial First Pitch at UPMC Park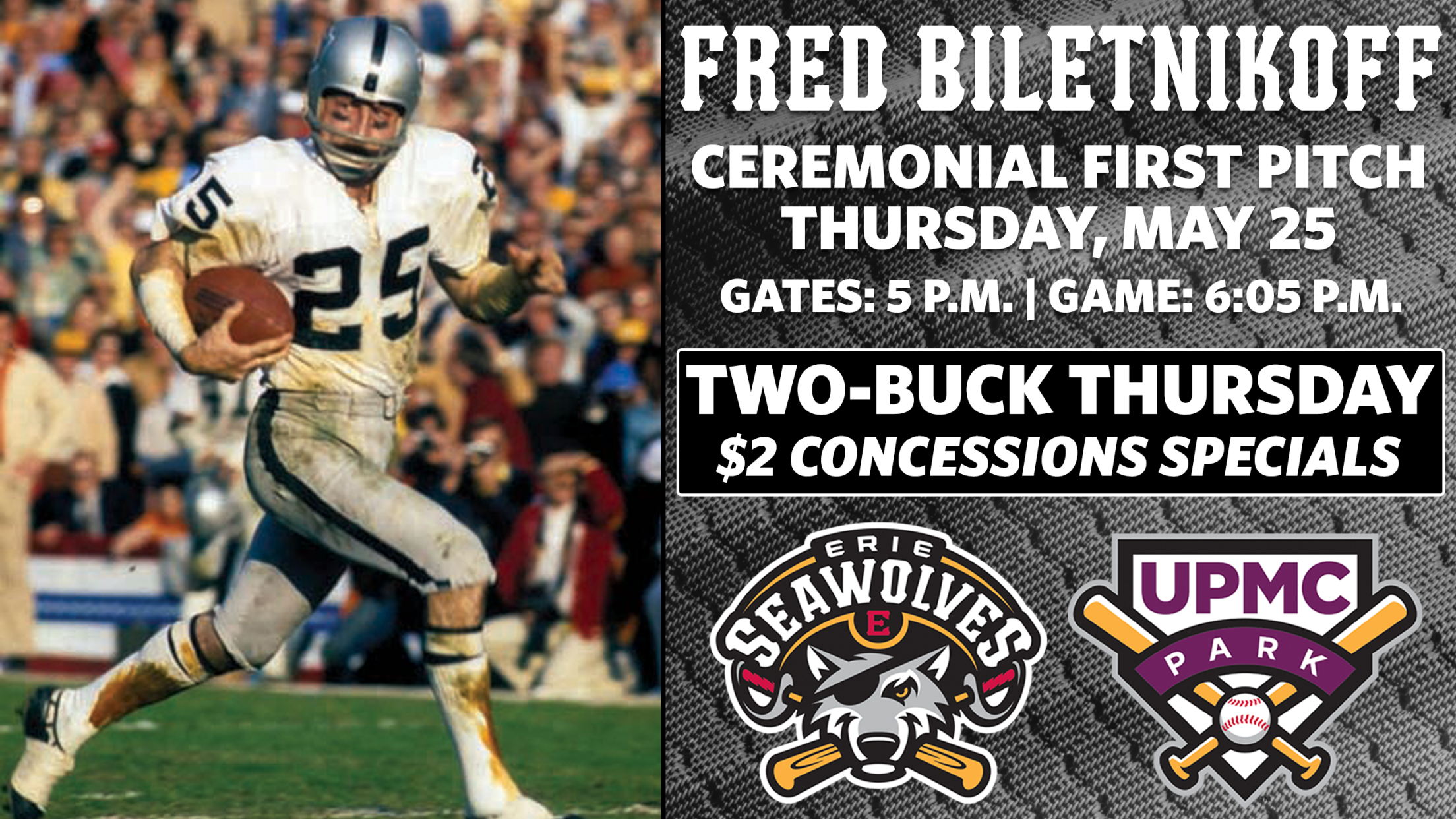 The SeaWolves announce today that NFL Hall of Famer, Super Bowl XI MVP, and Erie native Fred Biletnikoff will throw out a ceremonial first pitch prior to the SeaWolves' home game against the Somerset Patriots (NY Yankees) on Thursday, May 25. The scheduled game time is 6:05 p.m., and the
The SeaWolves announce today that NFL Hall of Famer, Super Bowl XI MVP, and Erie native Fred Biletnikoff will throw out a ceremonial first pitch prior to the SeaWolves' home game against the Somerset Patriots (NY Yankees) on Thursday, May 25. The scheduled game time is 6:05 p.m., and the ceremonial pitch will be thrown at UPMC Park at approximately 5:50 p.m.
Biletnikoff, a 1961 Tech Memorial High School graduate, is returning to Erie to raise funds to offset costs for an estimated $5 million upgrade to the Erie High School athletic facility bearing his name. The facility, which is located on the corner of Chestnut and Peach Streets, is the same one that Biletnikoff once played at as a student-athlete.
The SeaWolves will be holding an online auction with Fred Biletnikoff-signed memorabilia, benefiting the Foundation for Erie's Public Schools athletics project. Specific items will be announced at a later date. Additionally, those looking to contribute to the fundraising efforts can go here.
The SeaWolves return to UPMC Park on Tuesday, May 23 as they begin a six-game series and a rematch of the 2022 Eastern League Championship Series against the Somerset Patriots (NY Yankees) at 6:05 p.m. Single-game tickets can be purchased during regular box office hours (Monday-Friday: 10 a.m. – 5 p.m., Saturday: 10 a.m. – 2 p.m.) or online at SeaWolves.com. For ticket packages and hospitality, contact the SeaWolves at 814-456-1300.