Fresno Grizzlies Announce 2021 Season Schedule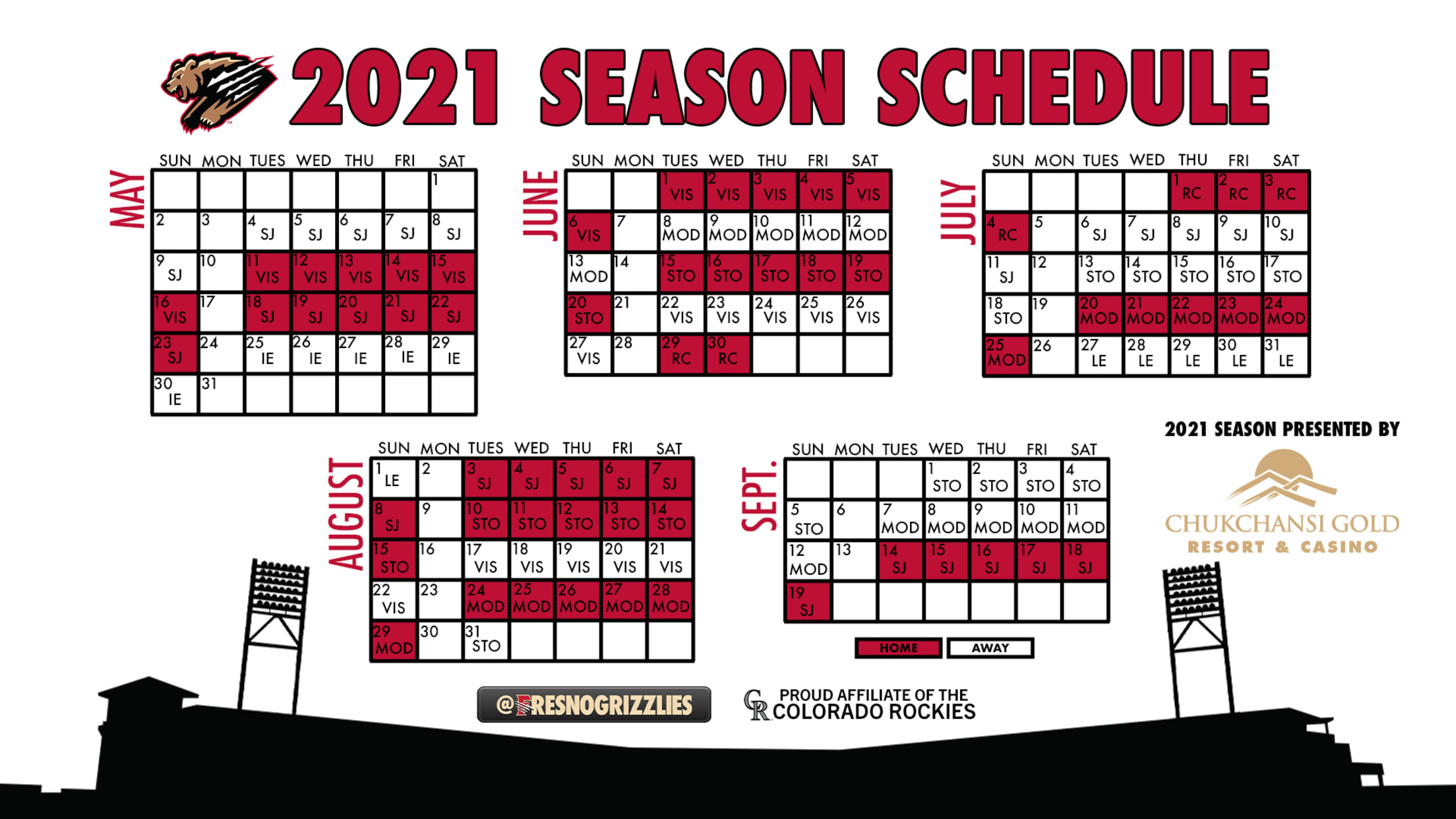 Fresno, CA - First pitch at Chukchansi Park is one step closer today with the Colorado Rockies Pitchers & Catchers reporting to Spring Training in Scottsdale and the Fresno Grizzlies announcing their 2021 schedule. Team schedules look a bit different than in years past with teams playing 6-game series every
Fresno, CA - First pitch at Chukchansi Park is one step closer today with the Colorado Rockies Pitchers & Catchers reporting to Spring Training in Scottsdale and the Fresno Grizzlies announcing their 2021 schedule. Team schedules look a bit different than in years past with teams playing 6-game series every Tuesday through Sunday with Monday being a league-wide off day. Scheduled to play 120 total games, 60 each at home and away, the season will run from the beginning of May through mid-September.
The Grizzlies will open the season on the road as they face the San Jose Giants on May 4. After the opening series, Fresno returns home to take on their first valley opponent of the year, the Visalia Rawhide, on May 11. The home opener is the start of a 12-game homestand, one of two such homestands this season
Other highlights from the announced schedule include:
Sunday, July 4 vs. the Rancho Cucamonga Quakes (Los Angeles Dodgers Affiliate)
36 home games against valley opponents (Modesto Nuts, Stockton Ports, and Visalia Rawhide)
Fans can view the full 2021 season schedule here.
The Grizzlies will formally introduce the Colorado Rockies to Fresno with a virtual press conference on Wednesday, February 24, at 9:45am. Joining Team President Derek Franks will be Fresno Mayor Jerry Dyer, Fresno City Council President Miguel Arias, and the Rockies' Assistant GM for Player Development Zach Wilson. Fans will be able to enjoy this press conference via Facebook Live on the Fresno Grizzlies Facebook account
Game times and the promotional schedule will be announced in the coming weeks along with more information about how to purchase tickets. Fans who are interested in purchasing a 2021 Season Ticket Package are encouraged to email the Fresno Grizzlies at [email protected] or visit FresnoGrizzlies.com/Tickets to learn more about purchasing options.
#Growlifornia
ABOUT THE FRESNO GRIZZLIES
The Fresno Grizzlies are the Low-A affiliate of the Colorado Rockies. The team plays at Chukchansi Park in Downtown Fresno, which is also a year-round community venue, hosting a myriad of other special events beyond Grizzlies' games, such as concerts, festivals, high school baseball, and over 100 non-profit community events every year. The Grizzlies enter the 2021 season - their 24th year in Fresno - with a new affiliation and classification but with the same family-friendly and entertaining atmosphere fans have come to expect from the team.