Fresno on wrong end of homer barrage, fall 12-6 to San Jose
Grizzlies remain one win away from clinching first half title and a playoff berth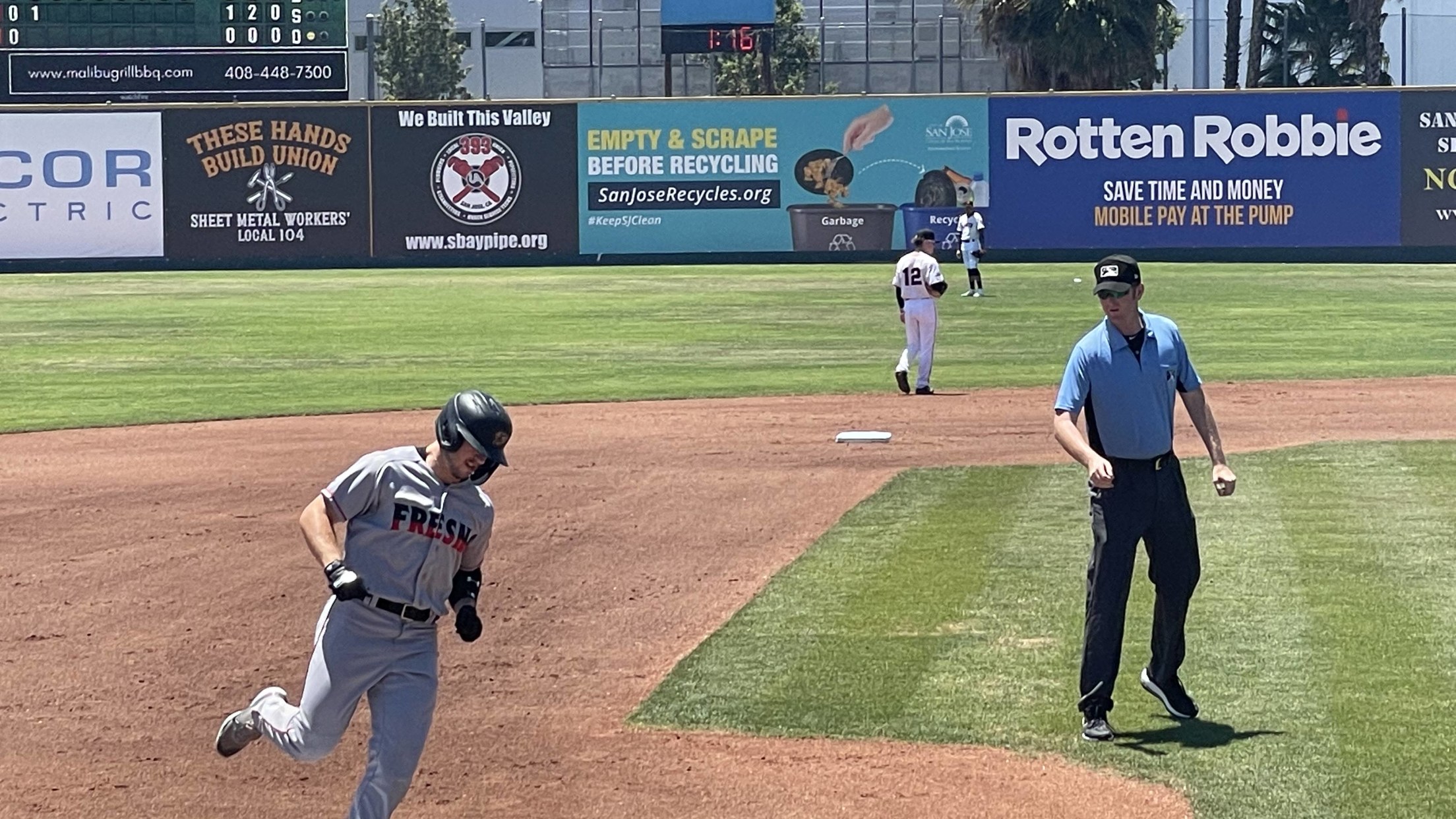 San Jose, CA (Wednesday, June 15) – The Fresno Grizzlies (39-20) fell to the San Jose Giants (33-26) 12-6 Wednesday afternoon from Excite Ballpark. Fresno saw their seven-game winning streak come to an end and have split the first eight games in San Jose this year. The Grizzlies have to
San Jose, CA (Wednesday, June 15) – The Fresno Grizzlies (39-20) fell to the San Jose Giants (33-26) 12-6 Wednesday afternoon from Excite Ballpark. Fresno saw their seven-game winning streak come to an end and have split the first eight games in San Jose this year. The Grizzlies have to win just one more game against the Giants to earn a playoff berth for the second consecutive season.
Both clubs combined to smack six homers with each team tallying three apiece. Fresno blasted two of their three longballs in the first, both solo shots. Hunter Goodman crushed his league-leading 17th wallop of the season while Braxton Fulford swatted his third big fly over the past week. The Grizzlies relished their other tater in the fifth thanks to a two-run round tripper by Adael Amador. On the home side, San Jose enjoyed their towering drives in the fifth, sixth and seventh frames. Both Aeverson Arteaga and Ronaldo Flores notched two-run dingers while Carter Williams provided a three-run clout.
The Grizzlies offense finished their contest with nine hits with four separate batters mustering two knocks. Yanquiel Fernandez, Trevor Boone, Goodman and Fulford were the multi-hit recipients. Amador and Goodman plated two runs each while Fulford scored twice. Fresno starter Case Williams (4-2) suffered the loss after five and one-third innings of work.
The Giants lineup ripped 14 hits, a season-high against Fresno pitching. Vaun Brown and Hayden Cantrelle led the charge with three hits apiece while Carter Williams added a pair of hits. Williams drove in four runs and raced home twice. San Jose lefty Matt Mikulski did not factor in the decision after four and one-third frames of five-run ball. Reliever Jose Cruz (2-1) earned the triumph while Trevor McDonald secured his first save. The squads are back to battle tomorrow night from the South Bay.
Top Performers: Fresno Grizzlies (Colorado Rockies)
• C Hunter Goodman (2-4, HR, 2B, 2 RBI, R)
• DH Braxton Fulford (2-4, HR, RBI, 2 R, SB)
• SS Adael Amador (1-4, HR, 2 RBI, R, BB)
• 1B Trevor Boone (2-3, RBI, R, BB)
Top Performers: San Jose Giants (San Francisco Giants)
• LF Carter Williams (2-3, HR, 4 RBI, 2 R, BB)
• 2B Hayden Cantrelle (3-5, 3B, 2B, 2 RBI, 2 R)
• SS Aeverson Arteaga (1-4, HR, 2 RBI, R, BB)
• C Ronaldo Flores (1-4, HR, 2 RBI, R)
On Deck:
Thursday, June 16 @ San Jose Giants, Fresno RHP McCade Brown (0-2, 6.33) vs. San Jose RHP Eric Silva (2-5, 4.60), 6:30 pm PT
ON THAT FRES-NOTE:
The Grizzlies dropped to 12-4 in day games.