Frosty Microbrew: Three Rattlers Prepare for All-Star Game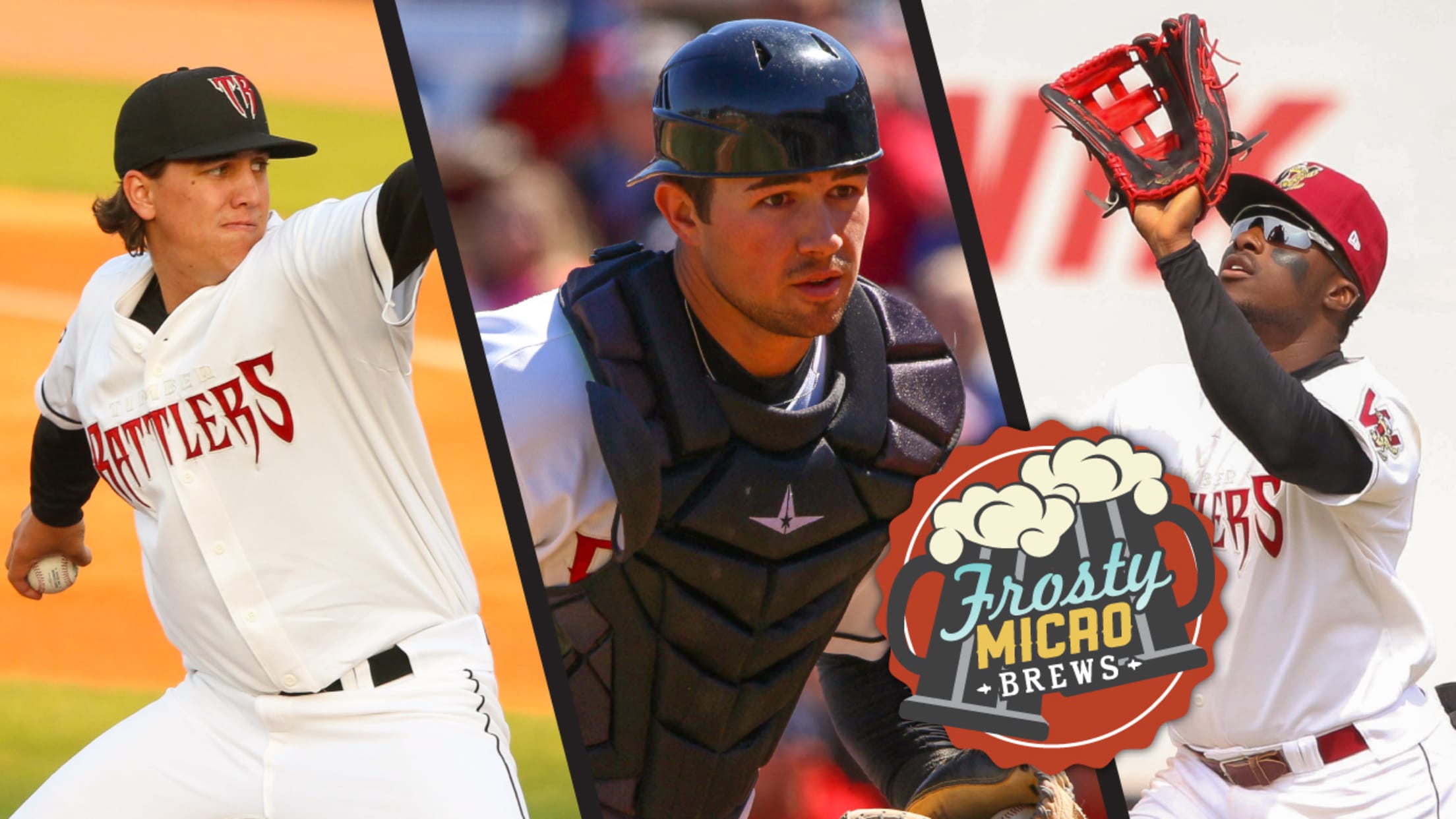 Before the Timber Rattlers' next home game at Neuroscience Group Field they'll visit Burlington, Kane County, Cedar Rapids and Quad Cities. In the middle of that run, three members of the team will add one more stop to their calendars as they head to Lansing to represent Wisconsin in the
Before the Timber Rattlers' next home game at Neuroscience Group Field they'll visit Burlington, Kane County, Cedar Rapids and Quad Cities. In the middle of that run, three members of the team will add one more stop to their calendars as they head to Lansing to represent Wisconsin in the Midwest League All Star Game. Outfielder Demi Orimoloye, catcher Payton Henry and pitcher Dylan File are all making their first professional All Star appearances.
Orimoloye, who will start the game for the Western Division team, was still in bed when he found out he'd been selected.
"I woke up and I was on Twitter and it said on Twitter, so I found out on there," Orimoloye said.
Orimoloye is getting a second shot at the Midwest League in 2018 and making the most of his opportunity. Through Tuesday's action he was among the team leaders with a .782 on-base plus slugging, led the current roster with 55 hits and was 13-for-18 stealing bases. His on-base percentage is up 67 points from a year ago.
"Tremendous athletic talent, trying to get more and more baseball skill out of that athletic body," Timber Rattlers manager Matt Erickson said of Orimoloye. "He's slowly but surely coming around with baseball skill, through his experience. He was probably a little over his skis last year, like many of the high school kids are, coming here their first year, because they're thrown into daily competition that's much better than what they're used to and they have to make adjustments. And Demi's made the necessary adjustments to have some success at the plate this year."
Players who return to Wisconsin for a second season are often expected to take on a leadership role with their less experienced teammates, and Erickson credited Orimoloye for his growth in that area in addition to his performance on the field.
"He's not a big, vocal guy. He's not a loud person or a huge personality. He's a guy that has to lead through example from his experiences and yeah, I think it's noticeable his improvement in all areas, on and off the field," Erickson said.
The other position player joining Orimoloye on the Western Division roster is catcher Payton Henry. Henry was behind the plate for 43 of Wisconsin's first 63 games and has impressed Erickson with both his offensive and defensive game.
"He's done more with the bat than I anticipated in the first half of the season," Erickson said. "He's a guy that started in the bottom of our order, and that's not uncommon with catchers, simply because we ask so much of them on a daily responsibility with our pitching staff, to make that a priority. But he's been so consistent at the plate that we've had to move him up in the order, and he's produced in that role."
Through 43 games Henry leads all Timber Rattlers with a .474 slugging percentage, and has reached that mark via an offensive approach that often utilizes the opposite field.
"He's a guy that stays inside the baseball, has abnormally good power to the opposite field, that's where the power lies in his swing at the moment. I imagine over time he'll create some more power to his pull side but right now he's doing some things that don't come easily to most hitters," Erickson said. "A lot of young hitters like to pull the baseball and have a hard time staying inside it. His natural tendency is to stay inside the baseball. So he's having some success. He keeps the barrel in the zone quite a while, so he's able to drive the ball to all fields."
Given Henry's heavy workload, the All Star break could have been a welcome rest from the day-to-day grind of life in the Midwest League. Henry, however, is excited for the opportunity to continue a busy season by playing in the game.
"I love playing this game, and if I could play every day, that's what I'm doing," Henry said. "This gives us a great opportunity to get out every day and do what I love. So I was really thrilled when I made the All Star Game. Everyone likes days off, but sometimes it's nice to stay in a groove and keep rolling."
During his time behind the plate during the game Henry might get to catch a very familiar face: Dylan File was the lone Timber Rattlers pitcher selected for the West roster. File has a 3.65 ERA in nine starts for Wisconsin, striking out over eight batters per nine innings while walking less than 2.5.
Like Orimoloye, File was still in bed when he got the news that he'd been selected.
"I'd been thinking about the All Star Game a bit, how cool it would be to be a part of it," File told BJ DeGroot on The Score's One and Done on Thursday. "But I was laying in bed and all of a sudden my phone rang. I looked at my phone and I actually got tagged in a tweet, that's how I found out. I got goosebumps, I was excited. It's my first All Star Game, it's a good feeling. I had my fiance here, and we got to share the moment together. I called up my parents, and they're really excited for me. It's really cool."
"Dylan File is a guy that can really spin the baseball," Erickson said. "Often times, when you're talking about pitchers, especially young pitchers here, you're talking about arm strength and power guys, but he's not really that guy. He's a guy that jumps off the charts as far as his breaking ball and secondary pitches, and has to learn to command his fastball a little better. And I think he's done that well, at least well enough to earn a spot on the All Star team, which is a credit to him."
Monitoring a pitcher's "spin rate" in the minor leagues is a relatively new phenomenon, and Erickson said the increased awareness of pitchers with that ability has changed the developmental process a bit.
"We're definitely more aware of it, and because we are more aware of it, we go around teaching those particular players that are able to spin the baseball to use it more," Erickson said. "In the past for guys with good secondary pitches this level has always been about fastball command, and I think that will always be the priority. But now that we're more away of guys that have quality secondary pitches, we're asking them to throw that pitch a little more than maybe they have a few years ago."
Orimoloye, Henry and File have big shoes to fill as All Stars: A year ago Timber Rattlers outfielder Monte Harrison stole the show at the game, winning Most Valuable Player honors with a two-homer performance. Even if they don't have an outing on that level, however, the experience is both memorable and valuable for the players involved.
"I was fortunate enough a few years ago to manage the 2013 Midwest League All Star Game, and it was a great experience in Dayton," Erickson said. "To get around all the other players in the Midwest League that are having good years, and some prospect players, and the things away from the field that you have as well. You get to meet those guys. It's a great experience."