FSL notes: Sanchez steps up with St. Lucie
A defensive stalwart, Mets No. 26 prospect breaking out with bat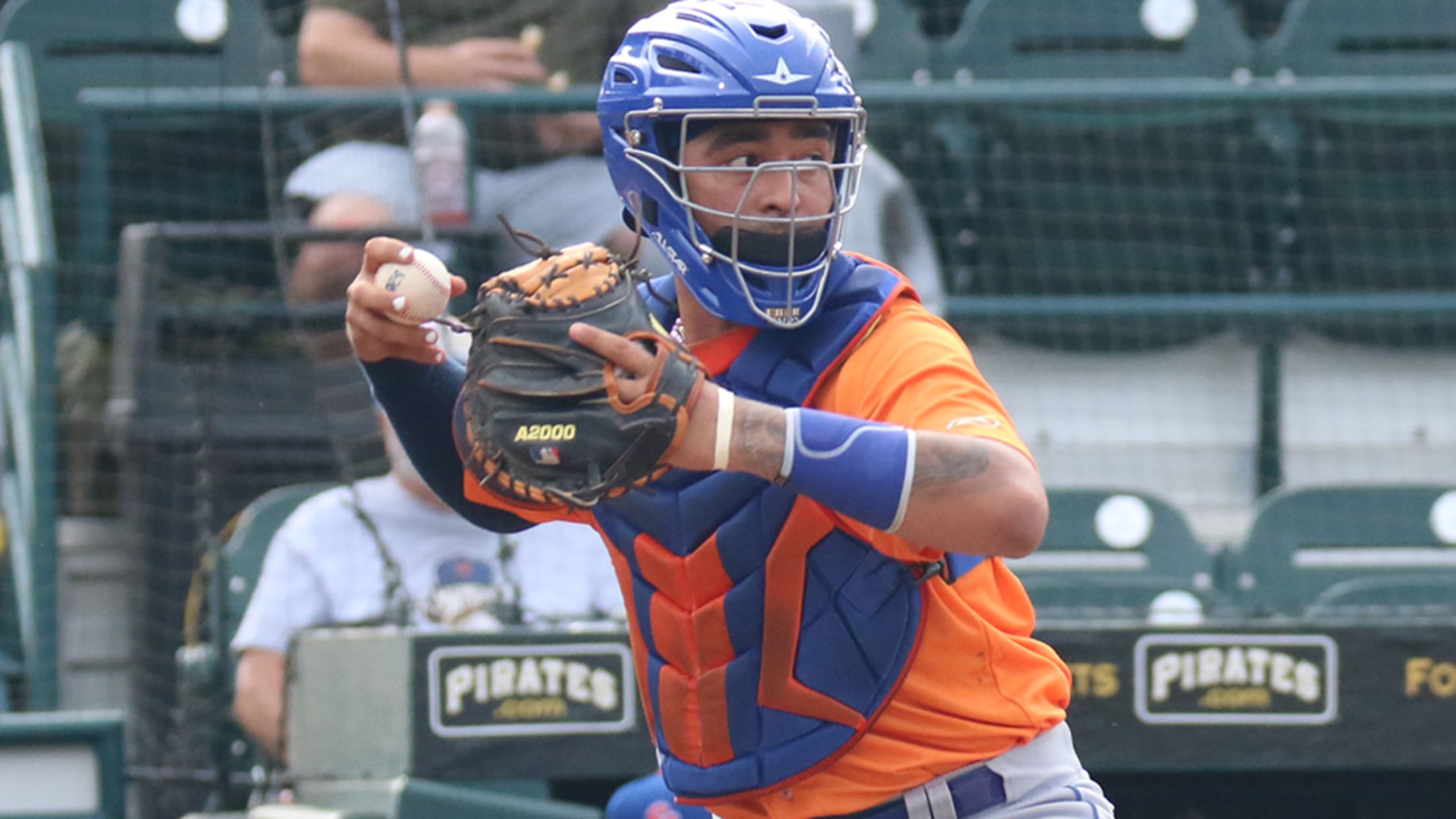 Ali Sanchez has thrown out 47 percent of would-be base-stealers over five seasons in the Minor Leagues. (Joshua Tjiong/MiLB.com)
The Mets have a secret weapon behind the plate in Ali Sanchez.Over five years of professional baseball, Sanchez has thrown out nearly half of all opposing would-be base-stealers.
The Mets have a secret weapon behind the plate in Ali Sanchez.
Over five years of professional baseball, Sanchez has thrown out nearly half of all opposing would-be base-stealers.
"He's doing outstanding," said Joel Fuentes, Sanchez's hitting coach with the St. Lucie Mets. "And I think he's one of the best catchers that we have in the system right now."
The 21-year-old has thrown out 47 percent in his career and committed only four passed balls between the South Atlantic League and the Florida State League this season. He's also impressed with his ability to take charge behind the plate.
"He's been calling the game great," Fuentes said. "He's been framing the pitches very well, and that transition, it's been successful for him."
Sanchez began his baseball journey as a shortstop, but as the competition level increased in his early teens, he started working as a catcher. Once scouts got a glimpse of his skills behind the plate, Sanchez made the switch.
The Carora, Venezuela native was signed by the Mets on July 2, 2013, and debuted in the Dominican Summer League the following year. Along with his parents, sister and wife, Sanchez relocated to the United States for the first time when he was promoted to the Gulf Coast League in 2015.
Sanchez has also worked to develop his English-language skills over the last four years, acknowledging the benefits of bilingualism as a communicator behind the plate.
"We take classes, and I like to talk with the pitchers, or the pitching coach," Sanchez said. "First time I came to the United States, [Jose] Carreno, he was my first manager, he said, 'You need to learn English because that will help a lot in your career. You are a catcher, so you need to take advantage of it.'"
Highly touted for his defensive abilities, the questions surrounding Sanchez's future have always been about his hit tool.
Sanchez batted .231 with one home run last year as a member of the Columbia Fireflies and found himself back with Columbia to open the 2018 season. After posting a .259 average, and already a career-high 16 extra-base hits, he earned a promotion to St. Lucie on June 29.
"First off I'm just trying to be consistent, trying to use my legs more," Sanchez said.
Since joining the St. Lucie Mets, Sanchez has put up solid offensive numbers. In his first 31 games in the Florida State League, the 21-year-old has hit .284 with eight doubles, two homers and 15 RBIs.
"Right now we are trying to build his foundation -- we're trying to keep it strong from his lower half and make sure he hits the ball hard," Fuentes said. "Don't think too much, keep it simple, and whatever comes off his bat, we take it. It's very simple for him."
One constant offensively has been Sanchez's ability to make contact. In 282 career games, Sanchez has struck out just 147 times.
"I think he's gonna be good. I've got a good feel for him," Fuentes said.
"He's going to be a good hitter in the future."

In brief
Home run history:
Ibandel Isabel
of the Daytona Tortugas is closing in on the Florida State League home run record of 33, set by Edward Levy (Sanford, 1950) and James Fuller (Miami, 1971). Isabel has belted six home runs in his last nine games and has 29 total. He is just three away from matching Daytona's single-season record, set by Brandon Sing in 2004.
Brujan bringing it:
Rays No. 11 prospect
Vidal Brujan
went 14-for-25 (.440) in his first seven games as a member of the Charlotte Stone Crabs, following a promotion from Bowling Green on Aug. 6. The 20-year-old hit .313 in the Midwest League with 43 stolen bases and has already swiped four bags since joining Charlotte. His 47 total steals are third-most in the Minors.
Fagalde on fire:
Alex Fagalde
of the Palm Beach Cardinals is off to a dominant start in the Florida State League, allowing only one run in 18 innings across three starts since joining Palm Beach on Aug. 1. The right-hander posted a 1.63 ERA in 13 outings with Peoria prior to his promotion and has walked only 20 batters total this year between both levels.
Kirsten Karbach is a contributor to MiLB.com.