Gabriel Noriega, Matt Ramsey promoted to AAA Colorado Springs
Javi Salas was activated from the temporary inactive list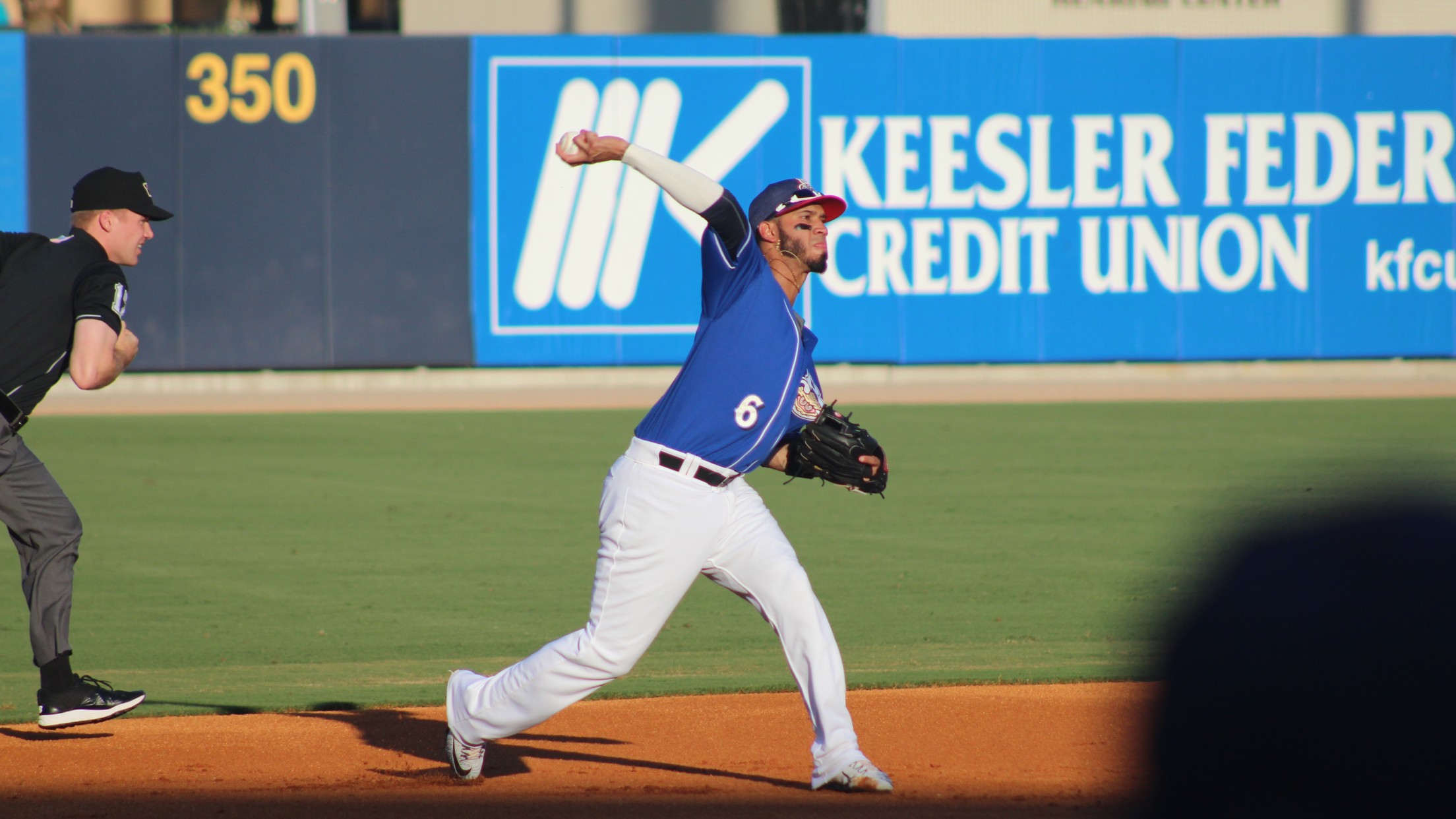 Gabriel Noriega has appeared in 86 games for the Shuckers over the past two seasons. (Hunter Reed)
BILOXI, MS - The Milwaukee Brewers announced the following roster moves on Friday: INF Gabriel Noriega  and RHP Matt Ramsey  (Thursday just prior to game time) have been transferred to AAA Colorado Springs. RHP Javi Salas has been activated from the temporary inactive list.Noriega, 26, returns to AAA Colorado Springs after his second stint with
BILOXI, MS - The Milwaukee Brewers announced the following roster moves on Friday: INF Gabriel Noriega and RHP Matt Ramsey (Thursday just prior to game time) have been transferred to AAA Colorado Springs. RHP Javi Salas has been activated from the temporary inactive list.
Noriega, 26, returns to AAA Colorado Springs after his second stint with the Shuckers. The Venezuela native batted .214 with a home run, double and four RBI over 15 games with the Shuckers as a utility infielder. Noriega has appeared in 86 games for the Shuckers over the past two seasons. While with the SkySox, Noriega batted .254 with four RBI. Originally signed by the Seattle Mariners in 2007, Noriega was named as a Pacific Coast League Triple-A All-Star during the 2014 season.
Ramsey, 27, was leading the Southern League with 20 saves in 22 opportunities. The first half All-Star went 3-2 with a 3.34 ERA with the Shuckers. This will be Ramsey's first experience at the Triple-A level after pitching in Double-A since 2014. The Knoxville, TN native leaves Biloxi tied for third with Damien Magnifico on the all-time Shuckers saves list.
Tweet from @BiloxiShuckers: ICYMI: @mattramsey28 was promoted to the AAA @skysox. He leaves tied with @Mags_32_ for 3rd on the Biloxi all-time saves list with 20! pic.twitter.com/ovFcValopE
Salas, 25, was placed on the temporary inactive list on Monday. The Coral Gables, FL native, and product of the University of Miami is 1-2 with a 5.06 ERA over seven games for the Shuckers this season with six strikeouts and 12 walks. In two seasons for the Shuckers, the 25-year-old is 4-4 with a 5.12 ERA in 20 games and 12 starts. Salas was selected by Milwaukee with their 10th round selection in 2014.
Friday's moves bring the current Shuckers roster to 24 active players. Click HERE to see the most up-to-date Shuckers roster. An updated PDF roster is attached to this email.
The series continues tonight against Birmingham as Jon Perrin faces off against Barons' ace righty Michael Kopech. First pitch is at 6:35 pm CT with live coverage beginning at 6:15 pm on Cruisin' WGCM AM-1240/FM-100.9 and the Shuckers Radio Network. The game will also be available at biloxishuckers.com, MiLB.TV and TuneIn Radio.
Former Shuckers outfielder Brett Phillips chased down a possum last April at MGM Park. Who would have ever guessed the moment might be commemorated with a one-of-a-kind bobblehead! The bobblehead features the pesky possum that earned them both Minor League Baseball's 2016 Blooper of the Year. The bobblehead will also include a sound box that produces his infamous laugh! The bobblehead is presented by Keesler Federal Credit Union & WLOX-TV. Gates open at 5:30 pm, and the first 1,500 fans will receive a bobblehead! Also, join us for Seat Belt Awareness Night in partnership with the K & J Foundation! Harlie's Law requires that as of July 1st, Mississippi will enforce that all passengers wear a seat belt in vehicles. The MDOT Convincer & Mississippi Highway Patrol's rollover car will be at MGM Park for pregame demonstrations!
Fans are encouraged to purchase tickets in advance at any Ticketmaster outlet or biloxishuckers.com.
ABOUT THE BILOXI SHUCKERS: The Biloxi Shuckers are the Double-A Southern League Affiliate of the Milwaukee Brewers. The Shuckers play at MGM Park in Biloxi, Mississippi. For more information, please visit biloxishuckers.com and follow us on Twitter @biloxishuckers and at facebook.com/biloxishuckers.com.