Garcia walks it off in series opener vs Cedar Rapids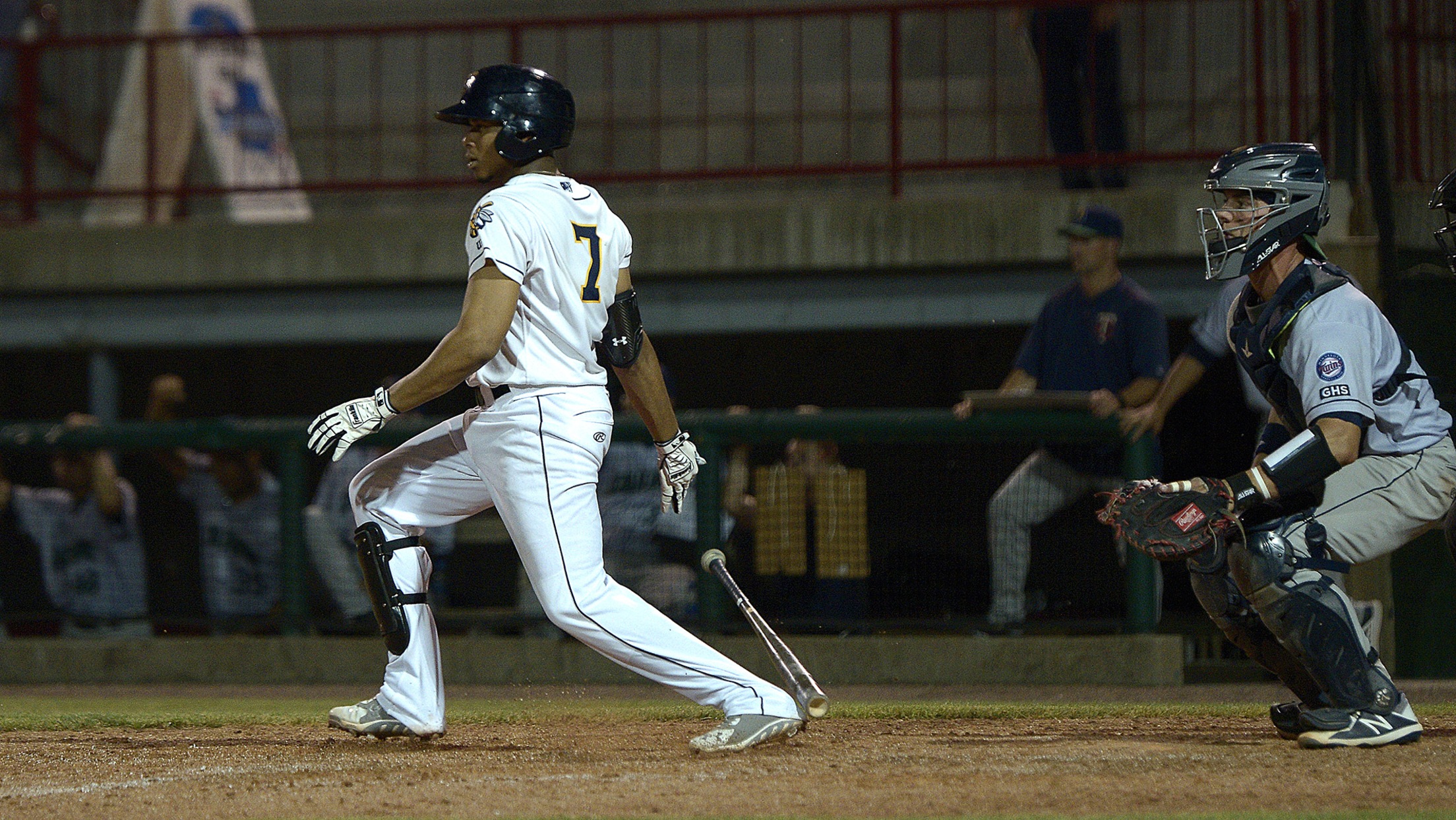 (Stephen A. Cirinna)
For Immediate ReleaseBy: RJ LarsonJune 1, 2018 
For Immediate Release
By: RJ Larson
June 1, 2018
<v:rect alt="https://hb.mlbam.net/actions/crossDomainAccess?serviceUrl=https%3A%2F%2Fservice-hb.mlbam.net%2Fcms%2Fs%2Fv1.2%2F44%2Fphoto-asset%2Fimage%2Fview%3Ffile-path%3D/assets/images/5/4/8/274912548/raw.jpg&4C5E7807-A8B5-49F0-8209-9C3CB35DB621" filled="f" id="Rectangle_x0020_2" o:gfxdata="UEsDBBQABgAIAAAAIQC75UiUBQEAAB4CAAATAAAAW0NvbnRlbnRfVHlwZXNdLnhtbKSRvU7DMBSFdyTewfKKEqcMCKEmHfgZgaE8wMW+SSwc27JvS/v23KTJgkoXFsu+P+c7Ol5vDoMTe0zZBl/LVVlJgV4HY31Xy4/tS3EvRSbwBlzwWMsjZrlprq/W22PELHjb51r2RPFBqax7HCCXIaLnThvSAMTP1KkI+gs6VLdVdad08ISeCho1ZLN+whZ2jsTzgcsnJwldluLxNDiyagkxOquB2Knae/OLUsyEkjenmdzbmG/YhlRnCWPnb8C898bRJGtQvEOiVxjYhtLOxs8AySiT4JuDystlVV4WPeM6tK3VaILeDZxIOSsuti/jidNGNZ3/J08yC1dNv9v8AAAA//8DAFBLAwQUAAYACAAAACEArTA/8cEAAAAyAQAACwAAAF9yZWxzLy5yZWxzhI/NCsIwEITvgu8Q9m7TehCRpr2I4FX0AdZk2wbbJGTj39ubi6AgeJtl2G9m6vYxjeJGka13CqqiBEFOe2Ndr+B03C3WIDihMzh6RwqexNA281l9oBFTfuLBBhaZ4ljBkFLYSMl6oAm58IFcdjofJ0z5jL0MqC/Yk1yW5UrGTwY0X0yxNwri3lQgjs+Qk/+zfddZTVuvrxO59CNCmoj3vCwjMfaUFOjRhrPHaN4Wv0VV5OYgm1p+LW1eAAAA//8DAFBLAwQUAAYACAAAACEAt3Pp4oUDAABuBwAAHwAAAGNsaXBib2FyZC9kcmF3aW5ncy9kcmF3aW5nMS54bWykVdtu4zYQfS/QfxAEpG+yLqZsyV0lsCVrUSDbBuvmA2iKtthSpErSl7Tov++QktdOUvRhV7AlcmZ4ODM8M/zwcO64d6RKMykKP55EvkcFkQ0T+8J//r0OMt/TBosGcylo4b9Q7T/c//jDB7zYK9y3jHiAIPQCF35rTL8IQ01a2mE9kT0VoNtJ1WEDU7UPG4VPgNzxMImiWdhhJvz7K1SFDfYOin0DFJfkT9qUWByxBkhOFreS0UdOvh8ZL8Txo+o3/ZOynpNfj0/KY03hQ+YE7iBFfjgqRjOYhm9W7a8A553qrL3c7byzQ3mxb4dBz8YjIJxGKIsAn4BqHA97tL/9xyrSrv93HTgzbAqDG0d0b90Qx/eRJZfIPlMCVNhz6oGooZqoIZ8aTr3dTjq+xd1EUBNiYoBPOiRKal1Je85LQqjWD5qqIyP0WfHC0kXfTZd3SQ2/URHc4oCYdNoq4X+MJwl8EIJX30ojA6w1NTBjHd5Ta8Ho6W5a7xinQY9NezetQmejQ2eiwzREYRYmc5THSYqyEOg4+aPf/4S7/mdUput5Fs2DZbZKA5TXUZAlUR7k5bRcTdNqNUvir0d7SZLuH4F42hOybCEzdKl7yBEUEqTsIlJKnlqKG23FAxmANQOCI8YVDKi0PX2SDbAIH4x0tfHtBPl60HjRK20+Utl5dlD4Cpx04Pj4qM3g08XEsUDWjHPHMS5eCQBzkAA3YanVWZa6ov0nj/J1ts5QgJLZOkBRVQXLukTBrI7naTWtyrKK/7X7xmjRsqahwm5zaSAxeledHbMMkjszIbILoUSAOpcmAi0kjq4tREvOGgtnXdJqvy258o6YF37tnjHzN2bhazdclUIsb0KKExStkjyoZ9k8QDVKg3weZUEU56t8FqEcVfXrkB6ZoN8fkncq/DxNUndKN06/iS1yz/vY8KJjhiqPs67woXfAM3DXEnEtGne0BjM+jG9SYd2/pgKO+3LQMNRj0zPnjWsW5rySzYtN2Ba+QF4lgVzQqOBCgUEr1d++d4JrovD1XwesqO/xXwTUQR4jBGbGTVA6T2CibjXbWw0WBKAK3/jeMCwNzGDJoVds38JOsUuTkEsomh0bCT34ZL3j2mzMC6cuauc5Fc0TVvgz+MyhbgufiuB5M+YRLCDYa3AHTTe97X1DoQzRu3SA4Zubxi0db0Z7nd3O778AAAD//wMAUEsDBBQABgAIAAAAIQC6I1YXQQYAAA0aAAAaAAAAY2xpcGJvYXJkL3RoZW1lL3RoZW1lMS54bWzsWUuP2zYQvhfofxB0b9Zvx4t4g10/dtuskyB20uZIS7TEmBIFkt6Nb/0FBQqkRS8FeuuhlwDtb0rRpj+iQ+ph0qazD2yBoMgaWEijb4bDmdE3JPXg4euEeheYC8LSvl+/V/M9nAYsJGnU95/Pxl/c9z0hURoiylLc99dY+A+PPv/sAToMKMnmDPFwFuMEe2AoFYeo78dSZocHByIAMRL3WIZTeLZgPEESbnl0EHJ0CQMk9KBRq3UOEkRS/wgsSmVoROFfKoUSBJRPlRnspSiB0Z8sFiTAGhsu6woh1mJAuXeBaN8HmyG7nOHX0vcoEhIe9P2a/vMPjh4coMNCico9uobeWP8VeoVCuGzoMXk0rwZttdqtznFlXwOo3MWNuqPOqFPZ0wAUBDDT3BfbZrcxaBVYA5RfOmwPu8Nm3cIb9ps7Ph+31c/Ca1Buv7WDH48HEEULr0E5vr2Db5/0Toa2fQ3K8Z0dfLd2PGx1LfsaFFOSLnfQtXanOShnW0EWjJ454b12a9xtFMY3KKiGqrrUEAuWyn21lqBXjI8BoIAUSZJ6cp3hBQqgJgeIkjkn3jmJYii8DKVMgLjWqI1rTfivfi19pTOKDjEytJVf4InYESl/PBFwksm+/xVY9Q3Iy5V3ymRMgmJUbcTSOENpZGq8//X7f37+1vv791/ev/khH3QbL0z8EKfRNwSlHxoAZrsJw7sf3/75x9t3P333129vHPaPOZqb8BlJsPAe40vvGUtgco4Z4Dm/mcYsRsTUOE4jgVKkRnHYH0H8TPTjNaLIgTuBSJi4FxxoxgU8Xb2yHJ7GfCWJw+KjOLGAE8boCePOKDxSYxlhnq3SyD04X5m4ZwhduMYeoNTK82iVAb8Sl8lBjC03n1KUShThFEtPPWNLjB2ze0mIFdcJCTgTbCG9l8Q7QcQZkhmZW9W0UTojCeRl7XIQ8m3FZvLCO2HUNeshvrCR8HYg6nB+hqkVxlO0kihxmZyhhJoBP0cydjk5XfPAxI2EhExHmDJvFGIhXDpPOMzXSPojoBh32id0ndhILsnSZfMcMWYih2w5iFGSubBTksYm9kuxhBJF3lMmXfAJs98QdQ95APLYl+4XBFvpvpoNngO7mi5tCkQ9WXFHLk8xs+p3uqYLhDXVAPlbnJ6Q9EqC36L29n9H7ROSBjFzzOiuSN1t2srIDen8mBPn+3S2ReL7cNvUPWA8JB8/cw/RKn2K4WXZbV+fiPsTcfv/e+Le9z7fPV1vGBrIWy1d88W6Xrone1fuC0LpVK4pPhd68S6gL4VjECo9vUPF1U4ui+FSvckwgIWLONI6HmfyayLjaYwyWOHXfWUkEoXpSHgZE7Dw12KnbYWnq2TCwnzDWq+rzWlOHgLJjbzWruSw2ZA5utPdbMIq89rbSG+WSweU7k2cMAaznWg6nOiWQhUkvTWHoDmc0DO7Ey96Di/uK/Nlqna8ANeqrMDCyYPlVt9vt0AFlGBPhSgOVZ7yVJfZ1cm8y0zvC6ZVAbCKKCtgk+me8nXv9NTs8lK7RqYtJ4xys53QkdE9TMQoxEV1Kul13LhprnublFruqVDo8aC0Nm5073/Ii9vmGvS2uYGmJlPQ1Lvs+51mG0omQFnfX8DGHy6TDGpHqAUvohEcmQWS5y/8bZgl40IOkYjzgGvSydkgIRJzj5Kk76vpV2mgqeYQ7Vu9AYTw0TrXA1r52JyDpNtJxosFDqSZdkOiIp3fAsPnXOF8qtVvD1aabAXpnsbhpTenK/4MQYm1u3UVwJAIOP+p59EMCRxoVkS2qb+txlTQrnmiqGsolyOaxajoKCaZ53BN5ZU7+q6KgXFXzBkCaoSkaITzSDVYM6hWN626Ru7D3q57tZKKnEGam55psYrqmm4Ws0Yo28BWLG/X5A2vyhADp5kdPqfubcrtlVy3tU6ougQEvIqfo+teoyEYrm0Gs1xTHu/SsOLsQmr3jnKCV7h2nSZhsH6nNLsVt6pHOIcD4a06P+htVy2IFuW6Ukfa9XFigjJvHtX7PnwggNOJ13AFnxh8kDWUrKFkcAXfDaBd5If9fb+4KCXwPJdUmGYpaZaYVilplZJ2KWmXkk4p6fiePhWHLzHqQNz3ykNv6GHFIXmxtrC/4Bz9CwAA//8DAFBLAwQUAAYACAAAACEAnGZGQbsAAAAkAQAAKgAAAGNsaXBib2FyZC9kcmF3aW5ncy9fcmVscy9kcmF3aW5nMS54bWwucmVsc4SPzQrCMBCE74LvEPZu0noQkSa9iNCr1AcIyTYtNj8kUezbG+hFQfCyMLPsN7NN+7IzeWJMk3ccaloBQae8npzhcOsvuyOQlKXTcvYOOSyYoBXbTXPFWeZylMYpJFIoLnEYcw4nxpIa0cpEfUBXNoOPVuYio2FBqrs0yPZVdWDxkwHii0k6zSF2ugbSL6Ek/2f7YZgUnr16WHT5RwTLpRcWoIwGMwdKV2edNS1dgYmGff0m3gAAAP//AwBQSwECLQAUAAYACAAAACEAu+VIlAUBAAAeAgAAEwAAAAAAAAAAAAAAAAAAAAAAW0NvbnRlbnRfVHlwZXNdLnhtbFBLAQItABQABgAIAAAAIQCtMD/xwQAAADIBAAALAAAAAAAAAAAAAAAAADYBAABfcmVscy8ucmVsc1BLAQItABQABgAIAAAAIQC3c+nihQMAAG4HAAAfAAAAAAAAAAAAAAAAACACAABjbGlwYm9hcmQvZHJhd2luZ3MvZHJhd2luZzEueG1sUEsBAi0AFAAGAAgAAAAhALojVhdBBgAADRoAABoAAAAAAAAAAAAAAAAA4gUAAGNsaXBib2FyZC90aGVtZS90aGVtZTEueG1sUEsBAi0AFAAGAAgAAAAhAJxmRkG7AAAAJAEAACoAAAAAAAAAAAAAAAAAWwwAAGNsaXBib2FyZC9kcmF3aW5ncy9fcmVscy9kcmF3aW5nMS54bWwucmVsc1BLBQYAAAAABQAFAGcBAABeDQAAAAA=" stroked="f" style="width:24pt; height:24pt; v-text-anchor:top"> <o:lock aspectratio="t" v:ext="edit"><w:wrap type="none"><w:anchorlock>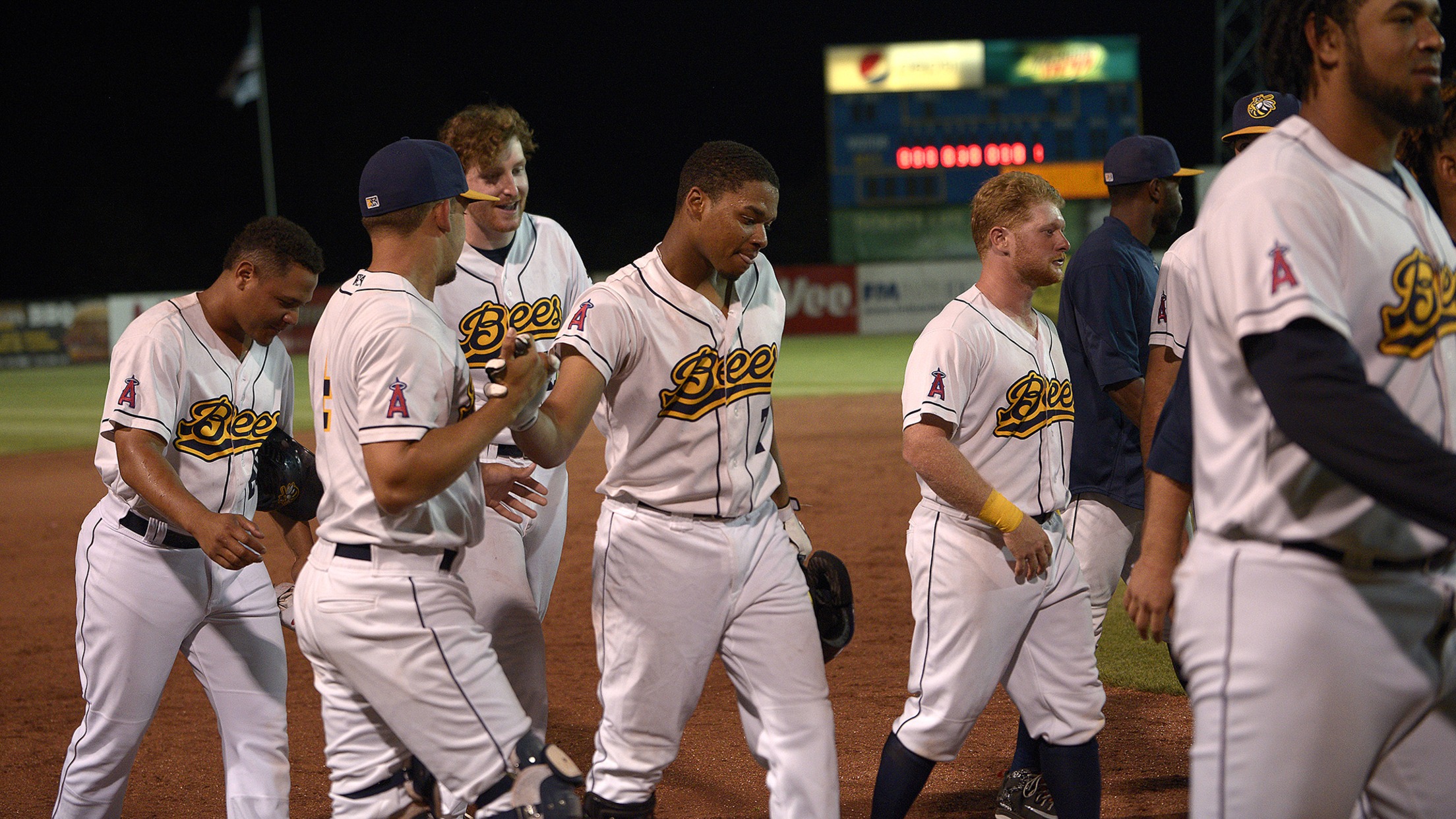 Photos by: Steve Cirinna
Bees walking off the field after another walk off victory
Garcia walks it off in series opener vs Cedar Rapids
Julio Garcia sends a two out single to center, ending the Bees five game losing streak
Check out his walk-off hit here.
Burlington, IA. - The Burlington Bees (23-32) ended their five game losing streak on an exciting game winner against the Cedar Rapids Kernels (25-27), winning 4-3 in ten innings. Kyle Halbohn (1-0) earned his first victory of the season, pitching the final two innings and allowing just one hit and getting a strikeout. Calvin Faucher (1-1) suffered his first loss for the Kernels allowing the game winning run in the bottom of the tenth. He went one and two thirds innings, allowed an un earned run, three hits, two walks, and three strikeouts.
Kernels go up by two before Bees big fifth
Cedar Rapids scored right away in the first inning, on a two out double by Jose Miranda to right, giving Cedar Rapids a 1-0 lead. In the top of the fifth, Akil Baddoo hit his fourth home run of the season to left for a solo shot, making it 2-0 Cedar Rapids.
Defense cost Kernels in fifth
Julio Garcia gave the Bees their first hit of the game on a one out single, and Connor Fitzsimons followed it up with a single of his own. Jimmy Barnes then hit into a fielder's choice, but Garcia and Fitzsimons were able to advance on the play. Gleyvin Pineda then got the Bees on the board with a single to center, tying the game 2-2. After a Gurwitz strikeout, Leonardo Rivas hit a routine groundball to first, and it looked like Cedar Rapids was going to get out of the inning with the game tied. However, Randy Dobnak dropped the throw to first, making Rivas safe at first, and Pineda was able to hustle in to home, giving Burlington a 3-2 lead.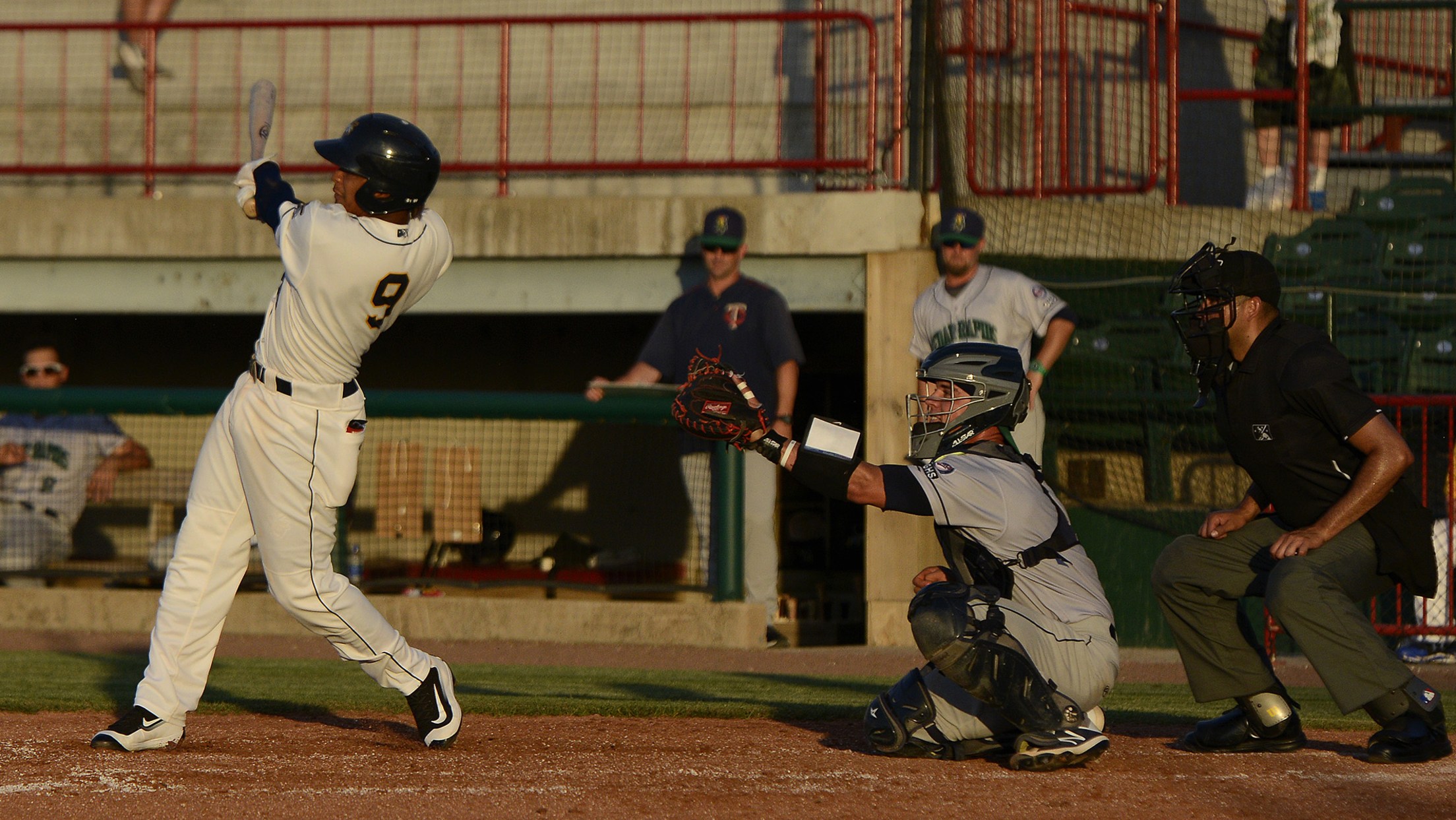 Photos by: Steve Cirinna
Pineda's fifth inning single ties the game at 2-2
Bees win in wild extra innings
Alex Kiriloff tied the game in the top of the sixth with a solo home run, and no team managed to score the rest of regulation. Jordan Gore began extras by reaching on a fielder's choice, because his bunt went down the third base line and Gurwitz attempted to throw Jean Carlos out trying to advance, but he ran back to second and no one covered, making all runners safe. Carlos would be out at third on the next bunt attempt by Baddoo, and two ground outs got the Bees out of the tenth.
Rivas began the tenth at second and Spencer Griffin got a single in a very bizarre way. Griffin hit a line drive right at Faucher, but it went off the top part of his glove, and Griffin was able to reach first in time. Faucher then got back to back strikeouts on Kevin Williams Jr. Jr and Franklin Torres, and it looked like we were heading to eleven innings. Of course, that didn't happen, because Garcia hit a line drive to center for a base hit, and the speedy Rivas managed to beat the throw to home, giving Burlington the 4-3 victory.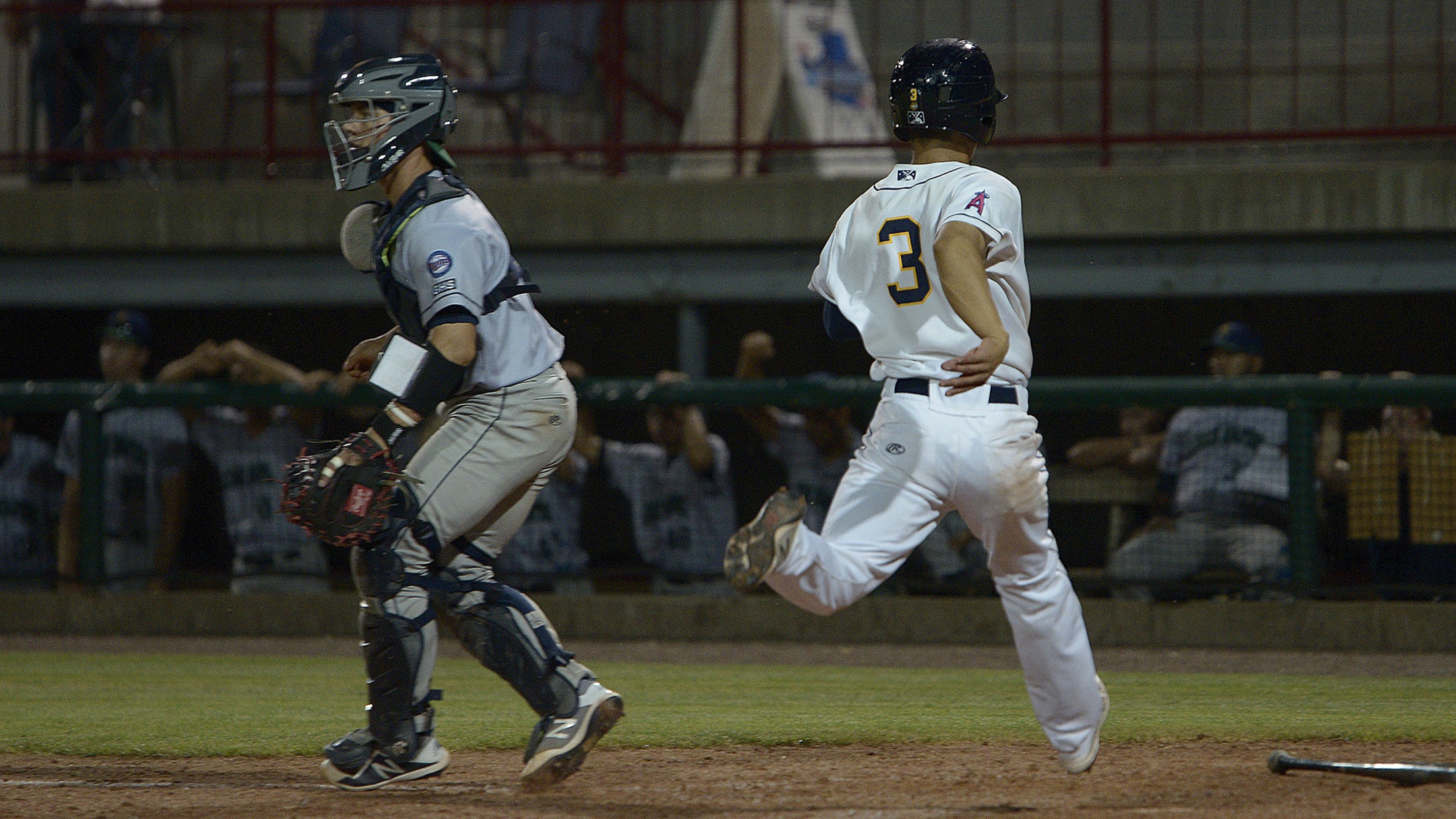 Photos by: Steve Cirinna
Leo Rivas crossing the plate for the game winning run
Lewis non-factor in game
The number one overall pick from the 2017 draft had a rough game at the plate, going 0-5 in the game. However, his supporting cast Baddoo, Kirilloff, and Miranda had good games for the Kernels. Baddoo went 2-5 with a solo home run, Kiriloff was 3-5 with an RBI and two runs scored, and Miranda went 2-3 with an RBI and a walk. The three players combined for seven of the ten hits but will need help from the bottom of the lineup if they want to score more runs in tomorrow's game.
Looking ahead
Bees will look to carry the momentum into game two of the series tomorrow a 6:30 pm. Cedar Rapids has not named their starter, but Burlington has announced they will start Oliver Ortega. Ortega is 2-0 in three starts, with a 1.29 ERA. Tomorrow is fireworks night at Community Field. The Bees will have a big firework show after tomorrow's game.
About the Bees
The Burlington Bees are the Class-A affiliate of the Los Angeles Angels of Anaheim. Professional baseball in Burlington, Iowa dates back to 1889, giving this community one of the longest and most storied histories of any current Minor League Baseball organization. The Bees take pride in upholding that rich history and providing a place for community events and maintaining affordable family entertainment. GOBEES.com
###