Garrett Cooper: A Model Of Consistency
Production and steadfastness prove key to Cooper's success.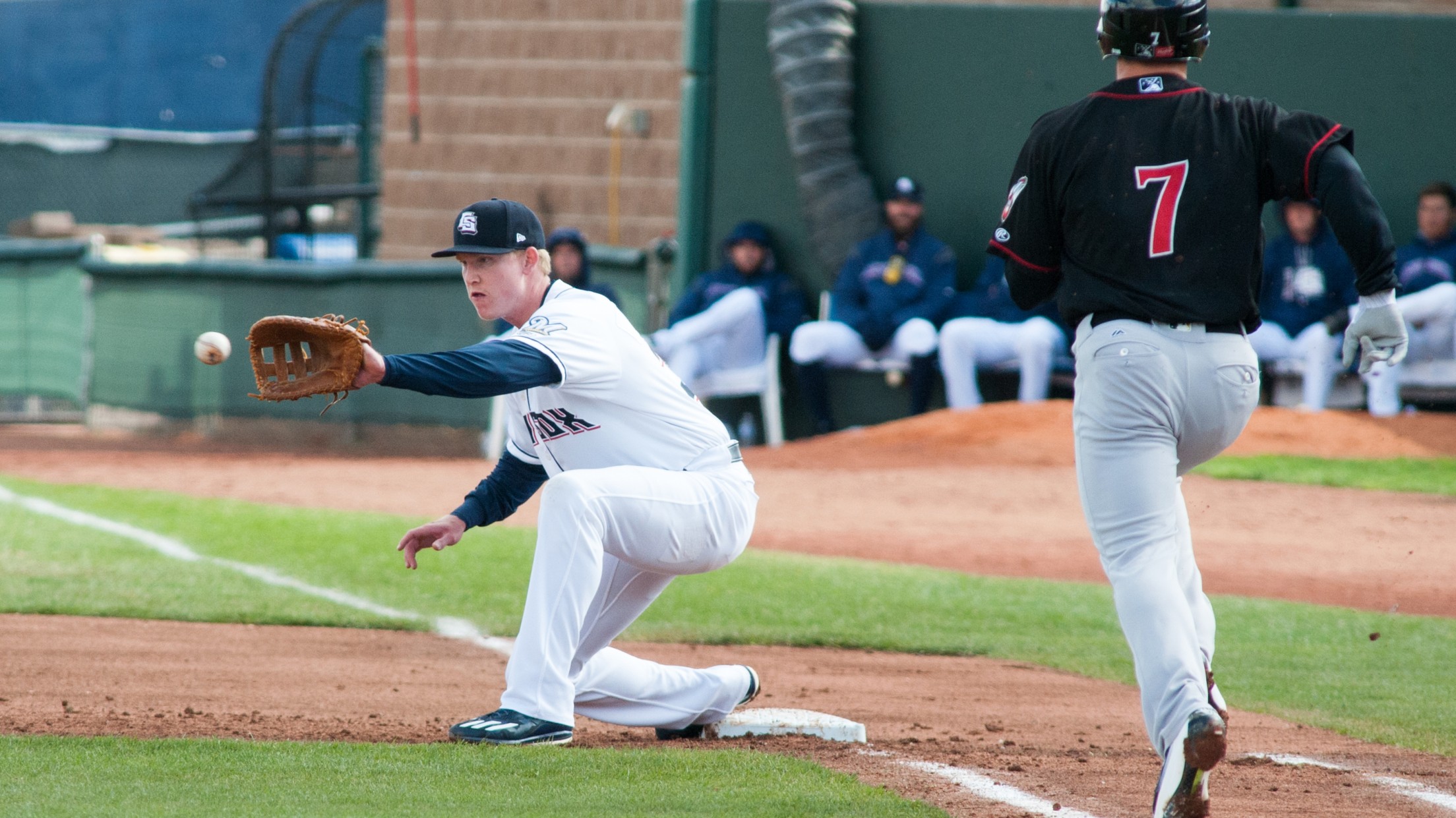 Garrett Cooper has played first base in 33 of the 41 Sky Sox games in 2017. (Paat Kelly)
Sky Sox first baseman Garrett Cooper has been a presence in the middle of the offensively potent Colorado Springs lineup to begin 2017. 
Sky Sox first baseman Garrett Cooper has been a presence in the middle of the offensively potent Colorado Springs lineup to begin 2017.
April's Position Player of the Month for the Sky Sox, Cooper has made his presence felt through the early portion of the Sky Sox schedule. In the season's first calendar month alone, Cooper recorded a .320 average, reaching safely via 24 hits and a team-high 21 RBIs.
Starring as the No. 4 hitter in all but one game this season, the 6'6" righty leads the team in home runs, doubles, total bases, slugging percentage and RBI, with that last statistical category also placing Cooper among the Pacific Coast League leaders.
What stands out about Cooper's performance during almost one full season in the high altitude of Colorado is the sheer consistency of his output. After his promotion to Triple-A on July 26, 2016, Cooper reached safely in 26 of 36 games played.
Add on 2017's statistics through May 22 and Cooper has safely reached in 56 of 69 games as a member of the Sky Sox-failing to reach in just two of the first 29 games this season, thanks in part to a 12-game and a 10-game hitting streak during April and early May respectively.
"I've started off well," said Cooper. "It's a day-in, day-out thing. You go through your ups and downs no matter what baseball player you are. You're going to take an 0-for-4 night, but it's how you respond to that to keep pushing forward."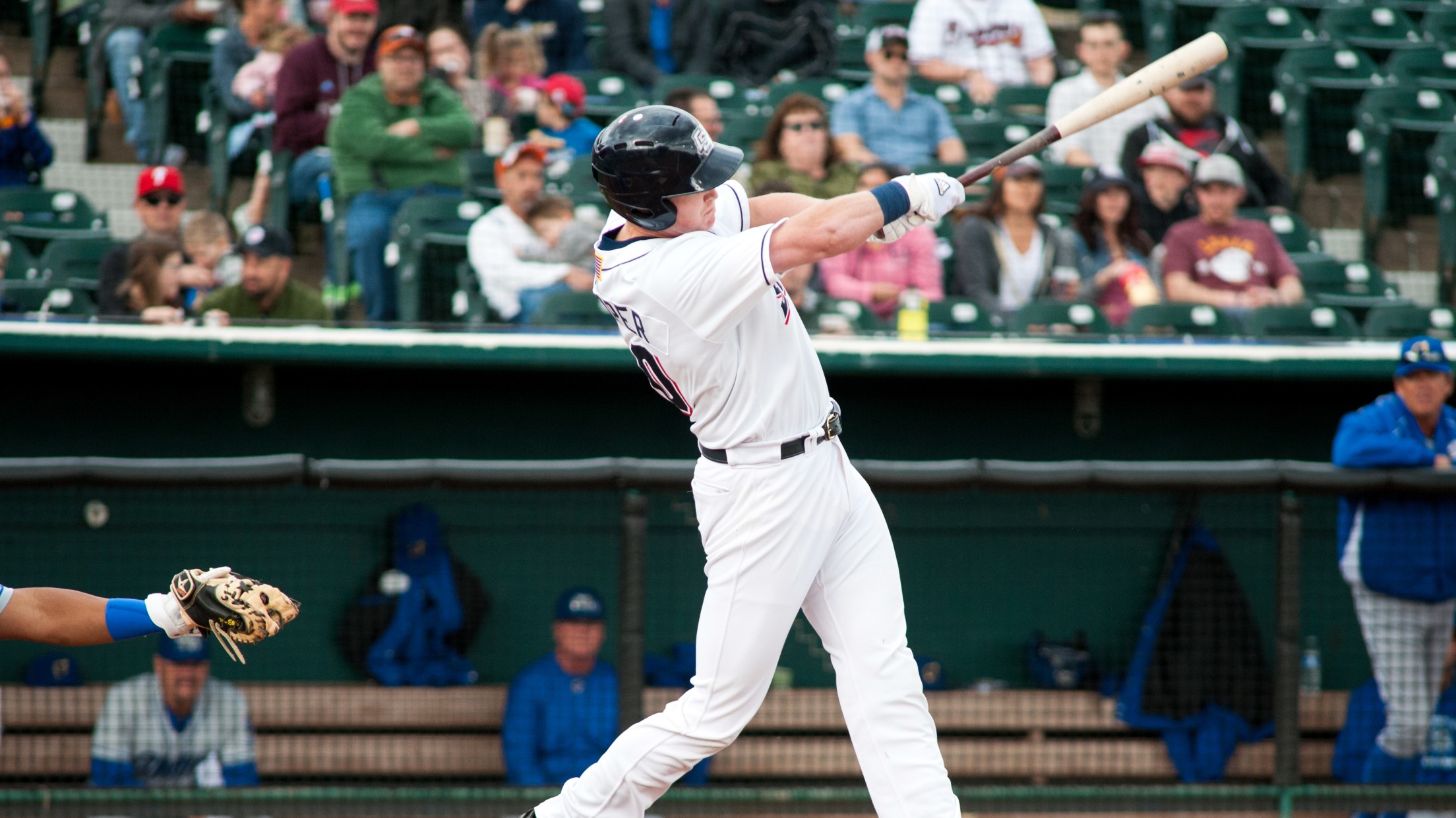 It helps that Cooper has stepped up to the plate with runners on more times than not. The current Sky Sox roster features eight players, including Cooper, with more than 74 at-bats who have hovered at or above the .300 mark.
"Our lineup is as stacked as they come, (and) you can definitely see it when you're scoring 10 to 15 runs a game," said Cooper. "When you have a guy like (Lewis) Brinson leading off who would be the No. 3 or No. 4 batter on another team. That guy has just as much power as anyone. Then you have guys like (Eric) Sogard and (Ivan) De Jesus who have been in the big leagues and our No. 9 guy could be a No. 1 hitter in an organization.
"It's the dynamic of what the team brings and how our lineup is pieced together that is a threat to have 30 hits a night. I feel like every time I come up, there's someone on base, so for guys to keep hitting how they are makes it fun."
The journey to the center of the Sky Sox lineup began in the backyards of Southern California. Growing up in the Los Angeles suburbs along the Pacific Ocean, Cooper grew up as the youngest of seven children-five boys, two girls.
"Everything was sports all the time," said Cooper, a three-sport high school athlete himself. "We had a big backyard and we'd either play football or basketball or whatever we wanted to do. They all played sports in high school, but none of them ever went past the high school level. I couldn't ask for more in terms of older brothers helping you succeed."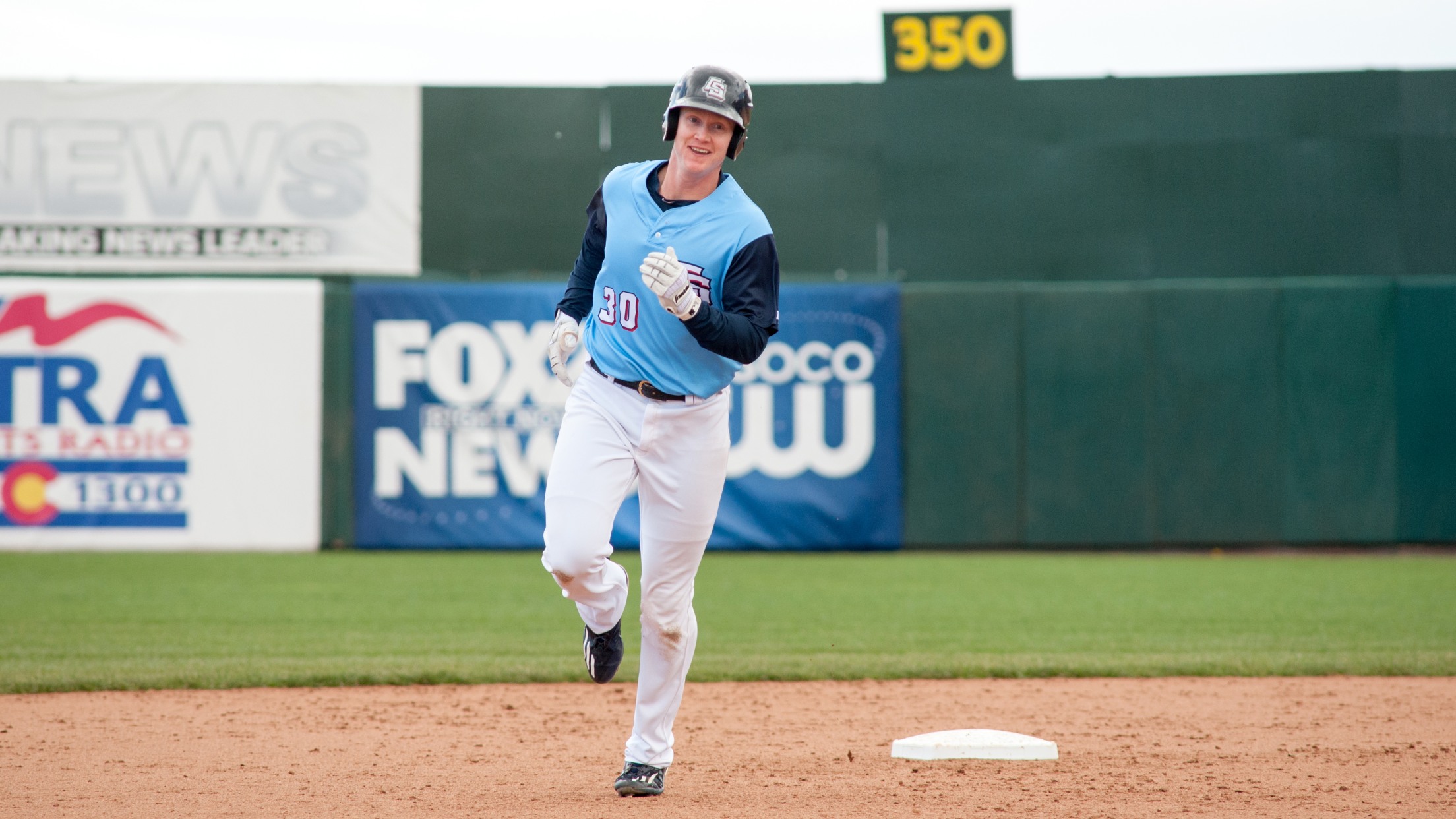 With his siblings helping out athletically, it was his parents who made sure that the education came as well. Even after being drafted in 2013, Cooper went back over the span of multiple offseasons to complete his degree from Auburn University.
"My dad took more pride in me getting a degree and going to college," said Cooper. "He's all about succeeding in baseball, but he was a businessman and didn't play sports in college. Now's he's retired and he and my mom sit with the grandkids and watch me from home.
"There's a group text every day between the brothers. Everyone in my family watches every single game and I hear about it from everybody every single day about something I should or shouldn't be doing. It's really good to have such a close-knit group that supports you. They're all engaged and having kids, so it's a different lifestyle than they're used, but they love it and they're not even in it.
Despite growing up in Pac-12 country, Cooper decided to wind up in the Southeastern Conference. After spending two years at El Camino Community College (where he was named the South Coast Conference Offensive Player of the Year in 2011), Cooper headed east to the plains of Alabama.
"I had the Pac-12 scholarships, and my family pushed me to try to be a (Southern California) Trojan, but I took a visit to Auburn," said Cooper. "Watching the atmosphere of a football game was something different. The dynamic isn't as life-and-death for sports in the Pac-12 as it is down south. I loved getting away from home.
"Playing in the SEC also helped to get noticed, so I think it was one of my smarter choices. I went back and finished my degree, and it was the best four years I had, even after getting drafted."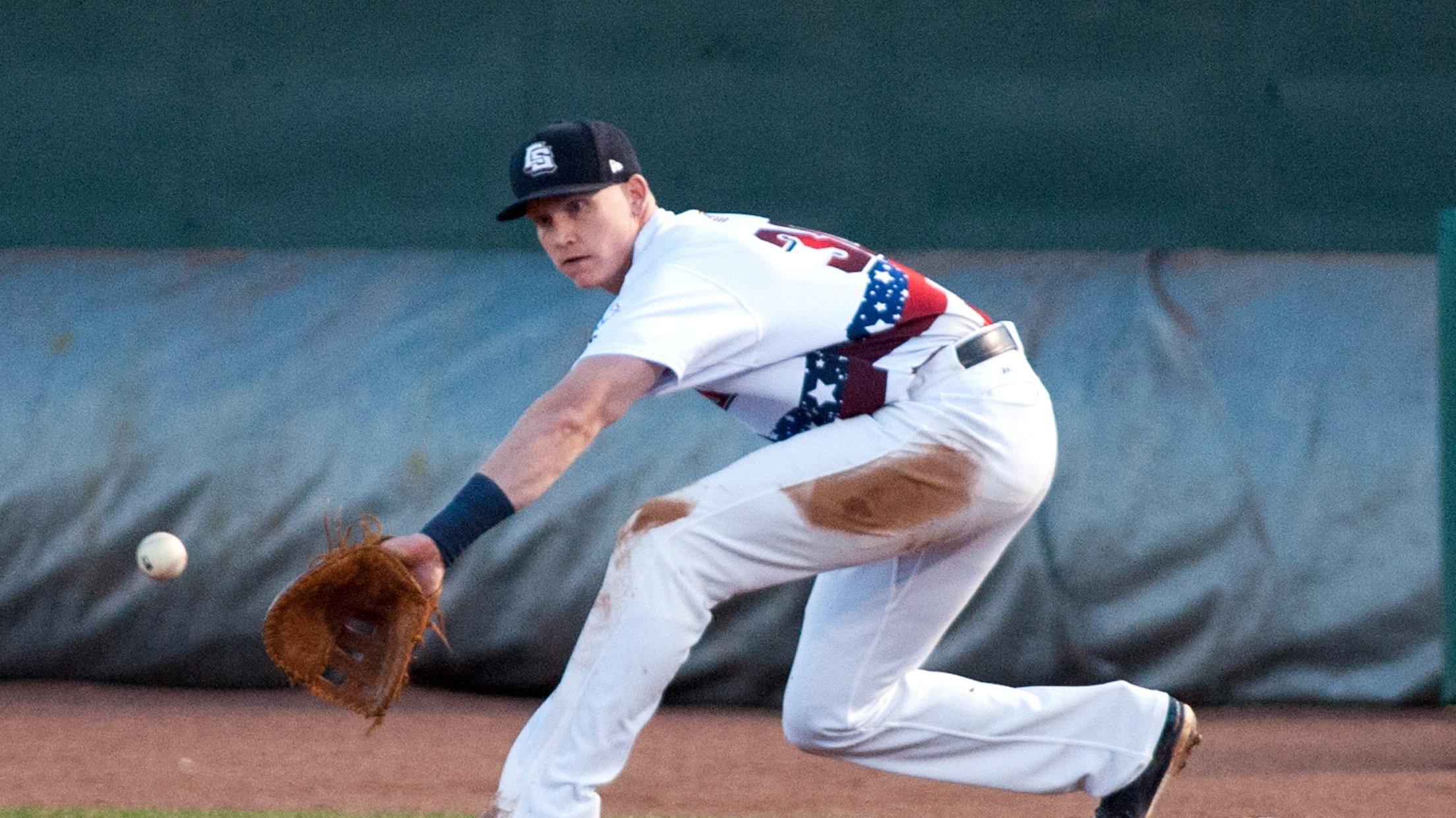 Meanwhile, in between getting his degree, the MLB came calling that June morning of 2013.
"I talked to four or five different teams that morning and they said that they were most likely going to draft me somewhere between the fourth and eighth rounds," said Cooper "I had actually just gotten off the phone with the Royals about 10 seconds before seeing my name pop up on the screen as the Brewers pick. I was expecting to go to the Royals, but things happen for a reason and it was one of the better days of my life."
Elevating to the next level in the Brewers system in each of his four seasons entering 2017, Cooper has learned how to keep everything in perspective when it comes to the intricacies of minor league baseball.
"You have to perform at every level and you have to be better than the last level to get (called) up," said Cooper. "You can't control how the big league team is doing, so you just have to control what you can control each day in your at-bats and your defense. You just stay the course and hope for the best. You can't start getting mad or sad that you're not up there because it's just up to how the cards fall."