Gaynor, Sierra Return to Newly Minted 2023 Mussels' Coaching Staff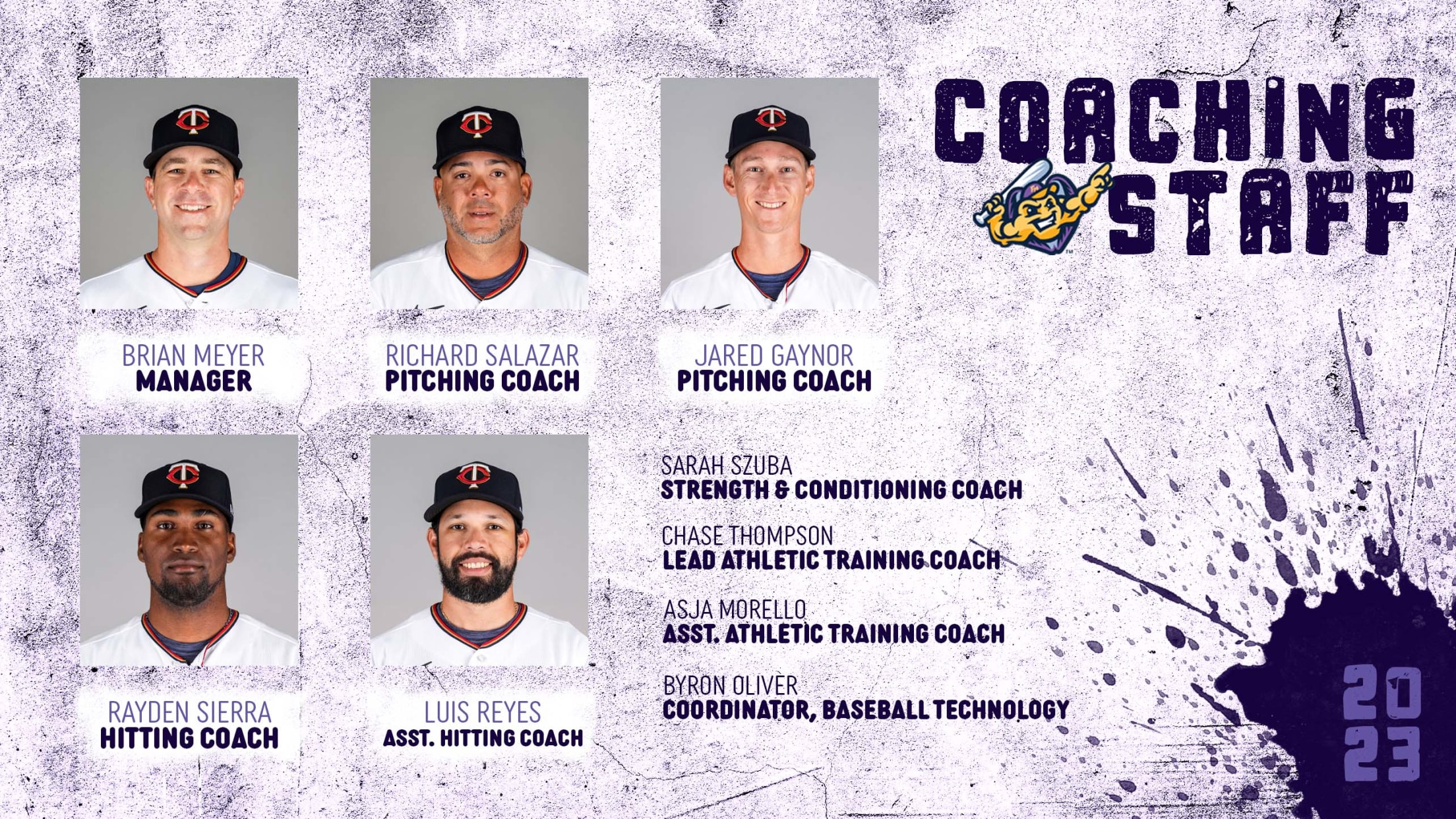 FORT MYERS, Fla. (January 19, 2023) - The Minnesota Twins announced the Mighty Mussels' coaching and support staff for the 2023 season Thursday, with five staff members returning from last year's First Half Division Championship team. Returning (5) Brian Meyer – Manager Jared Gaynor – Pitching Coach Rayden Sierra –
FORT MYERS, Fla. (January 19, 2023) - The Minnesota Twins announced the Mighty Mussels' coaching and support staff for the 2023 season Thursday, with five staff members returning from last year's First Half Division Championship team.
Returning (5)
Brian Meyer – Manager
Jared Gaynor – Pitching Coach
Rayden Sierra – Hitting Coach
Chase Thompson – Head Athletic Trainer
Byron Oliver – Coordinator of Baseball Technology
New Additions (4)
Richard Salazar – Pitching Coach
Luis Reyes – Assistant Hitting Coach
Asja Morello – Assistant Athletic Trainer
Sarah Szuba – Strength & Conditioning Coach
For more on Meyer, visit this morning's article.
Salazar joins the Mussels from High-A Cedar Rapids while Reyes spent 2022 with the FCL Twins.
2022 Mussels bench coach Takashi Miyoshi has been assigned to Double-A Wichita, while pitching coach Carlos Hernandez will spend the 2023 season with High-A Cedar Rapids.
Morello and Szuba will become the first female staff members in 31 years of Fort Myers franchise history.
Rayden Sierra - Hitting Coach (3rd Season)
Sierra returns to the Mighty Mussels after joining the Twins' organization in 2021. He coached first base and served as the team's Assistant Hitting and Development Coach in 2021 before becoming the Mussels' hitting coach in 2022.
Prior to joining the Twins, Sierra was the hitting and outfield coach for Florida SouthWestern State College in Fort Myers. Before his time in Southwest Florida, Ray coached at Volunteer State Community College in Gallatin, Tennessee.
Sierra played for Broward College (Fla.) and Cumberland University (Tenn.) before playing professionally. He hit .245 for the Schaumburg Boomers (Frontier League) in 2019. He was born and raised in Andres Boca Chica, Dominican Republic and currently resides in Fort Myers with his wife, Melanie and his newborn daughter, Viviana.
Jared Gaynor - Pitching Coach (2nd Season)
Gaynor is back to lead the Mussels' pitchers for the second consecutive season. In 2022, Fort Myers led the Florida State League in ERA (3.51) and WHIP (1.21) while issuing the fewest walks in the circuit. In 2021, his FCL Twins staff finished fourth out of 18 teams in strikeouts, racking up 544 punchouts in 476 innings (10.3 K.9).
The 30-year-old spent five years coaching and four years playing professionally upon graduating from George Mason University (Fairfax, Va.) in 2014. The left-hander pitched for six different independent league teams from 2014-17, debuting in three different leagues around the country. He racked up 328.1 innings in his pro career, which included stops in Kansas, Nebraska, Texas, Pennsylvania and Michigan.
From 2015-17, Gaynor pitched in the summer while coaching during the rest of the year. Gaynor made his coaching debut as the pitching coach for Coronado High School (Ariz.) in 2015 before getting offered the head coaching position the following season. He was hired by Arizona Christian University in 2016, spending two years as the school's pitching coach. Gaynor moved to Richmond in 2018, spending the 2018-19 school year as the Director of Baseball Operations for VCU before getting signed by the Twins.
Born in Cave Creek, Ariz., Gaynor was the 2010 Metro Region Player of the year at Scottsdale Christian before playing his first two college seasons at Stone Mountain Community College. He spent his final two collegiate seasons at Division I George Mason, turning in one of the best campaigns in Patriots history as a senior in 2014. An All-Conference performer, Gaynor finished with a 2.03 ERA over a whopping 115 innings, leading the Patriots to the NCAA Tournament.
He currently lives in Fort Myers with his wife, Hayley and his newborn son, Sonny.
*Richard Salazar - Pitching Coach (1st Season) *
Salazar enters his sixth year in the Minnesota Twins' organization and the first as a coach with the Mighty Mussels. He spent the last two seasons as a pitching coach for High-A Cedar Rapids.
While with the Kernels, Salazar and Mark Moriarty combined to lead Kernels' hurlers to the best ERA in the Midwest League in back-to-back seasons. The 2022 Cedar Rapids Kernels worked to a 3.66 ERA, striking out 1,250 batters in 1,140 innings (9.9 K/9) while issuing the second fewest walks (424) in the circuit. The 2021 team went 67-53 with a 3.88 ERA, fanning a remarkable 1,303 batters in 1,052 innings (11.1 K/9). Both Kernels teams qualified for the Midwest League Playoffs. The 2021 squad reached the League Championship Series before ultimately losing the decisive game to Quad Cities.
Prior to the pandemic, Salazar served as the pitching coach with rookie-level Elizabethton in 2019. Once again, his team led the league in strikeouts (731) while placing third in ERA (4.04). In 2018, he split the season between the GCL Twins and Double-A Chattanooga.
The Caracas, Venezuela native came to the United States to pitch for Miami Dade College before getting drafted by the Baltimore Orioles in the 13th Round of the 2001 MLB Draft. From there, Salazar embarked on a 17-year minor league journey that brought him to various parts of the globe. The now 42-year-old amassed 1,523.1 innings from 2001 until he finally retired in 2017. He pitched exclusively in the Orioles' system until 2006, when he began his first of 11 seasons in the Venezuelan Winter League. After spending the 2007 season with Double-A Bowie and Triple-A Norfolk, Salazar started a 10-year independent ball career that included stops in Louisiana, Kansas, South Dakota, and New York. He also pitched in the 2013 World Baseball Classic for Spain.
Salazar's family includes his wife, Yessica and his two children, Stephanie Sophia and Richard Ignacio.
Luis Reyes – Assistant Hitting Coach (1st Season)
Reyes joins the Mighty Mussels' staff after spending the 2022 season with the FCL Twins. Hired by the Twins in December of 2021, Reyes coached eight seasons at four different colleges in the Midwest.
Born in Puerto la Cruz, Venezuela, he emigrated to the United States in 2009 to play for Iowa Lakes Community College. After two seasons with the Lakers, Reyes anchored the left side of the infield for Clarke University (Dubuque, Iowa) from 2012-13. As a senior in 2013, he hit .313 with a team-high 21 walks over 46 games while earning the league's Gold Glove Award at third base.
After receiving his bachelor's degree, the 33-year-old immediately transitioned to coaching. He remained at Clarke as a volunteer assistant, paid with housing and a meal plan. In 2015, he managed the Myrtle Beach Riptides to the Beach League Championship. The Riptides finished 32-18 and Reyes was named Coach of the Year.
After a year as the head coach at Marietta High School, Reyes helped lead Murray State College to the No. 1 national ranking and a JUCO World Series appearance. Reyes then became the infield and hitting coach at Division II Northwest Oklahoma State, where he helped improve the team's batting average for three consecutive seasons.
He coached one season at Texas A&M International in 2021 before being hired by the Twins. Luis lives in Cape Coral with his wife, Chelsie.
Chase Thompson - Athletic Trainer (2nd Season)
After joining the Twins in November of 2021, Thompson returns to the Mighty Mussels for his second season as the team's Head Athletic Trainer. Thompson spent the 2021 season in the Kansas City Royals' organization after working the 2020-21 NBA season as a medical assistant with the Oklahoma City Thunder.
Chase earned his bachelor's in health and exercise science from the University of Oklahoma in 2019. He went on to the University of Central Oklahoma, where he received a Master's in Athletic Training in 2021 while maintaining a 4.0 GPA.
Asja Morello - Assistant Athletic Trainer (1st Season)
Morello joins the Mighty Mussels after beginning full-time at the Twins' Fort Myers complex in 2019.
Prior to that, she spent two years as an intern in the Twins' athletic training system before completing her B.S. in Athletic Training at Florida Gulf Coast University in 2018. She completed her Masters in Sports Performance from the Rocky Mountain University of Health Professionals.
Morello was born and raised in Fort Myers and is a proud graduate of Riverdale High School.
Sarah Szuba - Strength & Conditioning (1st Season)
Szuba begins her tenure with the Mighty Mussels after spending the last two years as a rehab strength and conditioning coach with the FCL Twins in Fort Myers.
Prior to her time with the Twins' organization, the Michigan native worked for the USTA (2020) and IMG Academy (2019). Szuba graduated from Michigan State University with a B.S. in Kinesiology in 2019. While in East Lansing, she worked directly with the women's ice hockey team.
Byron Oliver - Baseball Technology Coordinator (5th Season)
Oliver remains as the longest-tenured staff member, with his time in Fort Myers dating back to the Miracle era. He handles video acquisition and analysis, directing the Mussels' video room during home games.
The Sacramento, California native previously worked for MLB Youth Academy in Compton. He graduated from Sacramento State University in 2016 and is the nephew of 20-year Major League veteran Darren Oliver.
_____________
Mighty Mussels Opening Day is set for Thursday, April 6. View the full schedule here.
Season ticket plans are on sale now at mightymussels.com and by calling 239-768-4210.