River Cats' Arroyo continues scorching start
Giants No. 2 prospect collects three hits to raise average to .467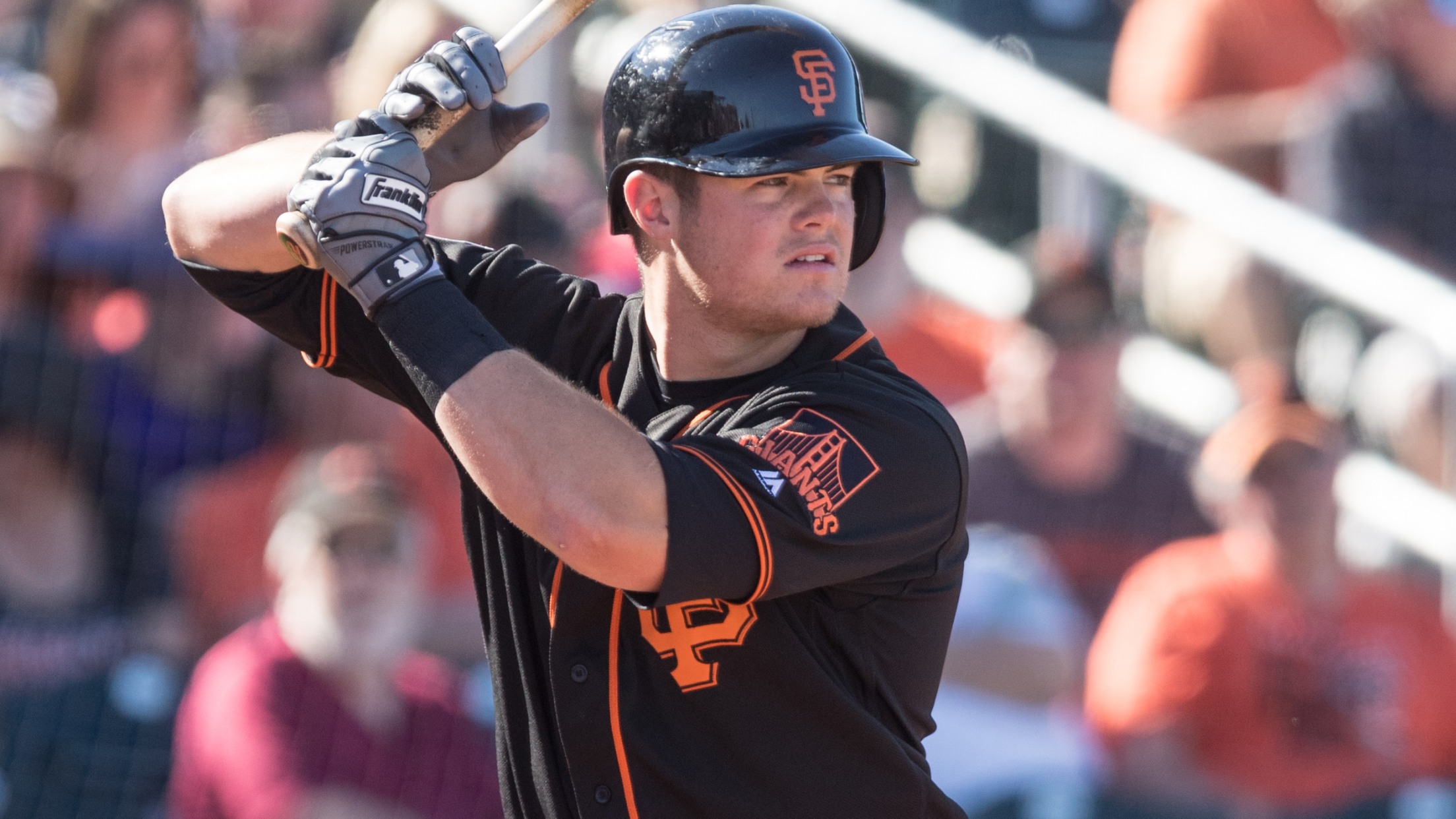 Christian Arroyo has logged a slash line of .467/.500/.667 through eight Triple-A games (David Monseur/MiLB.com)
Things are going so well for Christian Arroyo to start the season that even a scheduled off day couldn't keep him from making an impact. The Giants No. 2 prospect went 3-for-3 and scored a run to lift Triple-A Sacramento to a 12-10 win over Salt Lake at Smith's Ballpark.Arroyo is batting
Things are going so well for Christian Arroyo to start the season that even a scheduled off day couldn't keep him from making an impact.
The Giants No. 2 prospect went 3-for-3 and scored a run to lift Triple-A Sacramento to a 12-10 win over Salt Lake at Smith's Ballpark.
Arroyo is batting .467 through his first eight games with the River Cats.
Box score
"I'm trying to refine my approach and stick with that every single day. It's a game of failure so it's nice to ride out the successful streaks but, at the same time, as long I'm comfortable with my approach and with the at-bats I'm taking that's fine with me. Of course if it results in a hit that's great," said MLB.com's 85th-ranked overall prospect.
Arroyo was called into action in the top of the sixth after Orlando Calixte was forced to exit following a collision with first baseman Kyle Blanks.
"I had a scheduled day off so I was just kind of hanging out and trying to pay as much attention to the game as possible," the 21-year-old said. "The next thing I know, I'm taping up and getting ready to potentially get into the game. Orlando was going through some exercises with the trainer and went to throw and came back in and said he couldn't play. So I was already ready to go."
There was no sign of rust in Arroyo's first trip to the plate as the 2013 first-round pick lined a single the other way.
"It's not that big of a deal because as a baseball player you're always ready to get into the game," Arroyo said. "Usually, if you have a day off, you're pretty checked out before the game but you're always ready to turn that switch into compete mode as something you just need to be prepared for, especially in the National League."
With runners on first and second and none out in the eighth, Arroyo laid down a bunt to Salt Lake reliever Brooks Pounders and beat the throw to first.
"In that situation, I was given the bunt sign and put it down in hopes to get the sacrifice and give Kelby Tomlinson the opportunity to drive in the go-ahead runs," Arroyo explained. "I'm not too sure what happened on the defensive side, but I just ran to the bag and nobody was there."
In the ninth, Arroyo fell behind 0-2 but evened the count before singling the opposite way. The River Cats scored four runs in the frame for the final margin.
"I was just waiting on a pitch in the zone that I could put into play with authority," he said. "I tried to avoid swinging at good pitcher's pitches or balls and stay within my approach. It's really important for me to have as many quality at-bats as I can. I'm really focused on not giving away at-bats and trying to grind out in the box."
The Florida native has 14 hits, including three doubles and a homer, in his first 30 at-bats with Sacramento.
"In our first series at Tacoma, I was getting good pitches but at the same time I was chasing a little bit," he added. "So I wanted to come into this series and work on my approach so I could see more pitches in the strike zone and get later into the count."
In addition to hitting near the top of the lineup nightly, the plan is for Arroyo, who was drafted as a shortstop, to see playing time at second and third.
"It's something I'm used to by now. Being versatile is a huge thing for the Giants and they do a great job of valuing and developing their players," he explained. "They want to make sure we are ready to play a bunch of different positions in the Majors which is important because sometimes people don't realize just how much goes into playing defense."
Tomlinson went 3-for-6 with a double and three RBIs.
Jae-Gyun Hwang and Austin Slater each knocked in two runs for the River Cats.
Eric Young Jr. finished a triple shy of the cycle and scored three times for Salt Lake.
Michael Leboff is a contributor to MiLB.com.