Augusta's Vizcaino tosses six no-hit innings
Giants right-hander combines with two relievers on a one-hitter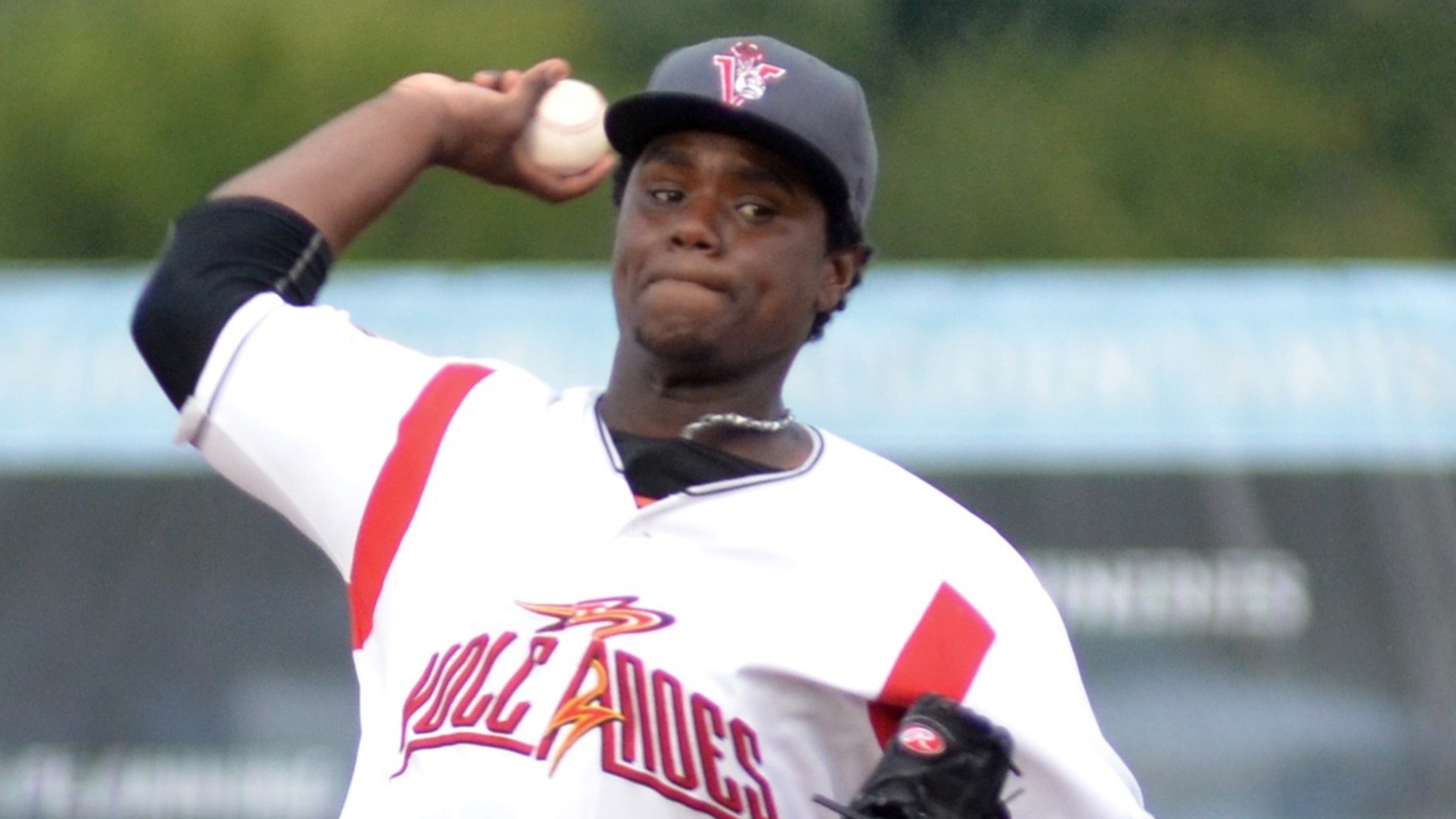 Raffi Vizcaino has allowed four earned runs over his three career starts in the South Atlantic League. (Salem-Keizer Volcanoes)
Class A Augusta pitching coach Clay Rapada wasn't surprised when he looked at the scoreboard in the fourth inning on Saturday night and saw a zero in the hit column for Greenville. From previous experience, he knew better than to doubt starter Raffi Vizcaino."Raffi was actually up with us last
Class A Augusta pitching coach Clay Rapada wasn't surprised when he looked at the scoreboard in the fourth inning on Saturday night and saw a zero in the hit column for Greenville. From previous experience, he knew better than to doubt starter Raffi Vizcaino.
"Raffi was actually up with us last year and he pitched very well for us down the stretch during a playoff run," Rapada said. "It was the expectations of him being able to pitch in the big moment. It was there because he had already done it before."
Vizcaino, Caleb Smith and Nolan Riggs combined on a one-hitter in the GreenJackets' 7-1 win over the Drive at Lake Olmstead Stadium. In his first start of the year, Vizcaino threw six hitless innings, struck out a season-high nine and yielded one unearned run and one walk.
Gameday box score
The team etched its name in the history books after Domenic Mazzathrew a perfect game on April 25. But Rapada believes this outing from the trio of arms is unique.
"Anytime you can keep a first-place team almost out of the hit column it's a special night," he said. "I hope Raffi will always have this memory of 'I threw six innings of no-hit [ball] with Augusta.' It's always a memorable night."
Vizcaino (1-1) logged a 3.27 ERA and 0.91 WHIP in two starts with Augusta at the end of 2016, but started this season in extended spring training before landing on the disabled list. Despite two relief appearances coming into this contest, the native of the Dominican Republic faced the minimum through the first four frames.
"First-pitch strikes, he was right around 75 percent," Rapada said. "I think that him being aggressive and getting in control of the at-bats and kind of the way he just mixes speeds and mixes location, it was just a good combination of success for him tonight."
With one out in the third, Vizcaino fanned five consecutive batters on 20 pitches. He continued to pound the zone with 52 strikes on 79 pitches and recorded 14 swings-and-misses.
"It was pretty obvious that it was more of his stuff and mixing speeds that led to his success," Rapada said. "And just to be able to put so many quality two-strike pitches in a row, that was the one thing that kind of jumped out from my eye."
The Drive put pressure on Vizcaino in the fifth when Chris Madera led off with a walk and Tucker Tubbs reached on third baseman Michael Bernal's throwing error. The 6-foot-1, 195-pound hurler got Tyler Spoon to line out to second, but Kelvin Beltre's errant throw allowed Madera to score and Tubbs to take third. Vizcaino fanned Mitchell Gunsolus and Isaias Lucena to end the frame.
"That was a great effort just as far as mound presence goes tonight," Rapada said. "Even with the situation going on with the no-hitter, he was able to stay within himself and still get ahead after the leadoff walk and the error. He continued to pitch his game and never really lost his mental strength. He bore down and made great pitches when he needed to."
The 21-year-old struck out two while setting the side down in order in the sixth.
"The one question I have for him is how can he bounce back?" Rapada said. "He had the couple of starts here last year where he had one quality and the next one was not as good. I just want him to string some quality starts together."
Smith opened the seventh with walks to Ryan Scott and Madera. The left-hander got Tubbs to ground into a double play and Spoon to pop out to first. After issuing a one-out walk to Lucena in the eighth, Smith got Steven Reveles to bounce into an inning-ending double play to keep the no-hitter intact.
"Caleb was a little inconsistent tonight," Rapada said. "But a couple of breaks went our way with their hitters swinging at decent pitches and grounding out into double plays. Anytime you can get a two-ball after a couple of walks is huge. He was effective in the stat line, but I know he can pitch better than that."
With Riggs on in the ninth, Lorenzo Cedrola ended the no-hit bid with a leadoff single through the left side.
"You always like to shoot for it, but Riggs is a ground-ball pitcher and it's one of those ground balls that found its way through the infield," Rapada said.
Skyler Ewing had a double and three RBIs, while Giants No. 6 prospectSandro Fabian and Brandon Van Horn each collected two hits and drove in a run for Augusta.
Andrew Battifarano is a contributor to MiLB.com. Follow him on Twitter, @AndrewAtBatt.