Giron debuts with six-hit night for TinCaps
Fresh from extended spring training, shortstop caps night with homer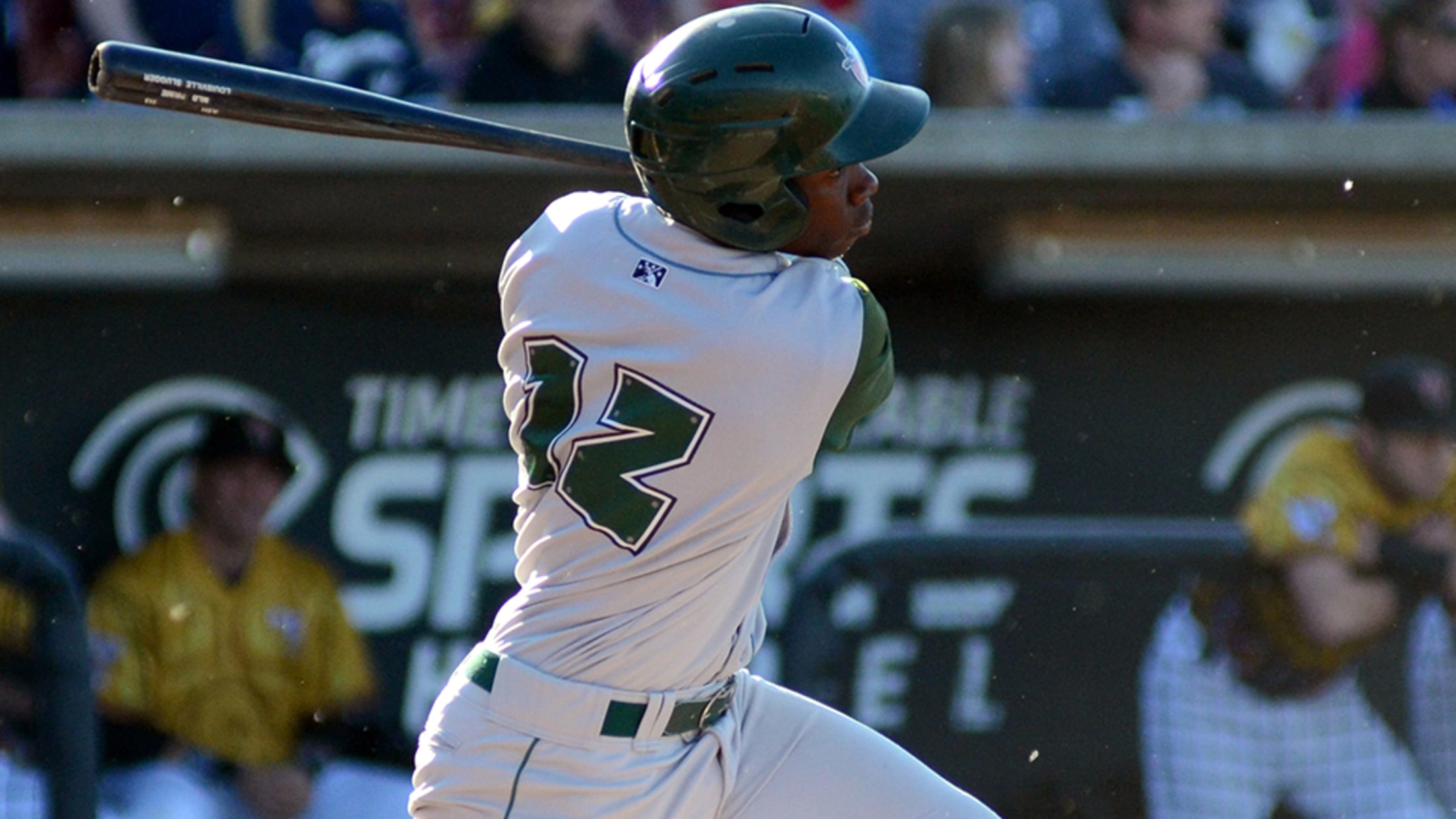 Ruddy Giron, who totaled 31 hits last season in the Rookie-level Arizona League, had six on Monday. (Ricky Bassman/MiLB.com)
Ruddy Giron woke up at 3 a.m. local time in Phoenix, but by nightfall was in the Midwest League making a debut to remember. His early day had his manager mulling over some ideas. "I'm going to send a group text at 3 in the morning," Class A Fort Wayne
Ruddy Giron woke up at 3 a.m. local time in Phoenix, but by nightfall was in the Midwest League making a debut to remember. His early day had his manager mulling over some ideas.
"I'm going to send a group text at 3 in the morning," Class A Fort Wayne manager Francisco Morales said. "Just wake the whole team up then."
Giron's season debut was one for the books. The TinCaps shortstop went a perfect 6-for-6 at the plate, punctuating his day with a ninth-inning home run as Fort Wayne beat Lake County, 9-2.
Not a bad first impression for a young man whose manager considered not playing him on his first night up.
"Actually, it was our Minor League director, Sam Geaney, that told me to put him in the leadoff spot in the lineup," Morales said after the win. "I asked Sam, 'What do you think? Can we throw him out there today? I know the kid hasn't slept all day.' He spent the whole day at the airport. He [woke up in] Arizona at 3 o'clock in the morning. Sam said, 'Hey, him out there. He's ready to go.'
"He got here, just got something to eat and put his uniform on. That's what gamers do. He's a gamer."
The adrenaline of a full-season league debut may well have compensated for the lack of sleep. The 18-year-old singled on a popup to second base to lead off the first and added singles on a line drive to center in the third, a bunt back to the mound in the fourth, a grounder to third in the fifth and a grounder to short in the seventh. The speedy infielder scored after the last of those hits, crossing the plate on Nick Torres' single to center.
"From the moment, he walked into our clubhouse, you could feel his presence," Morales said. "You could feel that he was anxious to come over here and prove that he could play here. The coaches in extended spring (training) did a nice job with him, polished him in all areas of his game from the ground balls to the way he approaches at-bats.
"Why not reward him for his work and for the talent that he has? The Minor League coordinators and coaches believed that he was ready."
Giron capped his night by belting his first professional homer, a solo shot to left field in the ninth. The native of the Dominican Republic's six hits were nearly a fifth of his total from all last season, when he batted .168 (31-for-185) in 48 games in the Rookie-level Arizona League.
The 18-year-old became just the second TinCaps player to register a six-hit night and the first since 1993.
"He expressed to me and to the coaches that he was ready to go, he was anxious," Morales said. "When he walked in the clubhouse all the guys welcomed him with open arms. He was like, 'Wow, I feel like I've been here the whole season.' That was huge. Getting his first hit in his first AB, it took so much off for him. After that first hit, you could just tell that he was having fun. He was seeing the ball well. He was determined to have a good game."
The TinCaps tallied 10 hits through the rest of their order and went 9-for-22 with runners in scoring position. Catcher Miguel Del Castillo was the lone player with multiple RBIs, driving in two.
Fort Wayne starter Chris Huffman earned the win, allowing two runs while scattering seven hits over five innings.
As for Morales, the skipper is excited to see what his leadoff man has planned for an encore -- after a longer night's sleep.
"It's only one game, but if you want to start your career, if you want to be one of the younger players in the Midwest League, this is a good way to do it," Morales said.
Tyler Maun is a contributor to MiLB.com. Follow him on Twitter @TylerMaun.