Golden! Ryan Gold mashes in Fisher Cats win
New Hampshire scores 13 against Yard Goats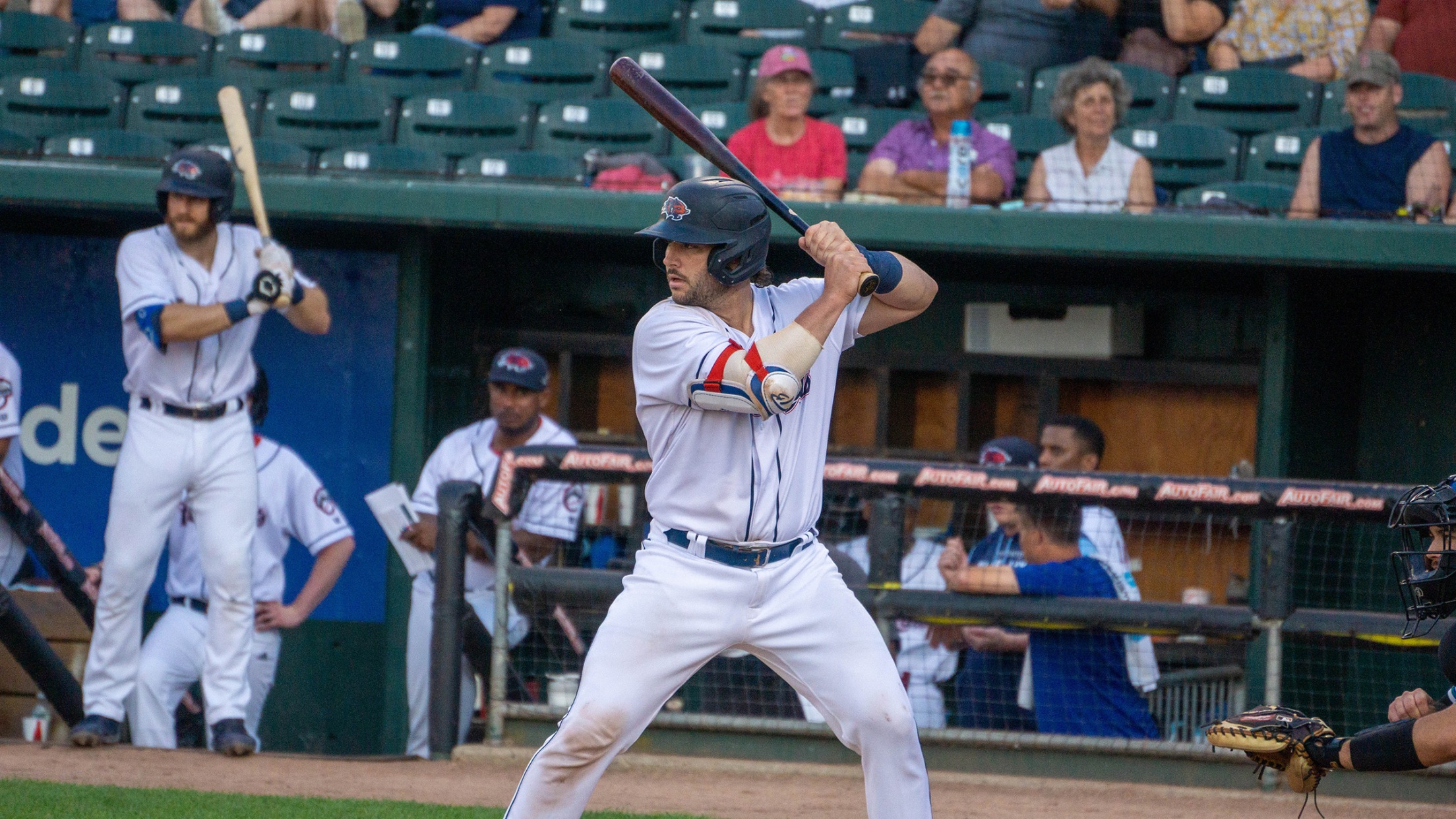 Hartford, Conn. – Ryan Gold crushed two homers and matched a career-high four hits on Wednesday night, carrying the Fisher Cats in their second straight victory. New Hampshire (18-23, 49-61) won, 13-10, over the Hartford Yard Goats (Colorado Rockies, 20-20, 63-46) at Dunkin Donuts Park. Gold finished 4-for-5 with six
Hartford, Conn. – Ryan Gold crushed two homers and matched a career-high four hits on Wednesday night, carrying the Fisher Cats in their second straight victory. New Hampshire (18-23, 49-61) won, 13-10, over the Hartford Yard Goats (Colorado Rockies, 20-20, 63-46) at Dunkin Donuts Park.
Gold finished 4-for-5 with six RBIs in his best offensive night of the season. He had a triple, single and two two-run homers. Gold was a double away from the cycle in his final at bat, and he smoked his second bomb for good measure. He hit for the cycle once in his career on April 28, 2019 against Dayton when playing for the Lansing Lugnuts. He had seven RBIs in that game.
Davis Schneider got New Hampshire started with a solo homer in the first, extending his hit streak to a season-long six games. After a Trevor Schwecke walk in the second, Gold smoked a RBI triple off the wall in deep right-center field. The triple was Gold's first of the season and 12th of his career. The Fisher Cats led, 2-1, after two innings.
In the fourth, Gold hit his first homer of the night off Hartford starter Noah Davis. His second came in the eighth inning off reliever Dugan Darnell. Gold is the third Fisher Cat to hit two homers in a game this season, and his six RBIs were the most by a single player all year.
Leading, 4-2, after four innings, New Hampshire added four runs in the top of the fifth. Schwecke brought home Addison Barger on a sacrifice fly, and Will Robertson had a RBI single. Sebastian Espino drove in two more runs with his second triple of the season.
Espino finished 2-for-5, and he's hitting .289 since returning from the development list on July 30. He has a .324 average and four multi-hit games in August.
The 8-2 Fisher Cats lead was not safe, though. Hartford stormed back to tie the game with six-run bottom of the fifth inning.
Gold stepped up again in the seventh, driving in Schwecke to give New Hampshire a 9-8 lead. Schwecke scored three runs, going 1-for-2 with two walks, a double and a RBI.
Andrew Moore (W, 1-1) impressed in extended relief, throwing 4.1 innings and allowing two earned runs. He walked two batters and had five strikeouts, including two looking Ks in the sixth.
Barger unloaded for a monster solo homer in the eighth, and Gold's big fly capped off another four-run inning. Hartford added a pair of solo homers across the final two innings, but New Hampshire held on for the win. The Fisher Cats are 9-5 versus the Yard Goats this season.
New Hampshire continues their series at the Yard Goats tomorrow, August 18 at 7:05 p.m. The Fisher Cats return home on Tuesday, August 30 for a six-game series against the Portland Sea Dogs (Boston Red Sox). Tickets can be found at NHFisherCats.com, via email at [email protected], over the phone at (603) 641-2005, or in-person at the Fisher Cats box office at 1 Line Drive in Manchester.