Grand Slam In Sixth Sinks Shuckers
Cam Devanney Homers, Doubles For Biloxi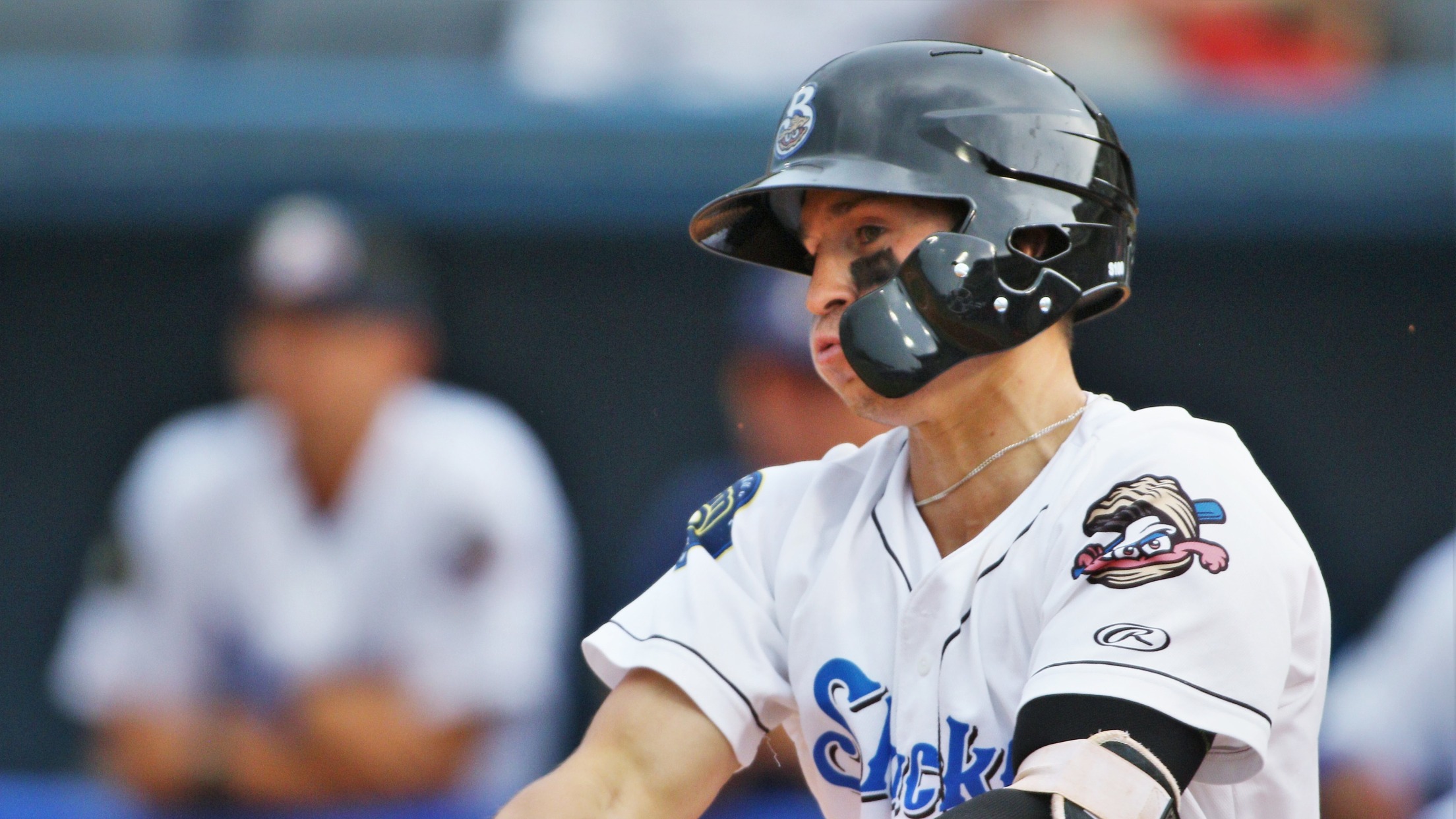 (Photo - Mike Krebs)
A five-run bottom of the sixth inning was too much to overcome for the Biloxi Shuckers (19-41) as they dropped the opening game of their series against the Montgomery Biscuits (29-29) 7-2 on Tuesday night at Riverwalk Stadium. Biloxi jumped out to a lead in the top of the third
A five-run bottom of the sixth inning was too much to overcome for the Biloxi Shuckers (19-41) as they dropped the opening game of their series against the Montgomery Biscuits (29-29) 7-2 on Tuesday night at Riverwalk Stadium.
Biloxi jumped out to a lead in the top of the third inning. Gabriel Garcia looped a bloop double into centerfield and Cam Devanney followed with a double off the left field wall, giving Biloxi a 1-0 edge.
The Biscuits erased the lead in the fourth inning. Cal Stevenson drew a one-out walk, stole second and advanced to third on a throwing error. With two outs, Ruben Cardenas tripled to left field, scoring Stevenson to tie the game at 1-1. Ford Proctor then legged out an infield single to give Montgomery a 2-1 lead.
Devanney brought the Shuckers level in the top of the fifth inning with a solo home run to left, his fourth of the year, evening the contest at 2-2. It was Devanney's third home run against the Biscuits this season.
Montgomery broke the deadlock in a big way in the bottom of the sixth. After loading the bases with two outs, the Biscuits moved in front on a walk to Jim Haley from RHP J.T. Hintzen (L, 2-1). Niko Hulsizer then hit a grand slam, clearing the bases to give Montgomery a 7-2 advantage. All five runs were unearned against Hintzen's ledger after a throwing error earlier in the inning.
RHP Tobias Myers (W, 5-3) finished off his outing in the top of the sixth with a 1-2-3 frame. The Shuckers would threaten with a pair of two-out base runners in the top of the seventh but were unable to plate another run on the night.
Biloxi continues their series with the Biscuits on Wednesday night. The Shuckers are scheduled to send LHP Leo Crawford (1-5, 6.48) to the mound first against Biscuits' RHP Tommy Romero (0-0, 1.91) for a 6:35 pm first pitch. The game can be heard locally on Cruisin' WGCM AM 1240/FM 100.9 and can be streamed on MiLB TV.
Individual tickets are on sale now for all 2021 Shuckers home games and promotions for July can be found here. Full Shuck Nation Memberships and Half Shell Shuck Nation Memberships, flex plans and group outings are available by calling 228-233-3465 and selecting Option 3.
ABOUT THE BILOXI SHUCKERS:
The Biloxi Shuckers are the Double-A Affiliate of the Milwaukee Brewers. The Shuckers play at MGM Park in Biloxi, Mississippi and are members of the Double-A South. For more information, please visit biloxishuckers.comand follow us on Twitter @biloxishuckers and at facebook.com/biloxishuckers.