Voyagers' Stiever continues early dominance
White Sox right-hander fans six over three hitless frames again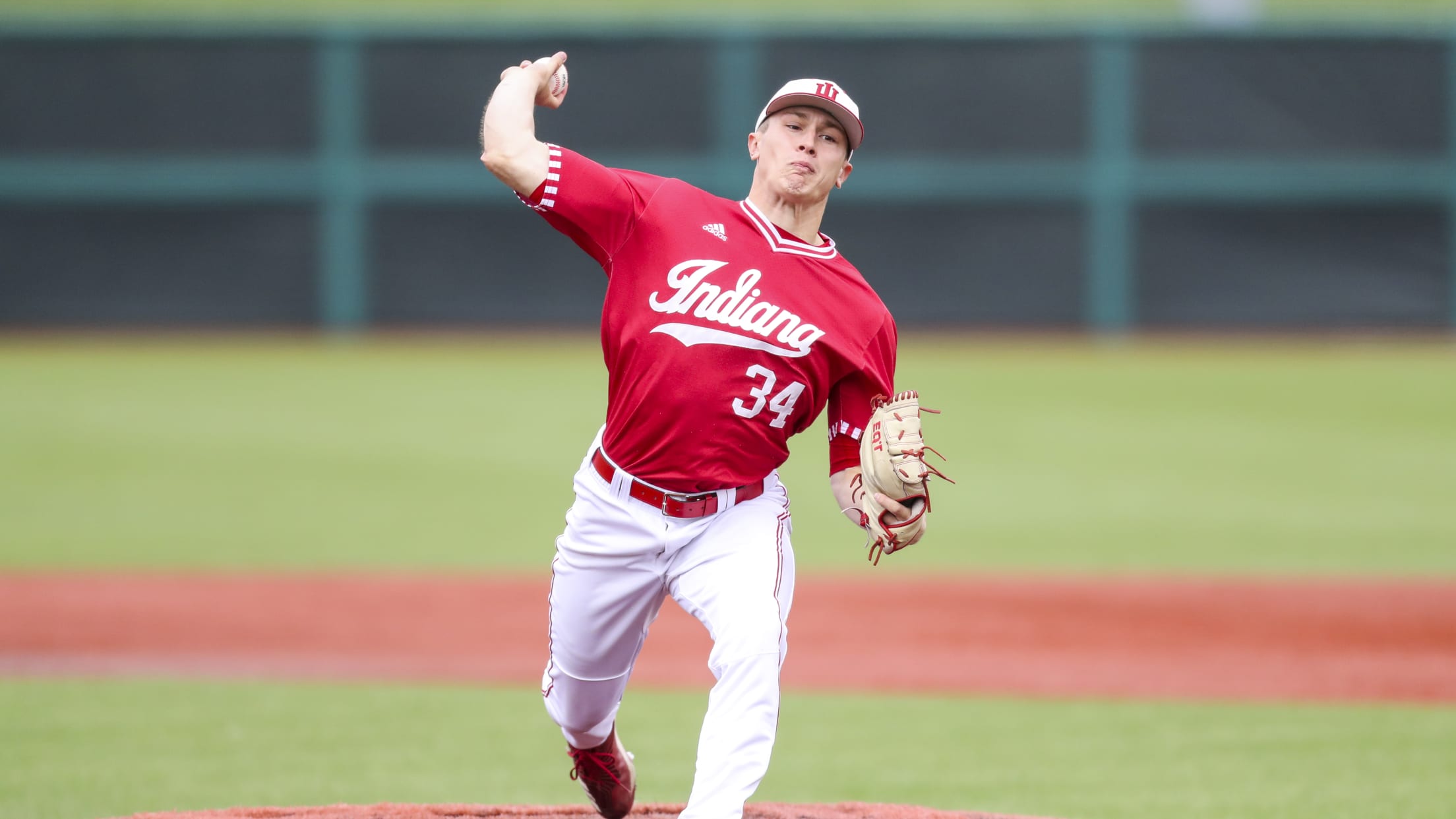 Jonathan Stiever led the Big Ten Conference with 97 strikeouts during his junior season. (Rebecca Mehling/Indiana Athletics)
Most players who open the season at the Rookie level are viewed as longer-term projects. The young talents are loaded with potential but still rough around the edges and in need of refinement of their craft.So far, this has not been the case for Jonathan Stiever.The 21-year-old posted identical numbers
Most players who open the season at the Rookie level are viewed as longer-term projects. The young talents are loaded with potential but still rough around the edges and in need of refinement of their craft.
So far, this has not been the case for Jonathan Stiever.
The 21-year-old posted identical numbers in his second professional start as in his debut, twirling three hitless frames with six strikeouts and one walk as Great Falls bested Billings, 6-4, at Dehler Park.
Gameday box score
"This kid is something special," said Great Falls pitching coach John Ely. "He has plus command of a fastball that has extremely sharp, late life on it. He can throw it on both sides of the plate. He's not afraid to make you swing the bat. He's loaded with confidence. And he has two pitches off of that and they both look the same out of his hand. That's something you usually have to try to teach a guy, but we haven't had to say anything to him about it. He came in pretty polished."
Taken in the fifth round by Chicago this year, Stiever's only blemish Monday was walking Reshard Munroe on five pitches with two outs in the first inning. He retired the next seven hitters from there, including striking out the side on 12 pitches in the second.
"He's got a quick delivery, a quick arm. He just works so fast," Ely said. "He's got a little hitch with some deception to it. He never really shows the ball to you till the end. Some guys show it early and it's easier to hit that way. But he throws straight downhill and doesn't give you time to recognize it's a fastball and get barrel to the ball. All of his pitches come out of the same slot."
The right-hander needed 41 pitches to get through 10 batters Monday. Over both of his starts, he's thrown 81 pitches -- 58 for strikes -- and set the side down in order four times. He has sported a fastball that sits 91-94 mph but has touched 95, a slider with heavy movement that comes in around the low 80s and has flashed a changeup with similar velocity.
"His slider has a little bit of two gears to it. He can throw it in the zone for a strike, but also make it disappear since it comes out looking like a fastball," Ely said. "He's got a good changeup too, but he just needs some more confidence in that pitch. Once he starts throwing it in hitters' counts and realizes it works, he can really take off, as long as he uses his fastball the way he has the last two outings."
The Indiana product has not qualified for a decision yet, righty Michael McCormick (3-0) picked up the win for the Voyagers after entering the game with two outs in the sixth and yielding a hit with a pair of punchouts over 2 1/3 scoreless frames. Southpaw Bennett Sousa locked down his first save after allowing a hit and fanning two in the ninth.
"This is a very good hitting league so to see what [Stiever] has done over his first couple of starts is very encouraging," Ely said. "The sky is the limit for him."
Romy Gonzalez drove in three runs for Great Falls out of the cleanup spot and Logan Sowers added two RBIs and a run scored.
Rob Terranova is a contributor to MiLB.com. Follow him on Twitter @RobTnova24.