Voyagers' Yurchak collects career-high five hits
White Sox prospect doubles three times, falls a triple shy of cycle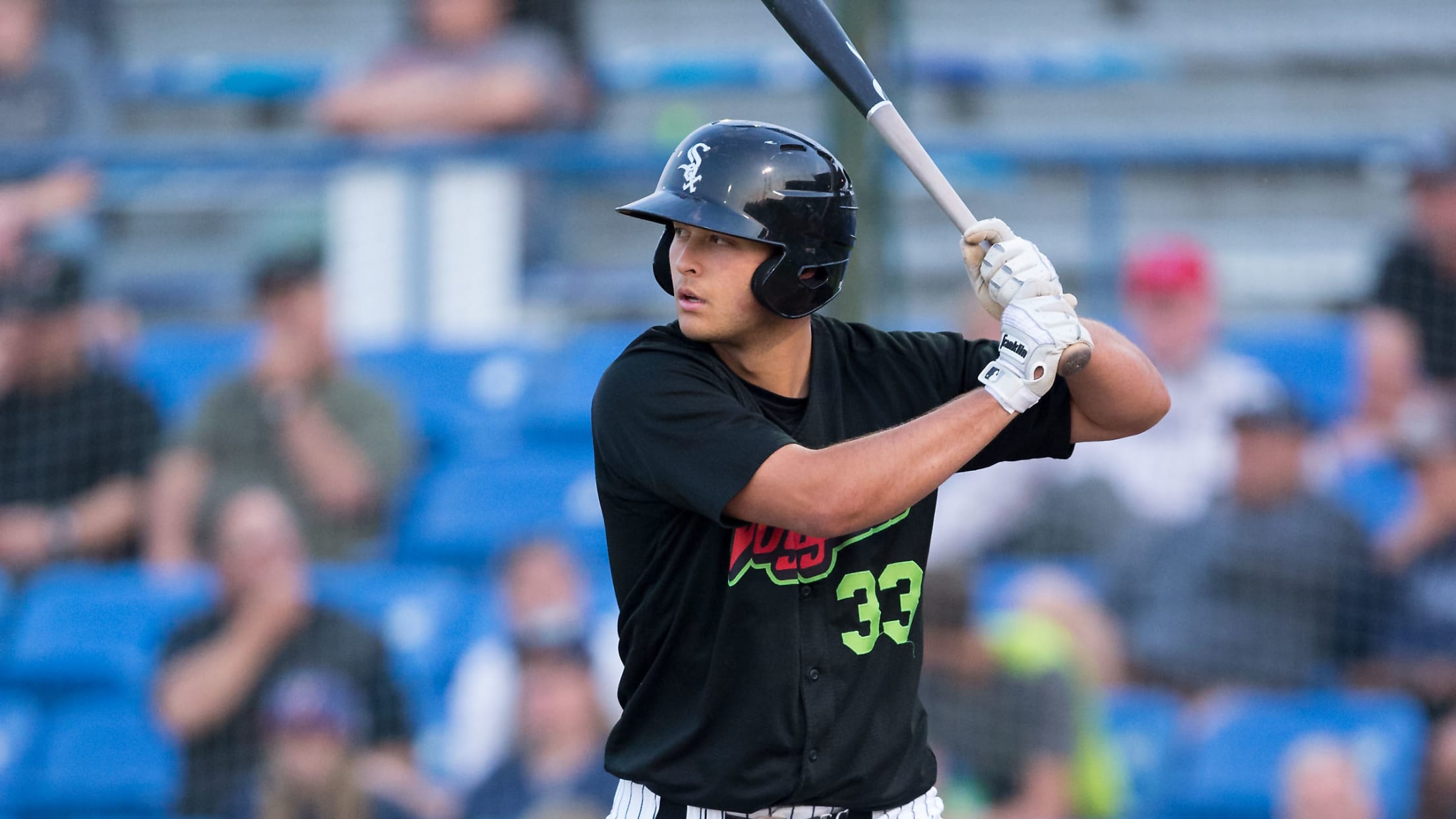 Justin Yurchak is 19-for-29 (.655) over the last eight games to raise his average by 61 points. (Brian Westerholt/Four Seam Images)
Justin Yurchak has been in professional baseball for a little over two months and admits that the transition from college to the Minor Leagues hasn't been an easy one.The numbers for the White Sox prospect, however, have shown otherwise. Yurchak collected a career-best five hits and fell a triple short of
Justin Yurchak has been in professional baseball for a little over two months and admits that the transition from college to the Minor Leagues hasn't been an easy one.
The numbers for the White Sox prospect, however, have shown otherwise.
Yurchak collected a career-best five hits and fell a triple short of the cycle in Rookie-level Great Falls' 18-11 loss to Billings on Friday night at Dehler Park. The teams combined for 28 hits, with three players coming up one hit shy of completing a cycle.
Gameday box score
"I thought I was seeing the ball pretty well," Yurchak said. "It's a tough game and, obviously, things didn't go our way. We were kind of battling and everybody was doing their part and trying to get some runs back. That definitely helps you out, seeing your teammates battling. It makes sure you battle in your at-bats."
Selected in the 12th round of this year's Draft out of SUNY Binghamton, the New York native has amassed a .355/.462/.517 slash line to go with 17 extra-base hits and 21 RBIs in 45 games with the Voyagers. Over his last eight games, Yurchak is 19-for-29 to raise his average by 61 points.
"It's extremely different," he said of the transition from college to the Pioneer League. "The pace of play, every aspect: pitching, offense, defense. It was different than what I was used to. It's definitely taken me awhile to get adjusted to it."
After Billings scored nine times in the opening inning, the 20-year-old laced a single to right to start the second but was left stranded after the next three hitters failed to reach base.
With two outs in the fourth, Yurchak deposited a 1-0 pitch from Jhon De Jesus over the right field fence for his fifth homer of the season.
"In this kind of game, in that situation, you're kind of sitting on a pitch," he said. "And, luckily, I got it and I capitalized on it."
Following Anthony Villa's two-run blast in the fifth, Billings pulled De Jesus in favor of Lucas Benenati. Yurchak worked the count full against the new pitcher and sent the sixth pitch into left field for an opposite-field double.
"You know you're hitting well and you'd kind of like him to stay in, but hitting's hitting," Yurchak said. "The pitcher's still throwing the ball from 60 feet, six inches away. But you do your best to stick with your approach with whoever is throwing."
Yurchak added a second double to his line in the seventh when he ripped a 2-2 pitch from John Ghyzel into right field, scoring two batters later on Franklin Reyes' ground out.
Still needing a triple to complete some history in the ninth, Yurchak blooped a double down the left field line off Angel Aguilar. Though racing to third might have been a tempting option, the lefty-swinging corner infielder wasn't going to cost his team an out.
"He was actually throwing a lot off-speed and when I got into a 3-1 count he kind of fooled me," Yurchak said. "I kind of laid the bat out and I got lucky and it found a hole. It was a nice surprise. My teammates were razzing me about it, but at that point in the game, you're just trying to do anything to get some runs on the board and try to keep the game a little bit closer."
While Great Falls ultimately fell, Yurchak said he hopes there's some success ahead as the final days of the season approach.
• Get tickets to a Voyagers game »
"We're kind of in the move for the playoffs," he said. "We're in first right now and that'd be our spot if the season ended today. Our ultimate goal is the playoffs and taking it one day at a time from there."
For the Mustangs, Montrell Marshall went 4-for-4 with a homer, two doubles, three RBIs and four runs scored, while Miles Gordon picked up three hits and drove in two runs. After singling and homering in the nine-run first, Gordon tripled in a run in the second. But he struck out twice and walked the rest of the way.
Andrew Battifarano is a contributor to MiLB.com. Follow him on Twitter, @AndrewAtBatt.