Voyagers blast back-to-back-to-back homers
Nunez smacks slam, Cooper and Nolan follow with taters in third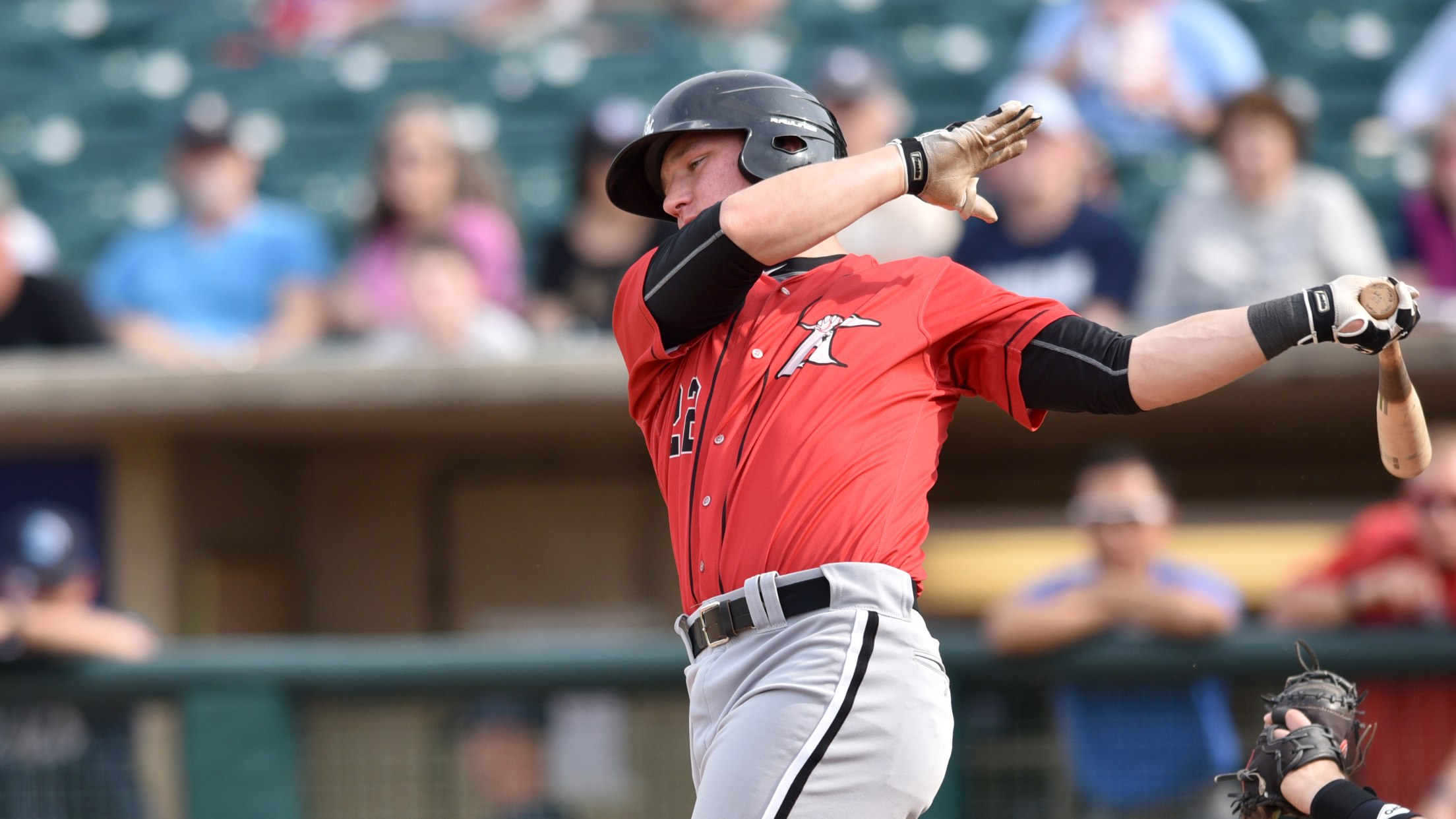 Nate Nolan has three home runs in 17 games in the Pioneer League this season. (Ken Inness/MiLB.com)
Two years into his professional career and Nate Nolan can check an item off his bucket list with Rookie-level Great Falls. The White Sox catcher followed the lead of 23rd-ranked prospectAmado Nunez and Jacob Cooper as the trio blasted back-to-back-to-back home runs in third inning Sunday, but it was not enough as
Two years into his professional career and Nate Nolan can check an item off his bucket list with Rookie-level Great Falls.
The White Sox catcher followed the lead of 23rd-ranked prospectAmado Nunez and Jacob Cooper as the trio blasted back-to-back-to-back home runs in third inning Sunday, but it was not enough as the Voyagers fell to the Orem Owlz, 12-9, at Brent Brown Ballpark.
"It was the first time I've ever been part of back-to-back-to-back home runs," Nolan said. "It was really cool. It was a 'right place, right time' kind of thing, but it was good to be part of. ... [The team] was excited, they were excited to get out to a big lead. It was nothing too crazy, just the kind of general excitement."
Trailing after two innings, 3-0, Great Falls got rolling in the third when Tate Blackman drew a two-out walk and scored on Craig Dedelow's double. Anthony Villa and Franklin Reyes then drew consecutive walks to set the stage for Nunez. After taking the first two pitches from Cole Duensing, the 19-year-old belted a grand slam over the left-field fence.
Cooper took a first-pitch ball and then smacked the right-hander's second offering over the wall in right-center. Nolan greeted his teammate with a knuckle touch near the visiting on-deck circle, and though the teammates didn't voice many words, they sensed they had a chance to make some history.
"Personally, I think it's very easy in a situation like that to kind of be overaggressive and overswing," the backstop said. "I just try to stay within my swing and within myself ... take an easy, good swing."
Gameday box score
Before the 2016 eighth-round pick stepped to the plate, the Owlz called upon reliever Denny Brady. After watching about eight warmup pitches, Nolan got an idea of the right-hander's arsenal. Working the count to 3-1, the 22-year-old deposited the fifth pitch over the wall in center.
"I got into a good hitter's count, so that helps," Nolan said. "Once I get to that count, I kind of open up my swing a little bit. But as far as where I want the pitch to go, I pick out a pitch in a spot, and if it's not there, I do my best to take it. You get greedy if you swing at one out of the zone, but there you pick out a spot and a speed, and hopefully, I get it.
"Kind of once I hit it, I wasn't really sure and I was sprinting around the bases. But once it happened, it was cool to be a part of."
Nolan, who started the year with two hits in 38 at-bats for Class A Kannapolis, has amassed a .226/.310/.435 slash line with three roundtrippers and eight RBIs in 17 games with Great Falls. The 2016 eighth-round pick just wants continue progressing in all aspects of the game.
• Get tickets to a Voyagers game »
"Just kind of offensively, I want to become a more well-rounded player," Nolan said. "I just want to take something every day that I can improve on and take the same mentality on improving as an offensive player. I'm hoping my team can win, and catching is the most important thing for me. I take more pride in my defensive work and try to go out there and have a positive impact defensively. You've got to have both sides of it."
For Orem, Franklin Torres fell a triple shy of the cycle and drove in four runs, while Angel Molina collected three hits and an RBI as the Owlz clinched the Pioneer League South Division first-half title.
Andrew Battifarano is a contributor to MiLB.com. Follow him on Twitter, @AndrewAtBatt.