Lakeland's Soto rolls on hill in gem
Tigers No. 9 prospect posts zeros in longest start since May 21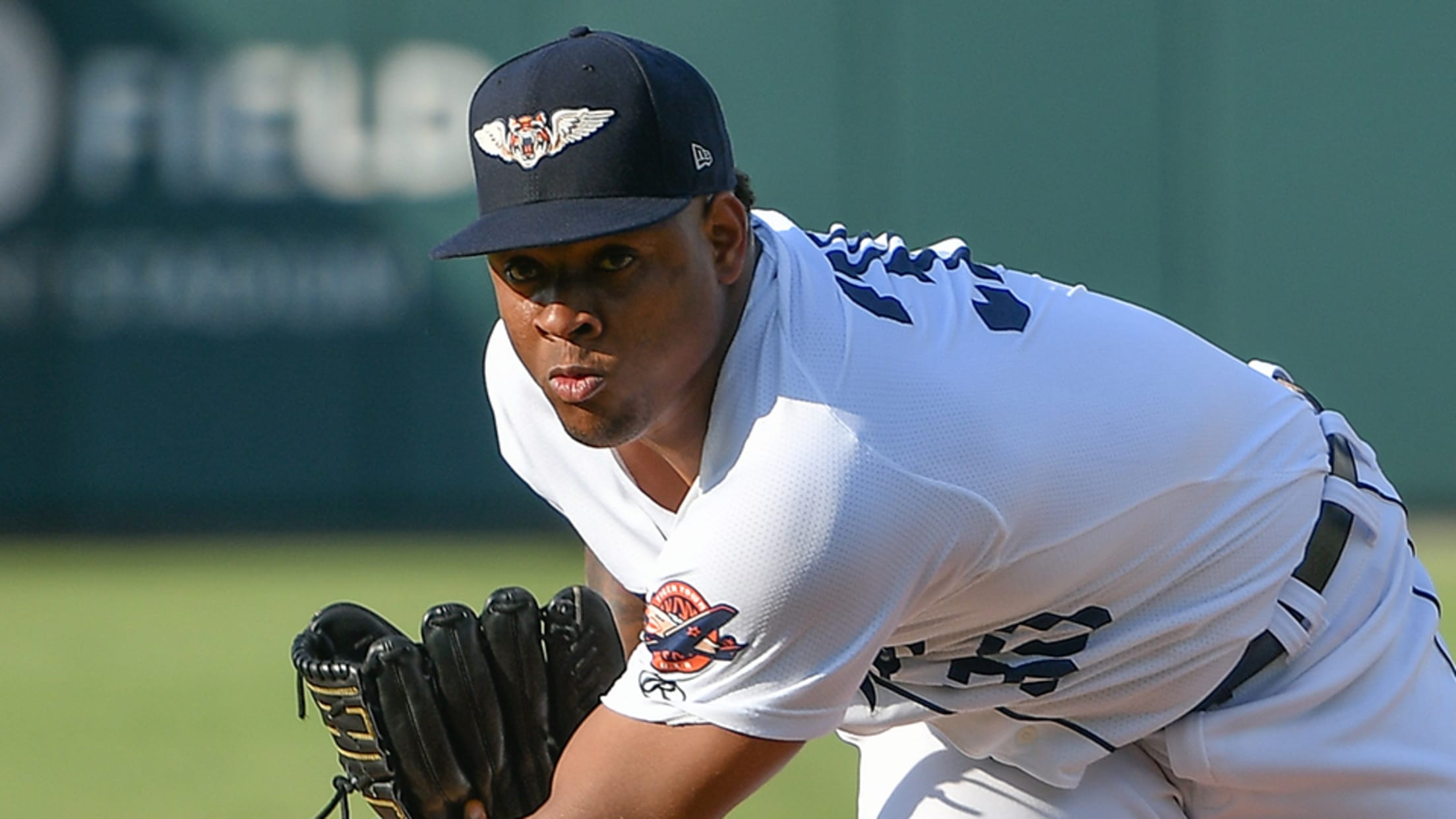 Gregory Soto has struck out at least six batters in seven of 18 starts this season for Lakeland. (Tom Hagerty/MiLB.com)
Gregory Soto has made positive strides in July, but hadn't made a dent in the win column through his first four outings of the month. He changed that in a dominant fifth appearance. The ninth-ranked Detroit prospect tossed 6 2/3 scoreless innings, allowing three hits and three walks while whiffing six
Gregory Soto has made positive strides in July, but hadn't made a dent in the win column through his first four outings of the month. He changed that in a dominant fifth appearance.
The ninth-ranked Detroit prospect tossed 6 2/3 scoreless innings, allowing three hits and three walks while whiffing six to lead Class A Advanced Lakeland to a 5-1 win over Dunedin at Joker Marchant Stadium on Tuesday. With his longest start of the month, Soto (5-5) notched his first victory since June 27.
Gameday box score
After allowing two roundtrippers and four walks last Wednesday at Palm Beach, Soto's gameplan was to keep the ball down in the zone against the Blue Jays. Rolling with that strategy, he threw 63 of 97 pitches for strikes while inducing 11 groundouts and one flyout. The 23-year-old faced four over the minimum and recorded three perfect innings. He credited that success with deploying his entire repertoire.
"I felt good today, my fastball was pretty good," Soto said. "My changeup was working pretty good too. My slider sometimes missed, but everything was good today. It was a lot of ground balls, a couple of double plays. I think those were the ground balls I needed most."
The Dominican Republic native entered July with a 4.71 ERA, but trimmed that number to 4.30 after Tuesday's start. Although he yielded five runs in that previous start against the Cardinals, he hasn't given up more than two earned runs in his other seven outings since June 12. And since the calendar turned, Soto sports a 3.42 ERA -- his best mark of any month this season.
The hurler refined some parts of his delivery with Lakeland pitching coach Mark Johnson in the second half of the year. They worked on pitching to contact more than relying on punchouts in key situations. At least in July, those adjustments have translated into success for Soto in game action. He's also improved his pace, recording 12 outs with four pitches or fewer Tuesday.
"[Two starts ago] I had nine strikeouts, and today it was six," Soto said. "I'm working more on getting quick outs. You have to have four or five pitches to every batter when you get strikeouts. But when you get the outs on the ground in two pitches, it's better."
Dunedin threatened in the second inning when Brock Lundquist led off with a walk and No. 16 Blue Jays prospectRiley Adams drove a single to left field. But Soto weaved through trouble, getting Kacy Clemens bounce into a double play and whiffing Ivan Castillo.
Lundquist and Adams reached with two outs in the fourth on a single and walk respectively, but Clemens struck out after a six-pitch at-bat.
Allowing only one runner to reach over the next two innings, Soto issued a free pass to Lundquist to begin the seventh. The native of the Dominican Republic reared back to punch out Adams and Clemens for his final two outs of the night. Burris Warner relieved Soto, and induced a popout to short by Castillo to close out the frame.
It marked the second time this season and fourth time over the past two years that Soto recorded at least one out in the seventh. In those starts, he has given up three runs in 27 2/3 frames.
"The focus is what I want," the lefty said. "Every start, pitch for pitch, I don't want too many pitches to each batter. Sometimes when the hitter has two balls, we still try to get contact. ... I've been working on my mechanics because sometimes my front arm is too quick. That's the reason why I missed on so many pitches. And that's something I'm working on with my pitching coach. I feel good now and I just have to make all that happen."
Backing up their starter, No. 17 Tigers prospect Jose Azocar finished a homer shy of the cycle and drove in a run while No. 13 Derek Hill doubled, singled and collected two RBIs for Lakeland.
Andrew Battifarano is a contributor to MiLB.com. Follow him on Twitter, @AndrewAtBatt.