Soto dominates again for West Michigan
Detroit's No. 11 prospect allows two hits in six scoreless innings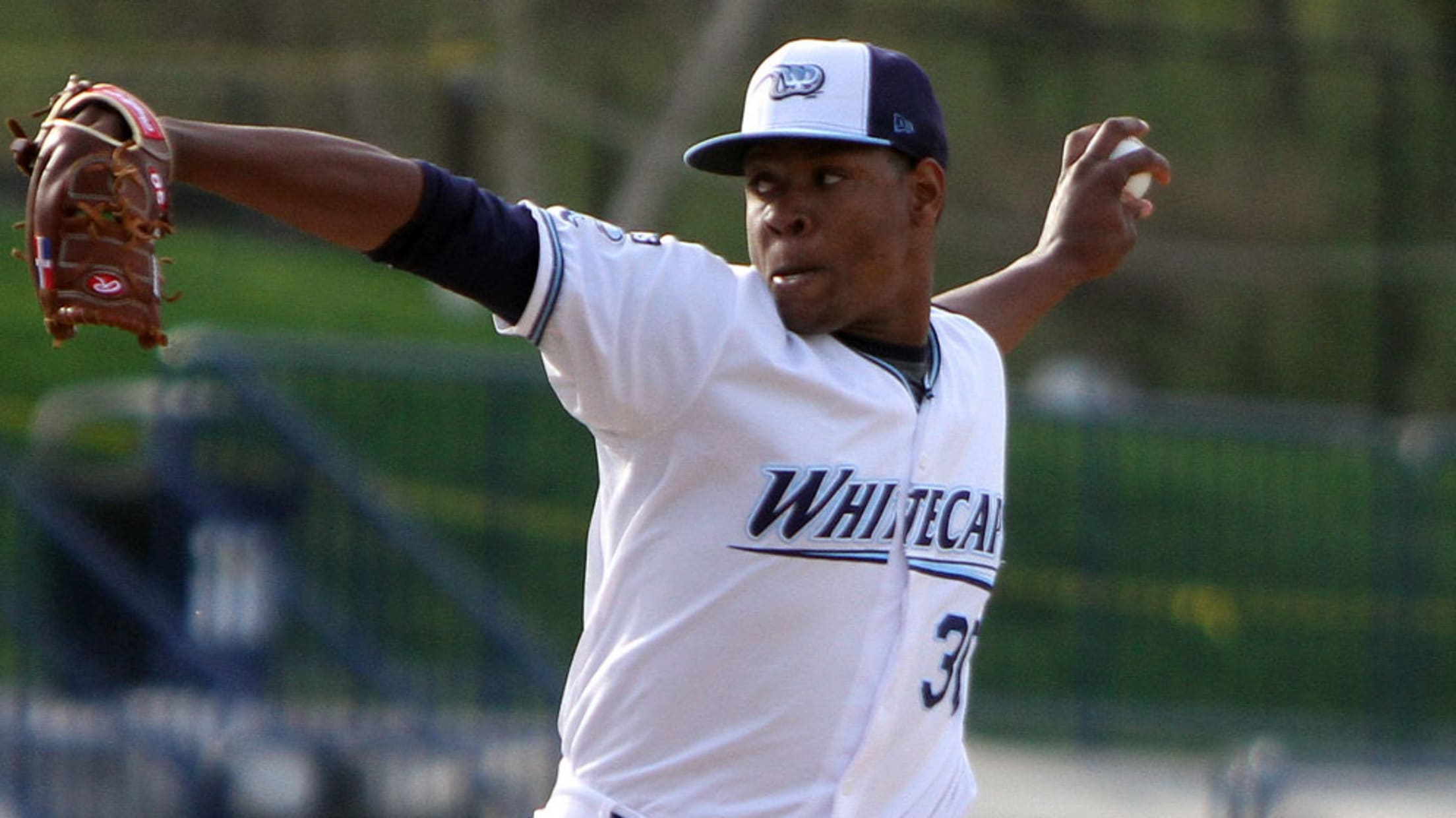 Gregory Soto hasn't allowed more than two runs in 15 of his 18 starts this season. (Emily Jones/MiLB.com)
To appreciate Gregory Soto's maturation this season, Class A West Michigan pitching coach Jorge Cordova doesn't have to look too far."The numbers don't lie," Cordova said. "If we look at the stats and see the way Soto has been pitching this season, we can see he learned how to pound
To appreciate Gregory Soto's maturation this season, Class A West Michigan pitching coach Jorge Cordova doesn't have to look too far.
"The numbers don't lie," Cordova said. "If we look at the stats and see the way Soto has been pitching this season, we can see he learned how to pound the zone better and how to trust his stuff. He learned how to just let his fastball work and use his curveball when he gets ahead in the count. And when you're aggressive with above-average stuff, it's easier to wipe out hitters."
In Soto's latest gem, Detroit's No. 11 prospect allowed two hits over six innings in Class A West Michigan's 8-0 shutout of Fort Wayne at Parkview Field. He struck out nine and issued three walks en route to his 10th win of the season.
Gameday box score
"Tonight, he was using all three of his pitches -- fastball, curveball and changeup," Cordova said. "In the past two or three games, he didn't use his changeup at all. We had a long conversation between outings on how important it is to use three pitches to be successful and his command was a lot better today."
The 22-year-old southpaw walked fourth-ranked Padres prospectFernando Tatis Jr. to start the game, but struck out Nate Easley and got a 6-4-3 double play off the bat of No. 11 Jorge Ona to follow. Through five innings, Soto's only other flaw was a two-out single to No. 23 Hudson Potts.
"He was locating his fastball in and out, pitching inside consistently with success," Cordova said. "He was using his changeup to keep the hitters off balance and after he got two strikes, he got a really sharp curveball to get the strikeouts."
• Get tickets to a Whitecaps game »
After punching out Reinaldo Ilarraza to start the sixth, the Dominican Republic native issued back-to-back walks to A.J. Kennedy and Tatis Jr. before an infield single by Easley loaded the bases.
"He was being too careful," Cordova said. "He was needling and he didn't want anybody to hit the ball because he wanted to keep the shutout intact. So I just made sure to tell him how important it is to trust his stuff and just get ahead in the count because he has such great stuff. And when you have such great stuff, you don't have to worry about perfect location. I love his composure because he understood, made the adjustment and got the job done."
Soto struck out Ona and got Brad Zunica to ground out to first to end the threat and his outing. He lowered his ERA to 2.25, second-best in the Midwest League. It marked the ninth time in 18 starts he did not allow an earned run.

"He's growing up a lot," Cordova said. "He's a different guy on the mound this season and [West Michigan manager] Mike Rabelo and I talk about how we can see the progress he's making. We can see he's converting to a very smart guy where he just works ahead and realizes what kind of pitches he has to use. He's recognizing swings so he doesn't go with what he has or what he feels, he goes with what he sees from the hitters. That's a big improvement for him."
Locke St. John pitched three hitless innings of relief, striking out six and walking one, to give the Whitecaps their 21st shutout on the season -- two shy of the Midwest League record.
"I just made them all understand what the difference is between them and the big league guys," Cordova said. "The difference is throwing the ball over the zone. When they are this young, they just think they have to pitch to miss bats. No. If they have enough movement, enough velocity and have good pitches, they have to challenge the hitters with their stuff. We talk about how important it is to trust their stuff, pitch ahead in the count and force the hitters to swing the bat, especially early in the count. I was preaching that almost every day and they understood it."
Offensively, Tigers No. 10 prospect Derek Hill led the way with three hits and two RBIs while eighth-ranked Isaac Paredes, Anthony Pereira and Drew Longley chipped in two hits apiece.
Michael Peng is a contributor to MiLB.com. Follow him on Twitter @MichaelXPeng.