Jenista propels Rome with four-hit night
2018 second-round pick, Contreras' five RBIs lead way to victory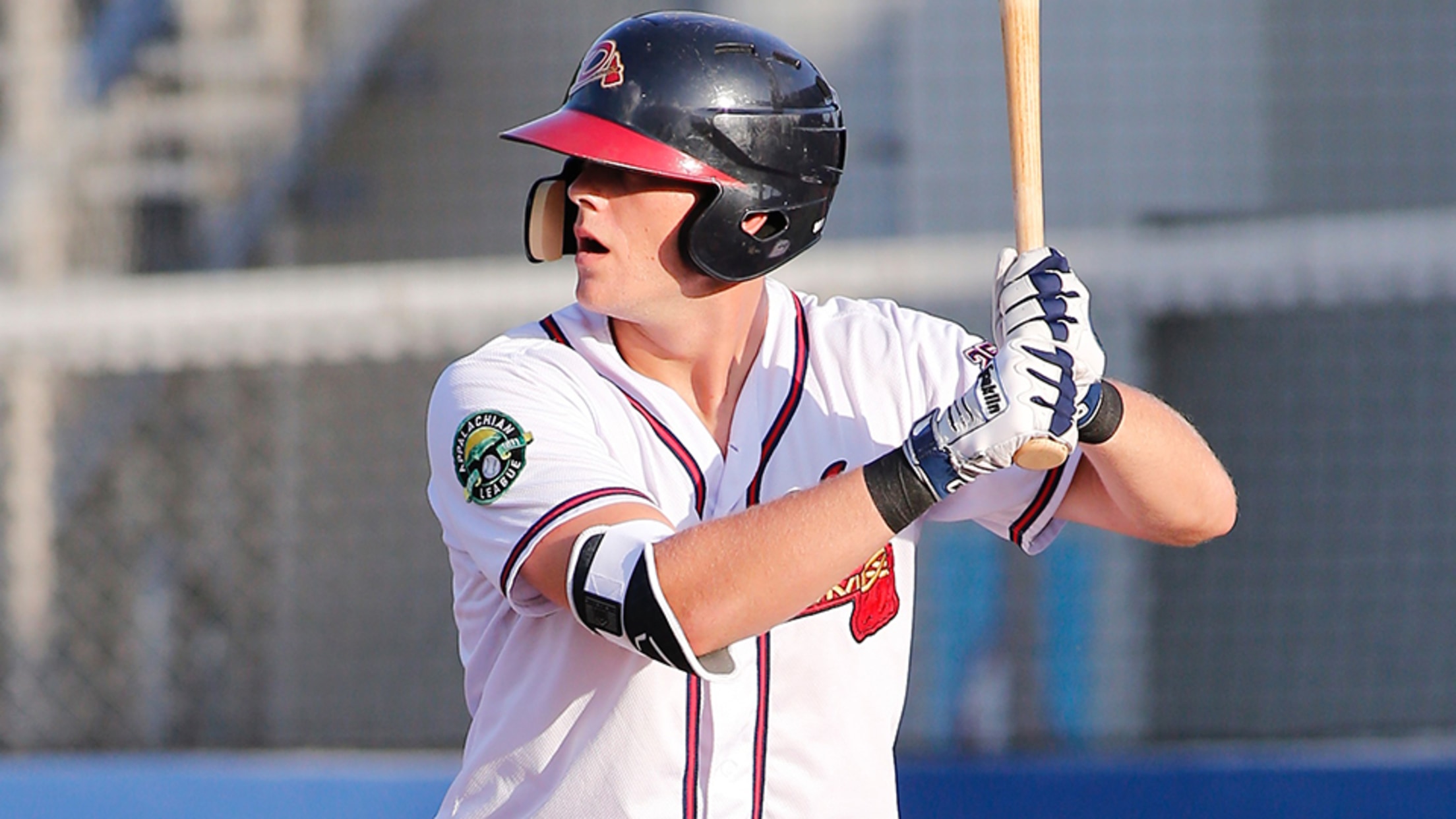 Greyson Jenista has hit .347 with a .876 OPS over his first 21 games in the South Atlantic League. (Chris Robertson/MiLB.com)
Greyson Jenista always knew he could hit, from the moment he stepped on Witchita State's campus. In his first half season as a pro, he's demonstrating that. The Braves' 2018 second-round pick set a professional best with four hits and three runs scored, while Atlanta's 13th-ranked prospectWilliam Contreras chipped in five
Greyson Jenista always knew he could hit, from the moment he stepped on Witchita State's campus. In his first half season as a pro, he's demonstrating that.
The Braves' 2018 second-round pick set a professional best with four hits and three runs scored, while Atlanta's 13th-ranked prospectWilliam Contreras chipped in five RBIs in Class A Rome's 14-5 trouncing of Columbia at State Mutual Stadium on Thursday.
Gameday box score
The career night provided validation that some recent adjustments were working for Jenista.
"Oh, it's a huge confidence boost," he said. "Especially for me because three of the four hits were on three different pitches. That for me was more important than just hitting the fastball or sitting on off-speed stuff. I stuck with my approach and it worked out."
Braves hitting coach Bobby Moore said Jenista was trying to do too much when he was first called up, but now that he's settled in with a more disciplined approach, he's showing his true colors as a hitter.
"He had power obviously, but he was wanting to pull the ball too much and he was overstriding," Moore said. "We were talking about shifting the field, thinking about middle or the other way, so sitting on the ball longer and shortening his stride so he can be quick to it. He's done that thus far and good things are happening for him."
Jenista poked an opposite-field single to left field in the first inning on a 1-0 pitch from Fireflies starter Zac Grotz, lined out in the second, and doubled to left to plate AJ Graffanino in in the third. The Wichita State product kept his foot on the pedal, dumping a base hit to center in the sixth and ripping a ball to right in the seventh.
After starting his career in the Appalachian League at Rookie-level Danville, the left-handed outfielder/first baseman was promoted to the South Atlantic League on July 2. He's hit .347 with a .876 OPS in 21 games for Rome.
"That was a huge confidence boost," Jenista said of the early promotion. "It says a lot about the Atlanta Braves and kind of where they stand with me. There's nothing better as a player than your organization backing you and what they believe the player you're going to be."
Atlanta snatched Jenista with the No. 67 overall pick after he slashed .301/.446/.493 as a junior with the Shockers.
"Personally, I thought I fell. But that's OK," he said. "I think it's kind of showing now that I can hit. But the Draft is a weird thing. Nobody knows pre-Draft how it's going to play out, it just comes down to that moment and who the club wants to take, and that's fine. I couldn't be happier with the Atlanta Braves and starting my career."
Jenista is listed at 6-foot-4, 240 pounds, but is nimble for his size and has played primarily right field in professional baseball.
Contreras, the younger brother of Cubs backstop Willson Contreras, plated Jenista in the first with a single up the middle and knocked in another run in the second with a double to right. After popping out in the third, the 20-year-old catcher roped a triple to right to plate Jenista in the sixth and two more Braves crossed the plate when he doubled again to left in the seventh.
The Venezuela native is hitting .296 with a .816 OPS over 78 games with Rome this season. Contreras posted a .290/.379/.432 slash line with Danville last season.
Moore said Contreras' hitting mechanics feature a leg kick, which was too pronounced early in the season. He focused on shortening it about a week ago and is reaping the benefits with a more succinct and balanced swing.
"He's was coming out of it drifting forward, caught in between since he came up here," the coach said. "If he continues to stay consistent with that, he's going to take off even more so. This is just the start of a great career for him."
Brendan Venter and Graffanino scored three runs apiece in the victory.
Matt Winaker was 3-for-4 with three runs and Zach Rheams added three hits and three RBIs for the Fireflies.
Josh Horton is a contributor to MiLB.com. Follow him on Twitter @joshhorton22