Grizzlies clinch 1st half, playoff berth with 4-2 victory over Nuts
First time in Grizzlies history that the team has made the playoffs in back-to-back seasons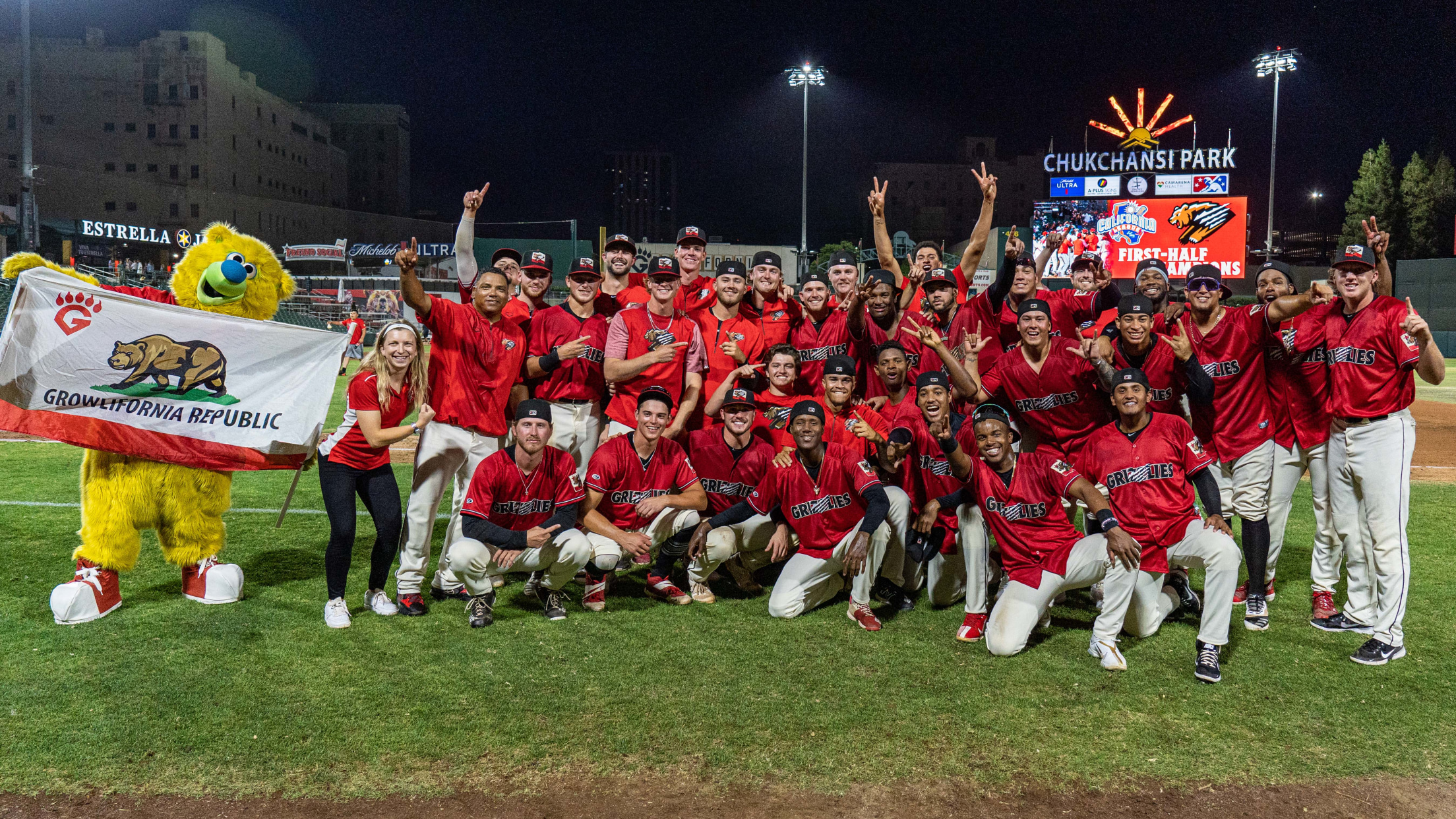 Fresno, CA (Wednesday, June 22) – For the second straight season, the Fresno Grizzlies (41-24) are headed back to the playoffs after a 4-2 win over the Modesto Nuts (29-36) Wednesday night from Chukchansi Park. Despite a San Jose Giants comeback victory, Fresno still secured the California League Northern Division
Fresno, CA (Wednesday, June 22) – For the second straight season, the Fresno Grizzlies (41-24) are headed back to the playoffs after a 4-2 win over the Modesto Nuts (29-36) Wednesday night from Chukchansi Park. Despite a San Jose Giants comeback victory, Fresno still secured the California League Northern Division with one game left in the first half.
Modesto took an early lead after a fielding error plated two runs. The deficit did not faze Fresno, as the Grizzlies scored four unanswered runs over three innings. Ben Sems tied the contest at two in the second with a single to center. Then, a Warming Bernabel RBI single gave Fresno the advantage in the third. Finally, Bernabel netted an eighth inning insurance run with a groundout.
The two-run advantage was enough for Juan Mejia to lock up a playoff berth. Mejia fanned a pair and then induced a fielder's choice to conclude the game. It was his fourth save of the season. Fresno starter Case Williams (5-2) notched the triumph after five innings of two-run ball. He allowed five hits and one walk while fanning four. Luis Amoroso (hold, 3) and Felix Ramires (hold, 2) punched out a trio of hitters over three scoreless frames.
Nuts righty Yeury Tatiz (3-2) agonized the defeat after five innings of work. He permitted three runs on four hits. Joseph Hernandez mustered three frames of solid relief for Modesto.
The Grizzlies offense scattered five hits with Adael Amador clobbering a double. Amador scored two runs and walked once. For the second consecutive evening, three Fresno batters were hit by pitches. Braxton Fulford has been beaned three times in two nights while Hunter Goodman has been hit twice in that stretch.
The Nuts lineup smacked six hits with half of them landing for extra bases. Jonatan Clase powered two hits, which included a triple. Edwin Arroyo and Ty Duvall spanked doubles in the setback. The clubs are back in action tomorrow night from Chukchansi Park.
Top Performers: Fresno Grizzlies (Colorado Rockies)
• Grizzlies pitching (9.0 IP, 6 H, 2 R, 2 ER, 1 BB, 9 K)
• 3B Warming Bernabel (1-3, 2 RBI, HBP, SB, CS)
• SS Adael Amador (1-3, 2B, 2 R, BB)
• 2B Ben Sems (1-3, 2 RBI)
Top Performers: Modesto Nuts (Seattle Mariners)
• CF Jonatan Clase (2-4, 3B)
• C Ty Duvall (1-4, 2B, R)
• SS Edwin Arroyo (1-4, 2B)
On Deck:
Thursday, June 23 vs. Modesto Nuts, Modesto RHP Bryan Woo (0-0, 0.00) vs. Fresno RHP McCade Brown (0-2, 5.63), 6:50 pm PT
ON THAT FRES-NOTE:
The Grizzlies extended their home winning streak to nine games, a season-long.