GROWLIN' CHICKENS BOUNCE BACK WITH SHUTOUT WIN OVER TRAVLEERS
Zerpa, Klein and Dipoto combine for 4th shutout of season, while offense scores nine runs on four hits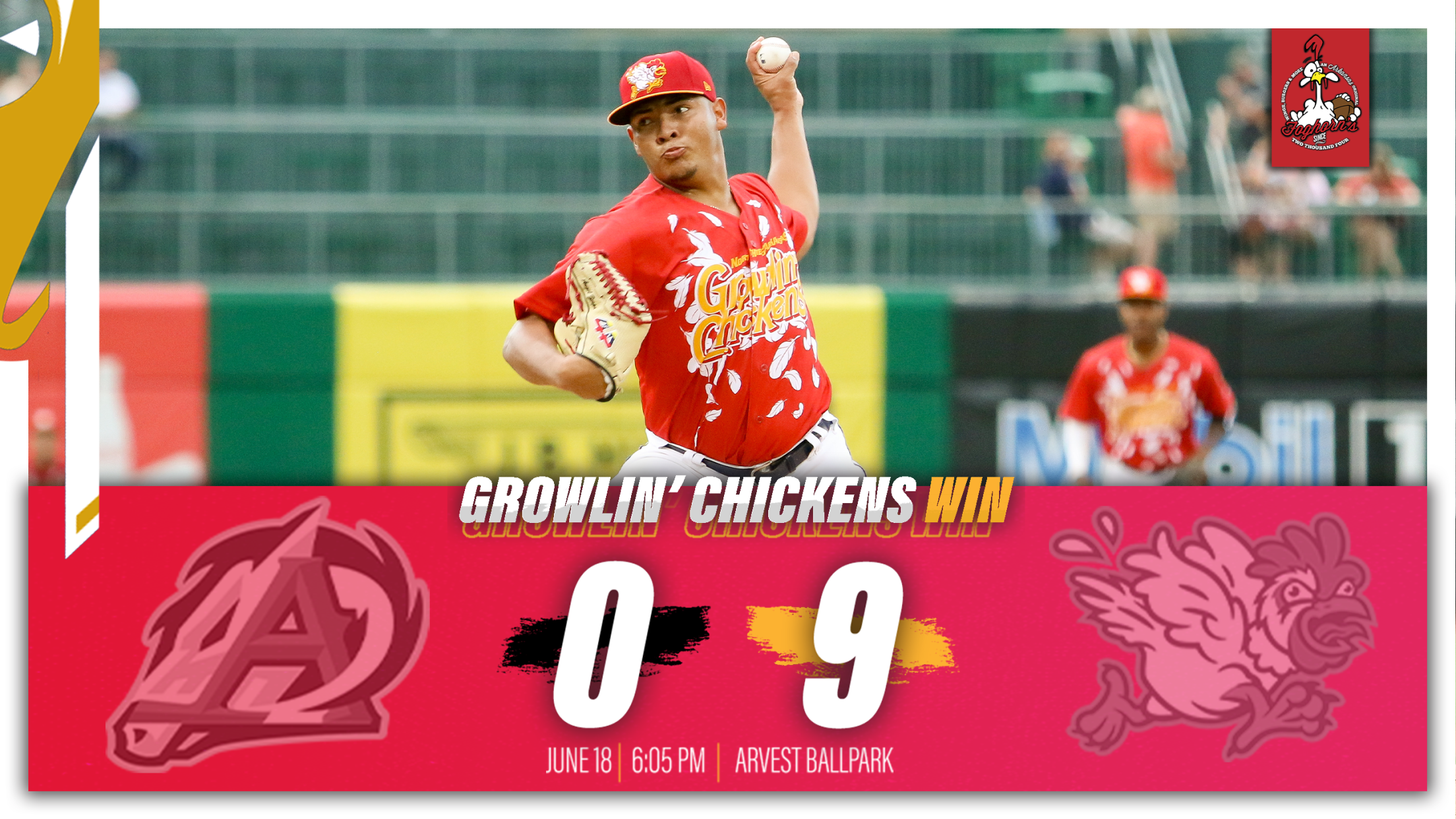 (Photo: Kelsey Chanler/NWA Naturals)
SPRINGDALE, AR – After three straight losses to the Arkansas Travelers – including a pair of blowouts – the Northwest Arkansas Growlin' Chickens bounced back Saturday night, weathering a rain delay to win 9-0 over the Travelers. The victory marked the club's fourth shutout win of the season, the second-largest
SPRINGDALE, AR – After three straight losses to the Arkansas Travelers – including a pair of blowouts – the Northwest Arkansas Growlin' Chickens bounced back Saturday night, weathering a rain delay to win 9-0 over the Travelers.
The victory marked the club's fourth shutout win of the season, the second-largest margin of victory this season and largest margin of shutout victory. Northwest Arkansas hitters drew nine walks and were hit by three pitches, using only four hits in the win. Five more runs than hits marks the second-largest positive differential between runs and hits in franchise history, just behind 21 runs on 15 hits the Naturals recorded on August 20, 2013 in Springfield.
The bottom of the second inning opened with Logan Porter being hit by a pitch, before the Growlin' Chickens drew five straight walks, to plate three runs. Maikel Garcia brought home the inning's fourth run on a sacrifice fly and Tyler Gentry capped the frame with a three-run homer, his second of the week.
Northwest Arkansas added two more in the seventh, as Nick Loftin walked and scored on a double from Gentry, who then scored on a Sebastian Rivero fielder's choice.
Angel Zerpa set the tone on the mound early, as he threw 4.1 scoreless innings with six strikeouts, retiring his final six batters of the game.
Will Klein took over for Zerpa in the fifth, allowing a leadoff single that was promptly erased on a double play to end the inning, then retiring the next six batters he faced in perfect sixth and seventh innings. Jonah Dipoto pitched the final two innings, striking out a pair in the eighth and stranding two on in the ninth to preserve the shutout.
Zerpa, Klein and Dipoto combined for a stretch from the third through the eighth inning, facing the minimum, 17 batters faced and retired. The three faced just one over the minimum in a span of 20 batters between the second and eighth innings as well.
Northwest Arkansas will try and get back to .500 on Sunday and split the series with the Travelers, at 2:05 p.m. from Arvest Ballpark with Anthony Veneziano on the mound.