Halfway To Mardi Gras Raises Over $5,000 For K&J Foundation
Shuckers Present Check Following Jersey Auction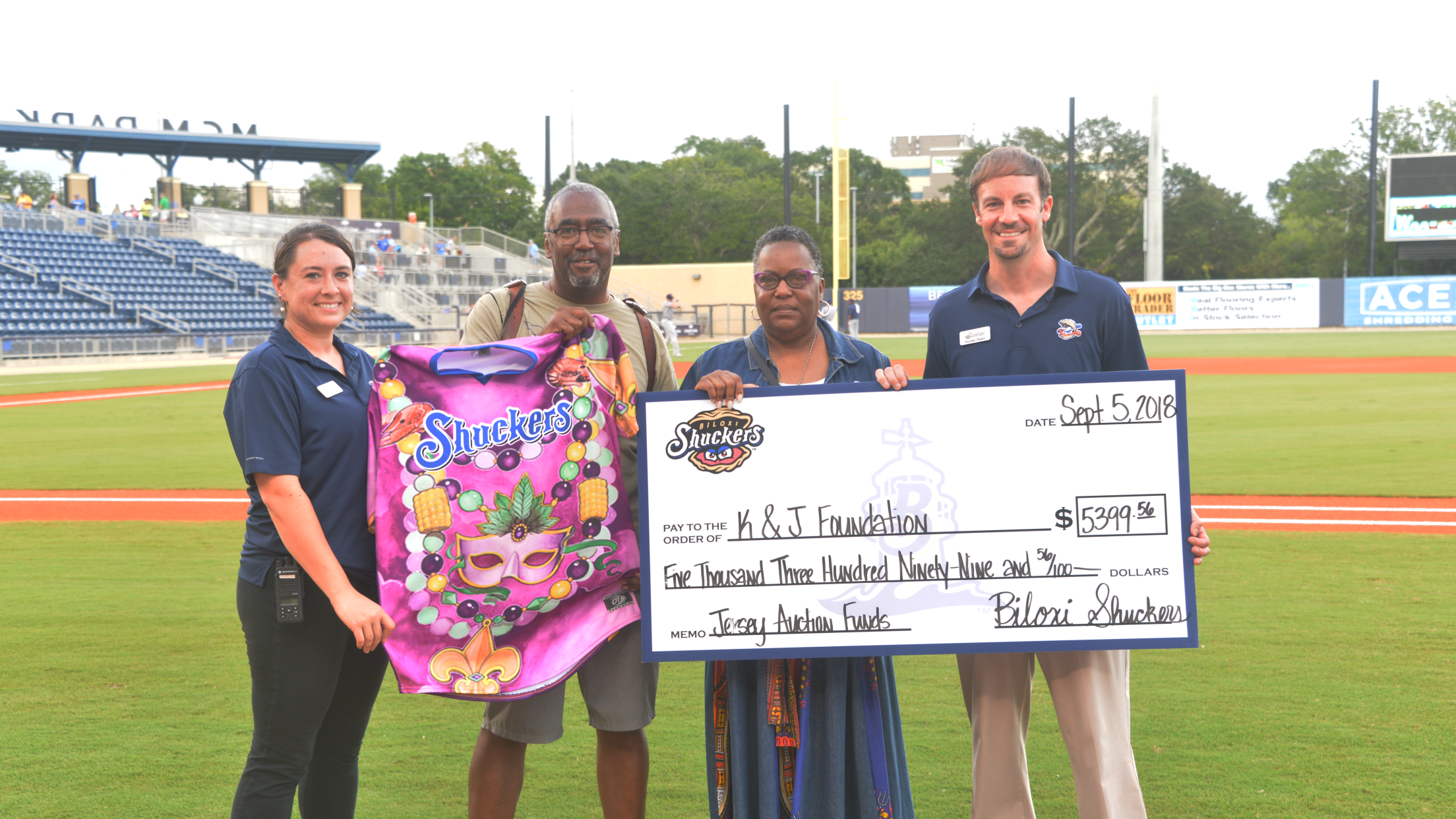 Prior to their South Divisional Playoff game on September 5, the Biloxi Shuckers presented a check to Brian and Yvette Pearse of the K&J Foundation for $5,399.56. The funds were raised from the Shuckers "Halfway to Mardi Gras" jerseys."Brian is a part of the Shuckers family, and when an opportunity
Prior to their South Divisional Playoff game on September 5, the Biloxi Shuckers presented a check to Brian and Yvette Pearse of the K&J Foundation for $5,399.56. The funds were raised from the Shuckers "Halfway to Mardi Gras" jerseys.
"Brian is a part of the Shuckers family, and when an opportunity presented itself to help out the K&J Foundation, we were thrilled to do what we could to help out," said Shuckers General Manager Hunter Reed. "We want to thank Matt Stebly for designing another eye-grabbing jersey for the Shuckers, and we hope that the money raised helps Brian and Yvette continue their work to increase seatbelt safety awareness."
Founded by Brian and Yvette, the K&J Foundation is committed to raising teen seatbelt safety awareness as a legacy to their children, Kiara and Jameel. During their game on August 18, the Shuckers wore special jerseys for "Halfway to Mardi Gras" night designed by local artist Matt Stebly. The game worn jerseys were featured on ESPN's SportsCenter that morning and were auctioned off during the game. Fans were able to meet Shuckers players on the field and receive their jersey after the game concluded.
The Shuckers remain committed to community involvement and proactively seeking ways to improve the quality of life along the Mississippi Gulf Coast. This season, the Shuckers have raised over $13,400 through jersey auctions, special events and sponsorship that have benefited organizations throughout the greater Biloxi area.
Playoff tickets for the Biloxi Shuckers 2018 Postseason can be purchased at the MGM Park box office or over the phone through Ticketmaster at (800) 745-3000. Group outings are also available and can be reserved by calling 228-233-3465 or visiting www.biloxishuckers.com.
ABOUT THE BILOXI SHUCKERS:
The Biloxi Shuckers are the Double-A Affiliate of the Milwaukee Brewers. The Shuckers play at MGM Park in Biloxi, Mississippi. For more information please visit biloxishuckers.com and follow us on Twitter @biloxishuckers and at facebook.com/biloxishuckers.com.