Hall powers Spikes' 14-2 pounding of W'port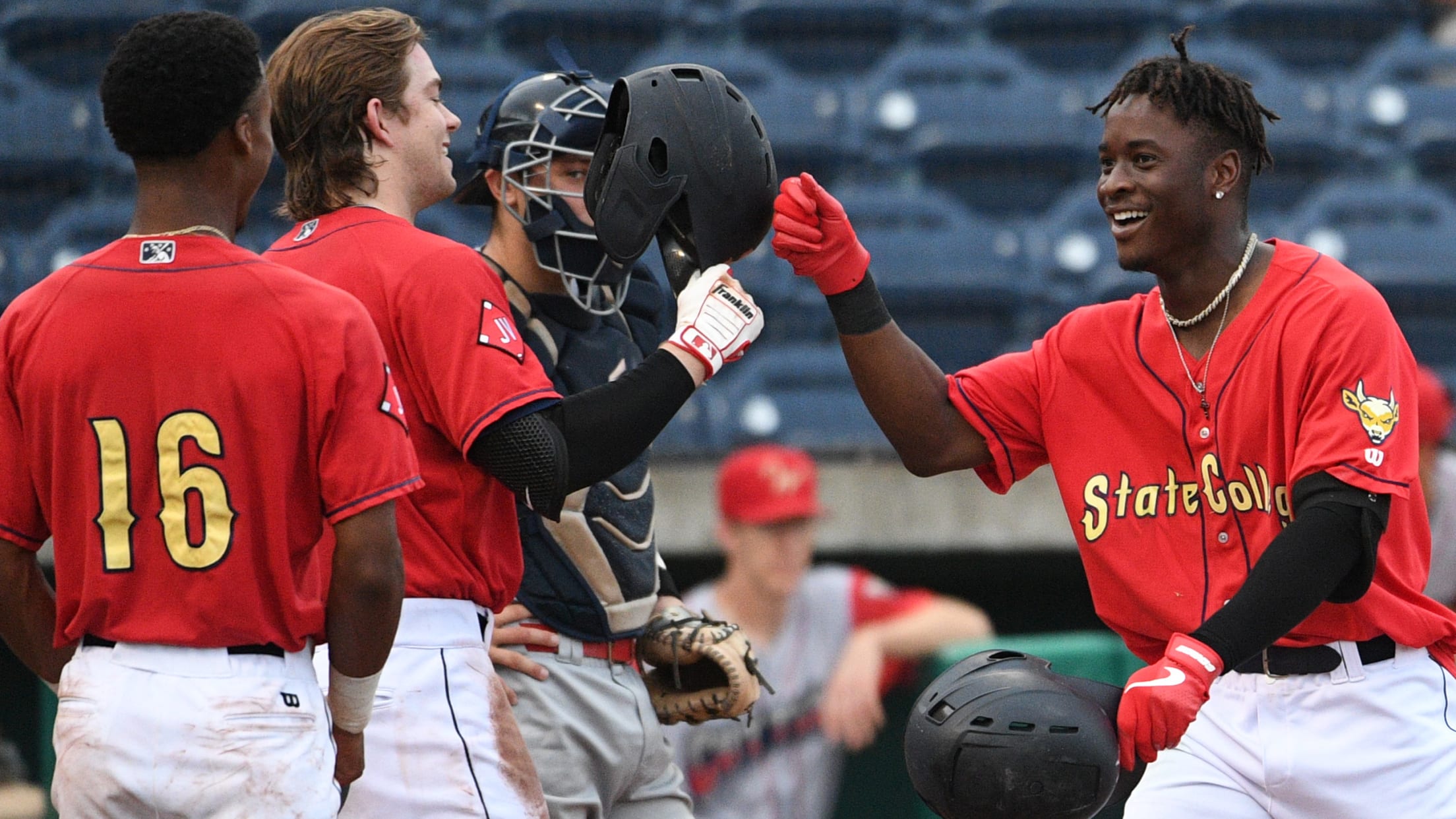 Hylan Hall (right) celebrates his homer on Wednesday night with Curtis Washington Jr. (far left, 16) and Logan Stanke (left). (Steve Manuel)
BOX SCORE/PLAY-BY-PLAY (via PitchAware) UNIVERSITY PARK, Pa. – Hylan Hall produced a stellar night in his second game for the State College Spikes with his first Major League Baseball Draft League home run, one of the Spikes' eight extra-base hits, to key a 14-2 victory over the Williamsport Crosscutters on
BOX SCORE/PLAY-BY-PLAY (via PitchAware)
UNIVERSITY PARK, Pa. – Hylan Hall produced a stellar night in his second game for the State College Spikes with his first Major League Baseball Draft League home run, one of the Spikes' eight extra-base hits, to key a 14-2 victory over the Williamsport Crosscutters on Wednesday night at Medlar Field at Lubrano Park.
Hall, a product of Wabash Valley Junior College in Illinois who is committed to Washington State, took a 1-0 pitch from Williamsport (8-6) reliever Francisco Mateo deep to the left field Pepsi Picnic Pavilion in the fourth for a two-run homer that traveled 387 feet. The long ball followed Hall's third-inning triple to the Lion Country Kia Corner in right, as well as an outstanding diving catch in left-center field to rob Sean Ross of extra bases earlier in the fourth.
The Spikes (6-7) used the big inning to great effect, plating three runs in the first, two in the third, five in the fourth and four more in the seventh. Zion Pettigrew delivered a three-hit game in his second contest with State College, including a pair of doubles, and knocked in two runs.
Chase Stanke made his Spikes debut behind the plate, and the Minnesota product went 2-for-5 with a double and two runs batted in.
The Spikes also matched a club record with seven stolen bases, all in the game's first four innings, on seven attempts. Myles Austin, James Jett and Tyler Heckert all swiped two bags, while Curtis Washington Jr. nabbed the other. The last time State College stole seven bases in one game was July 2, 2011 against the Auburn Doubledays.
Louis Davenport III started and went four innings for the Spikes, allowing one run on two hits and a walk while striking out four batters. Spencer Koelewyn (1-0) followed Davenport on the mound and earned the win in his State College debut out of Omaha. Koelewyn yielded one run on a solo homer hit by Williamsport's Jaxon Shirley, but that was the only hit he allowed as he struck out three batters.
Williamsport starter Jacob Smith (0-1) took the loss after giving up three runs on three hits and a walk in the first inning. Smith recorded two strikeouts in the effort.
Thursday, the Spikes face the Crosscutters in the rubber match of their three-game series with a 6:35 p.m. start time at Medlar Field at Lubrano Park. State College will send right-hander Griffin Miller (0-1) to the mound to meet Williamsport right-hander Chase Costello (1-1).
Fans will enjoy Thirsty Thursday, featuring $2 16-oz. select drafts and $3 16-oz. craft drafts from 5:30 to 7:30 p.m.
The weekend starts with a 4 for $44 Friday, presented by 95.3 3WZ, featuring a Spikes Mini-Basketball/Kickball Giveaway for the first 250 fans as the West Virginia Black Bears roll into town.
Saturday night's fun features post-game FIREWORKS, presented by Boyles Insurance, on a Super Saturday presented by PA Lottery and B94.5. Fans can also win big at Baseball Bingo, with the first 10 Bingo winners entered into a drawing on August 7 for the Baseball Bingo Ultimate Prize Pack, featuring a 70-inch Ultra HD Smart TV.
It all concludes with a Sunday Funday, presented by Bigfoot Country Legends, featuring a Blair Thomas Bobblehead Giveaway for the first 250 fans. Gates will open at 3:00 p.m. for the 4:05 game against West Virginia.
Tickets for the four games remaining on the upcoming homestand, as well as every game remaining on the 2021 home schedule, are currently on sale through the Spikes Ticket Office. Tickets can be purchased by calling (814) 272-1711 or by visiting the Ticket Office in person from 9 a.m. to the end of the game on gamedays Monday through Friday, 10 a.m. to the end of the game on gamedays Saturday and Sunday, and 9 a.m. to 5 p.m. on non-gamedays Monday through Friday.
Fans can also buy and download single-game tickets by visiting StateCollegeSpikes.com.
Catch all of the action on Thursday via the Spikes Radio Network, presented by Penn State Sports Medicine, Official Healthcare Provider of Penn State Athletics, starting with Spikes Live, presented by Mount Nittany Health, on the air from Medlar Field at Lubrano Park. The game can be viewed worldwide on the *MLB Draft League *streaming platform at MLBDraftLeague.com/streaming, along with the "Listen Live" link on StateCollegeSpikes.com and the *TuneIn Radio *app.
Time of Game – 2:56
Attendance – 1,607