Hammerheads Harpoon Fire Frogs in Sunday Double Dip
Lugbauer launches 14th homer, plates two runs in game one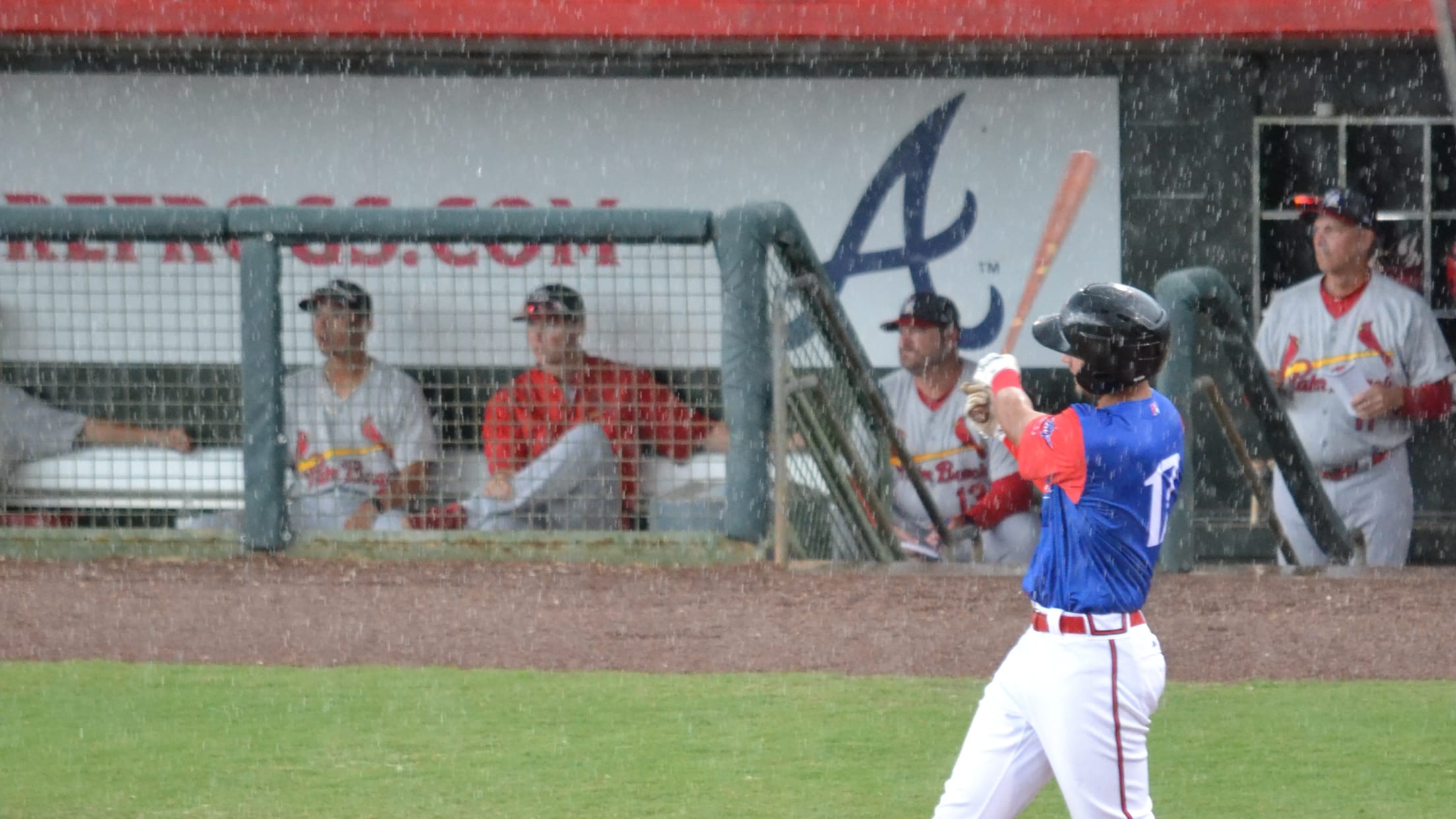 Drew Lugbauer collected his 14th multi-hit game and 8th multi-RBI effort in game one of Sunday's twin bill against Jupiter (Maris Slavin)
JUPITER, FLA.: The Florida Fire Frogs broke out to early leads in both games, but the Jupiter Hammerheads rallied twice to sweep a double header, twice winning, 5-2, on Sunday afternoon at Roger Dean Chevrolet Stadium.
JUPITER, FLA.: The Florida Fire Frogs broke out to early leads in both games, but the Jupiter Hammerheads rallied twice to sweep a double header, twice winning, 5-2, on Sunday afternoon at Roger Dean Chevrolet Stadium.
Game 1: Drew Lugbauer had a big effort at the plate, and he placed the Fire Frogs in front, 1-0, in the second. He smacked his 14th home run of the season against LHP Braxton Garrett, moving into a fourth-place tie in the FSL with the blast. He swatted two of the four Florida hits in the game.
Garrett (6-4) improved upon his season-mark by hurling 5 and 1/3's innings, permitting two hits, two runs, three walks, and racking up eight strikeouts in the winning effort.
The Hammerheads answered with three extra-base hits in the third versus RHP Freddy Tarnok. Micah Brown led off the frame with a double. Connor Scott tripled him in. Marlins #18 prospect Jerar Encarnacion sent his fifth Advanced-A homer over the left field fence for a 3-1 Jupiter edge.
Walks to Andrew Moritz and Andy Wilkins in the sixth forced Garrett out of the ballgame. RHP Sean Guenther yielded two hits and a walk, including a run-producing knock to Lugbauer, but escaped the stanza with the Hammerheads still in front 3-2.
Jupiter grabbed two insurance tallies in the bottom of the frame on a Justin Twine two-run single to extend the margin to 5-2.
Tarnok (2-6) gave up five runs on nine hits and two walks while piling up eight punch outs across 5 and 2/3's frames to take the setback. RHP Lukas Young got the final out of the sixth to keep the Frogs within striking distance.
Logan Brown singled to move his hitting streak to six.
Encarnacion and Twine had a pair of hits for the Hammerheads.
C.J. Carter recorded the final two outs to notch his second save.
Game 2 Box Score: https://www.milb.com/gameday/fire-frogs-vs-hammerheads/2019/08/04/572893#game_state=final,game_tab=,game=572893
Game 2: Jefrey Ramos spearheaded a hot start for the Fire Frogs, doubling in Delgado opposite RHP Humberto Mejia for the 1-0 advantage.
Zack Soria caught Encarnacion attempting to steal second in the bottom of the first, but it came at a price as Connor Scott scampered home on the play to even the game at 1-1.
Garrison Schwartz ensured Florida would have a long ball in each game of the set, sending one over the fence in right for his second bomb of the season to help his club regain the lead, 2-1.
That is all the damage the Hammerheads pitching staff would allow. Mejia permitted two runs and four hits over the first three innings. RHP Tyler Jones (1-1) went the final four stanzas to earn his first victory, yielding just one hit with four Ks mixed in.
RHP Matt Withrow didn't factor in the decision in his first Fire Frogs appearance since June 20, surrendering a hit, two walks, and a run over six outs.
2019 Marlins First-Round selection JJ Bleday pushed across Scott with an RBI double off RHP Sean McLaughlin to tie the game in the fifth. Encarnacion's knock gave the Hammerheads their first lead of game two, 3-2.
McLaughlin (2-3) was dealt the loss, scattering five hits and two runs in three innings of work.
Twine's second two-run single of the afternoon capped a three-hit inning versus RHP Caleb Dirks and ballooned Jupiter's margin to 5-2 after six innings.
Delgado bumped his on-base streak to nine and has hits in five straight games, swinging 3-7 at the dish on Sunday including going 2-3 in the final game of the series.
Moritz couldn't extend his seven-game hit streak in game one but drew a walk to advance his on-base streak to eight consecutive assignments. That on-base streak was unfortunately snapped in game two.
NEXT UP: Florida continues its six-day road trip with one final visit to Jackie Robinson Ballpark in Daytona Beach. The Fire Frogs and Tortugas commence their three-game series at 7:05 p.m. on Monday evening.
About the Florida Fire Frogs
The Florida Fire Frogs are the Advanced-A affiliate of the Atlanta Braves and compete in the Florida State League. The Fire Frogs play their home games at Osceola County Stadium, located at Osceola Heritage Park in Kissimmee, Fla. For more information, please visit www.FloridaFireFrogs.com, and follow the team on Twitter, Facebook, Instagram, Snapchat and YouTube.