Hancock Deals In Travs Win
Right-hander matches his longest outing of season at 5.2 innings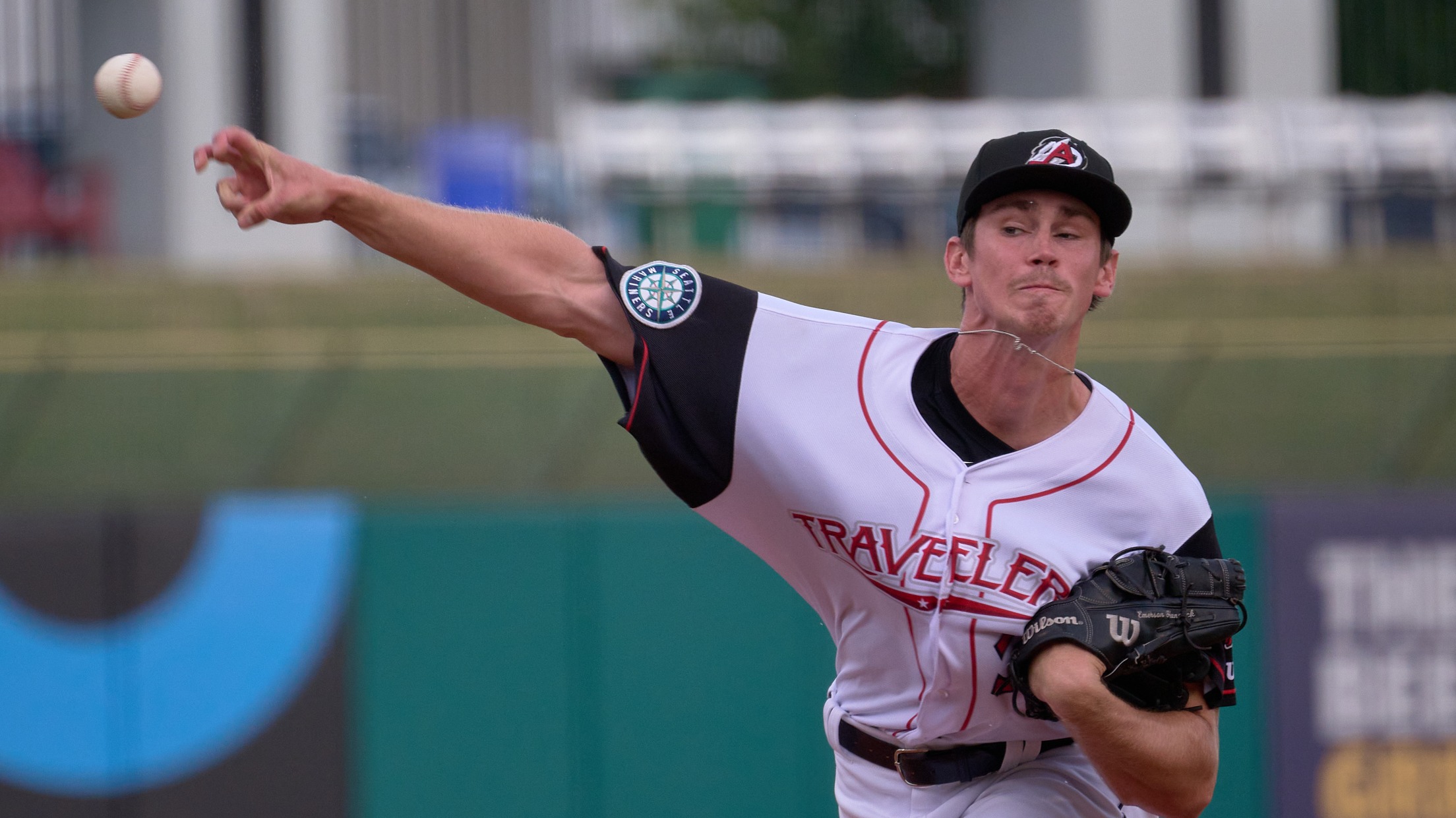 Emerson Hancock was the winning pitcher on Saturday night. (Mark Wagner)
North Little Rock, AR—Emerson Hancock worked 5.2 innings allowing just one run on six hits with five strikeouts leading the Arkansas Travelers (7-4, 43-37) to a 5-2 win over the Springfield Cardinals (5-6, 36-44) on Saturday night at Dickey-Stephens Park. Blake Weiman (1.1 IP) and Michael Stryffeler (2 IP) closed
North Little Rock, AR—Emerson Hancock worked 5.2 innings allowing just one run on six hits with five strikeouts leading the Arkansas Travelers (7-4, 43-37) to a 5-2 win over the Springfield Cardinals (5-6, 36-44) on Saturday night at Dickey-Stephens Park. Blake Weiman (1.1 IP) and Michael Stryffeler (2 IP) closed the game out with Stryffeler recording a six out save, his league best 13th save of the season. The offense gained control of the game scoring four times in the fourth inning. Cade Marlowe paced the offense with a three hit game and two runs scored.
Moments That Mattered
* Kaden Polcovich capped the scoring in the fourth with a two-RBI opposite field base hit.
* Hancock saw the first two batters reach in the sixth but got a double play from the final hitter he faced to restore order.
Notable Travs Performances
* CF Cade Marlowe: 3-4, 2 runs, 2B
* RHP Emerson Hancock: Win, 5.2 IP, 6 H, R, 2 BB, 5 K
News and Notes
* Hancock matched his longest start of the season.
* Travelers manager Collin Cowgill and relief pitcher Scott Boches were ejected in the bottom of the first inning after a close play at the plate went against the Travs.
Up Next
Arkansas goes for the series win on Sunday afternoon with right-hander Taylor Dollard (8-2, 1.38) on the mound against righty Edgar Escobar (4-5, 7.47). It is the Kids Day Bash with a free kids clinic, team card set giveaway and kids run the bases. The game will also be broadcast on 93.3 The Fish, the First Pitch App and milb.tv.