Hard work, perseverance pay off for All Stars
Feliciano, Harrison, & Webb react to their All-Star Selection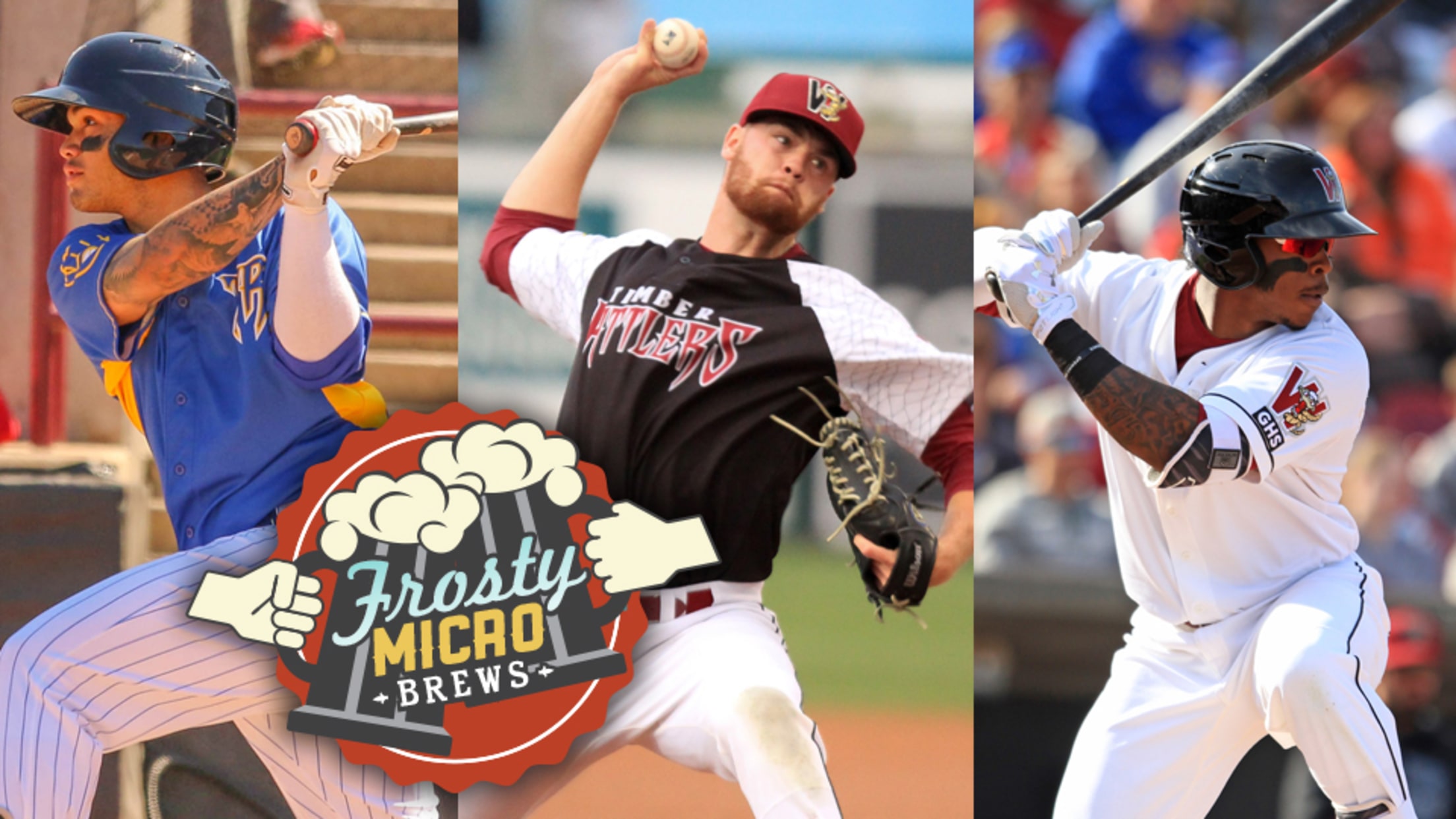 For most of the Timber Rattlers the next week includes a pair of long road trips through Burlington and Kane County, where the team is scheduled to play the final nine games of the season's first half in a span of six days. After those series wrap up many of
For most of the Timber Rattlers the next week includes a pair of long road trips through Burlington and Kane County, where the team is scheduled to play the final nine games of the season's first half in a span of six days. After those series wrap up many of the players will take a well-earned break, but a few will take a detour on the way home to spend a couple of days in Midland, Michigan.
Outfielder Monte Harrison, catcher Mario Feliciano and pitcher Braden Webb will represent the Timber Rattlers and the Western Division on Tuesday at the Midwest League All Star Game. Harrison is expected to start the game, while Feliciano will come off the bench and Webb will likely pitch in relief.
The announcement came as a surprise to Harrison, who wasn't up for the day yet when he was notified on June 7.
"I got a phone call," Harrison said, "I was sleeping, and somebody woke me up and was like, 'Congrats!' And I was like, 'Man, what are you talking about?' And he said 'You're an All Star.' I said 'Thanks, I appreciate it.'"
This is the second time Harrison has been selected to a professional All Star Game, but it will be his first time appearing in the game: He was also a Pioneer League All Star for the Helena Brewers in 2015 but missed the contest due to injury. Injuries have been a longstanding concern for Harrison, who was limited to just 74 games in 2015 and 80 in 2016. This season he has appeared in 58 of Wisconsin's first 60 games.
"He's a toolsy guy that's trying to turn some of that athleticism into baseball skills," Timber Rattlers manager Matt Erickson said. "And he's been hampered by injuries the last two years and now he's getting everyday experience. That experience and some of that history that he's had is turning into some baseball experience and a little more consistency."
With that experience and consistency has come an uptick in power: Harrison has already set a new career high with ten home runs this season. He's also stolen eleven bases, making him the first Timber Rattlers player with ten home runs and ten steals in the first half since at least 2005, when Minor League Baseball began making split data available.
"He's a guy that can impact the game in all facets: He's played a good center field, going gap to gap, covers the outfield pretty good, can run the bases pretty well, has some instinct there, looks for extra bases, and this year he's controlling the strike zone a little better, getting into some good hitters' counts and doing a little more damage," Erickson said. "He still has a ways to go at the plate, some more discipline and honing a repeatable stroke, but he's definitely on the upside for him."
Feliciano will play in his first All Star game in his first full professional season after being selected by the Brewers in the second round of the 2016 draft.
"He was very excited when he found out," Feliciano said through translator Fidel Pena. "All the work he's been putting in has been paying off, and he's just going to go there and enjoy the experience."
Feliciano, who will not turn 19 until November, is the third-youngest player selected as a Midwest League All Star this season, trailing behind only the sons of two former MLB stars: Lansing third baseman Vladimir Guerrero Jr. and Fort Wayne shortstop Fernando Tatis Jr.
Feliciano is easily the youngest member of the Western Division squad: He was born a full year and 145 days before Quad Cities first baseman/outfielder Yordan Alvarez, his only All Star teammate under age 20. Erickson described Feliciano's selection at such a young age as "an impressive accomplishment."
"I think he's probably being recognized more for his bat at this point, where he's done a very nice job of staying inside the ball," Erickson said. "He's got a short swing, he commands the strike zone very well for a young man, and he has the ability to hit the ball to all fields. When you can hit the ball back through the middle, see the ball deep and have a short swing you're able to recognize pitches a little better. He's shown the ability to put a lot of balls in play and find hits."
Through 60 games this season Feliciano leads the Timber Rattlers with a .272 batting average, ranks second on the team with 53 hits and is third with 19 walks. He's the fourth Timber Rattlers catcher to make the All Star team in the last three seasons, joining 2016 selections Mitch Ghelfi and Max McDowell and 2015 pick Carlos Leal.
As the Western Division's lone backup catcher, there's a good chance Feliciano will get to catch teammate Braden Webb. Webb was a third round pick in the 2016 draft but did not pitch professionally in his draft year, so 2017 is his first professional season.
"I kind of just found out from one of our other players. I was getting text messages about it," Webb said. "It's a pretty cool feeling, I guess. I didn't think I deserved it, but God has other plans. I think there are other pitchers on this staff that are more deserving of it."
Webb has a 5.18 earned run average on the season but 15 of the 23 earned runs he allowed came in just two outings, on April 26 against Kane County and May 29 against Clinton. He's allowed two or fewer earned runs in nine of his 12 appearances, and zero earned runs in six of them. He's also recorded 9.9 strikeouts per nine innings, trailing behind only recently-promoted starter Trey Supak for the team lead in that category.
"We had some guys get off to pretty good starts on the pitching side, then we've had a rough couple of weeks, but 'Webby' is a guy that shows probably the best all-around stuff on our staff," Erickson said. "The ball jumps out of his hand, he's got a big breaking ball with some tight spin, and if he can start controlling that a little better and getting ahead of hitters he's a guy that could really do some damage and be good for us here in the second half."
As a first-year professional Webb is still learning how to handle a different schedule and lifestyle from what he experienced in college, and said he's learned a lot in his first few months with Wisconsin.
"I've learned that pitching every five days is a lot harder on your body than pitching every seven. I've learned how to recover," Webb said. "I've learned a lot from Pax (trainer Jeff Paxson) and (strength and conditioning coach) Ben (Mendelson) and 'Doc' (pitching coach Steve Cline) and Matty (Erickson). I'm kind of just continuing to grow more as a professional athlete and taking each day day by day."
One thing was the same for all three Timber Rattlers All Stars: Once they found out they'd been selected, their next move was to call their mothers.
"I know she's very excited about my journey and everything. I couldn't tell anybody else except my mother, and then I told my brother," Harrison said.
"She was very excited, because she was actually already on her way here to Appleton. She's very excited," Feliciano said. "It's exciting, being able to bring them out here to see them play and all that."
"My parents were the first people I told," Webb said. "I texted them, and I was like, 'Hey, I made it to the All Star Game.' And they were like, 'What, really?' And I was like, 'Yeah, I guess so.'"