Harper Shines in 10-5 win over Gwinnett
Rehabbing Phillies OF went 2-for-3 with 2 HR, 4 RBIs, 2 BB, and 3 runs
(Allentown, PA) – Bryce Harper homered twice in front of a sold-out crowd of 10,100 on Tuesday evening in his Good Shepherd Rehabilitation Appearance and led the Lehigh Valley IronPigs (65-53) to a 10-5 win over the Gwinnett Stripers (58-60). Gwinnett took a 3-0 lead against Michael Kelly in the
(Allentown, PA) – Bryce Harper homered twice in front of a sold-out crowd of 10,100 on Tuesday evening in his Good Shepherd Rehabilitation Appearance and led the Lehigh Valley IronPigs (65-53) to a 10-5 win over the Gwinnett Stripers (58-60).
Gwinnett took a 3-0 lead against Michael Kelly in the top of the first inning. Delino DeShields scored on a fielding error by Johan Camargo at first base. Taylor Motter hit an RBI double to score Hernan Perez and Tyler White hit an RBI single to score Motter. The IronPigs struck back in the bottom of the first inning as Harper homered against Jared Shuster and cut Gwinnett's lead to 3-1.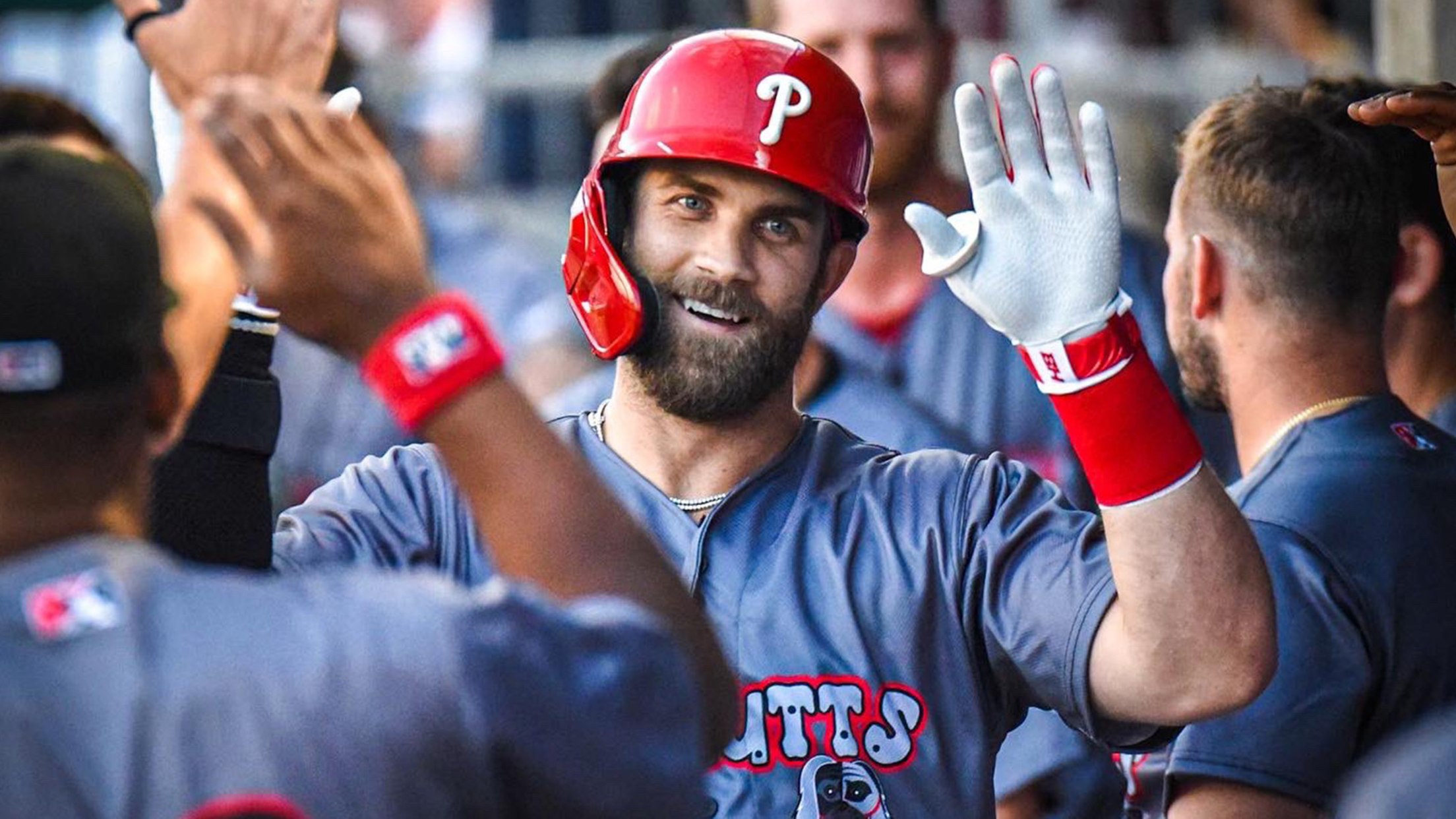 Alex Dickerson homered against Ofreidy Gomez in the top of the third inning to give Gwinnett a 4-1 lead. Scott Kingery hit a two-run double against Victor Vodnik in the bottom of the sixth inning to cut the Stripers lead to 4-3. The 'Pigs took a 6-4 lead against Tyler Ferguson (0-2) in the bottom of the seventh inning. Camargo hit a sacrifice fly that scored Dalton Guthrie and Rafael Marchan hit a two-run single.
Gwinnett got a run back in the top of the eighth inning as Pat Valaika hit a sacrifice fly against Nick Duron that scored Rylan Bannon. Lehigh Valley answered with a four-run bottom of the eighth inning to take a 10-5 lead. Harper hit a three-run home run against William Woods then Dustin Peterson homered against Woods in the following at-bat.
Jace Fry (4-1) earned the win for Lehigh Valley as he pitched a scoreless seventh inning. He recorded one strikeout. Jakob Hernandez earned his sixth save of the season by pitching 1 2/3 scoreless innings with five strikeouts.
The IronPigs and Gwinnett Stripers continue their series on Wednesday evening. First pitch is scheduled for 7:05 p.m.
Mutts got that dawg in 'em.#LHVIronMutts x @grelectricllc pic.twitter.com/U7dU0WISnM

— Lehigh Valley IronPigs (@IronPigs) August 24, 2022
Follow the IronPigs on Twitter at @IronPigs and like them on Facebook via www.facebook.com/LHVIronPigs.
The 2022 IronPigs season is presented by Capital BlueCross.
--#OinkOn--