Hicks' Dazzles in Cardinal's Loss
Cardinals' Pitchers Strike Out Eleven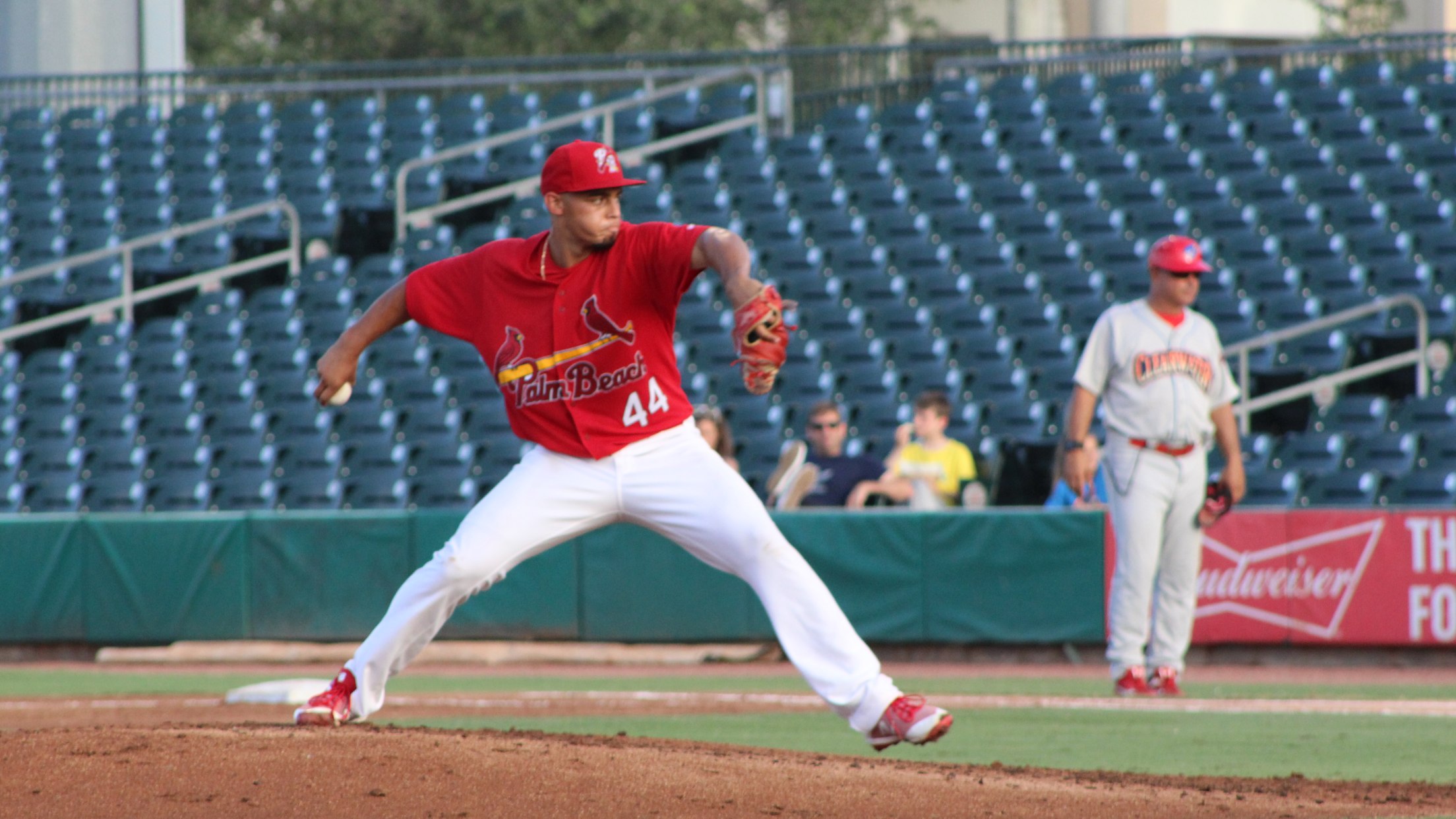 Jupiter, FL - The Palm Beach Cardinals (59-47, 19-20) gave up two runs in the seventh and picked up a 3-1 loss to the Clearwater Threshers (59-51, 21-19) on Thursday evening.Jordan Hicks got the start for the Cardinals a few hours after being announced as the St. Louis Cardinals' Minor
Jupiter, FL - The Palm Beach Cardinals (59-47, 19-20) gave up two runs in the seventh and picked up a 3-1 loss to the Clearwater Threshers (59-51, 21-19) on Thursday evening.
Jordan Hicks got the start for the Cardinals a few hours after being announced as the St. Louis Cardinals' Minor League Pitcher of the Month for July. He tossed five innings, giving up four hits and no runs, while walking one batter and striking out three. He got the Threshers to ground into two double plays in the first and second to get out of the only jams he was in.
Palm Beach got on the board in the second inning as Leobaldo Pina hit a ground rule double to the the left-center gap and later scored on a Luke Dykstra single. Pina slid under the tag at home to give the Cardinals a 1-0 lead.
Ross Vance took over in the sixth inning and the Threshers tied the game with three two-out singles from Wilson Garcia, Jan Hernandez and Derek Campbell. Hernandez was thrown out at third on a relay from Thomas Spitz in right field, to Pina, to Chris Chinea at the plate and finally ended with Casey Turgeon at third to end the inning before the Threshers could break the tie.
Clearwater eventually took the lead in the seventh inning to give the Threshers a 3-1 lead. Cornelius Randolph drove in Edgar Cabral and Emmanuel Marrero on a double down the right field line that went right over the first base bag.
Hector Mendoza took over on the mound after the double and shut down the Threshers the rest of the game, only allowing one base runner on a walk and striking out four. The Cardinals were unable to score though and fell by a final of 3-1.