Hit Parade Continues for Hops in Blowout Win
Three Two-Run Homers in 13-2 Rout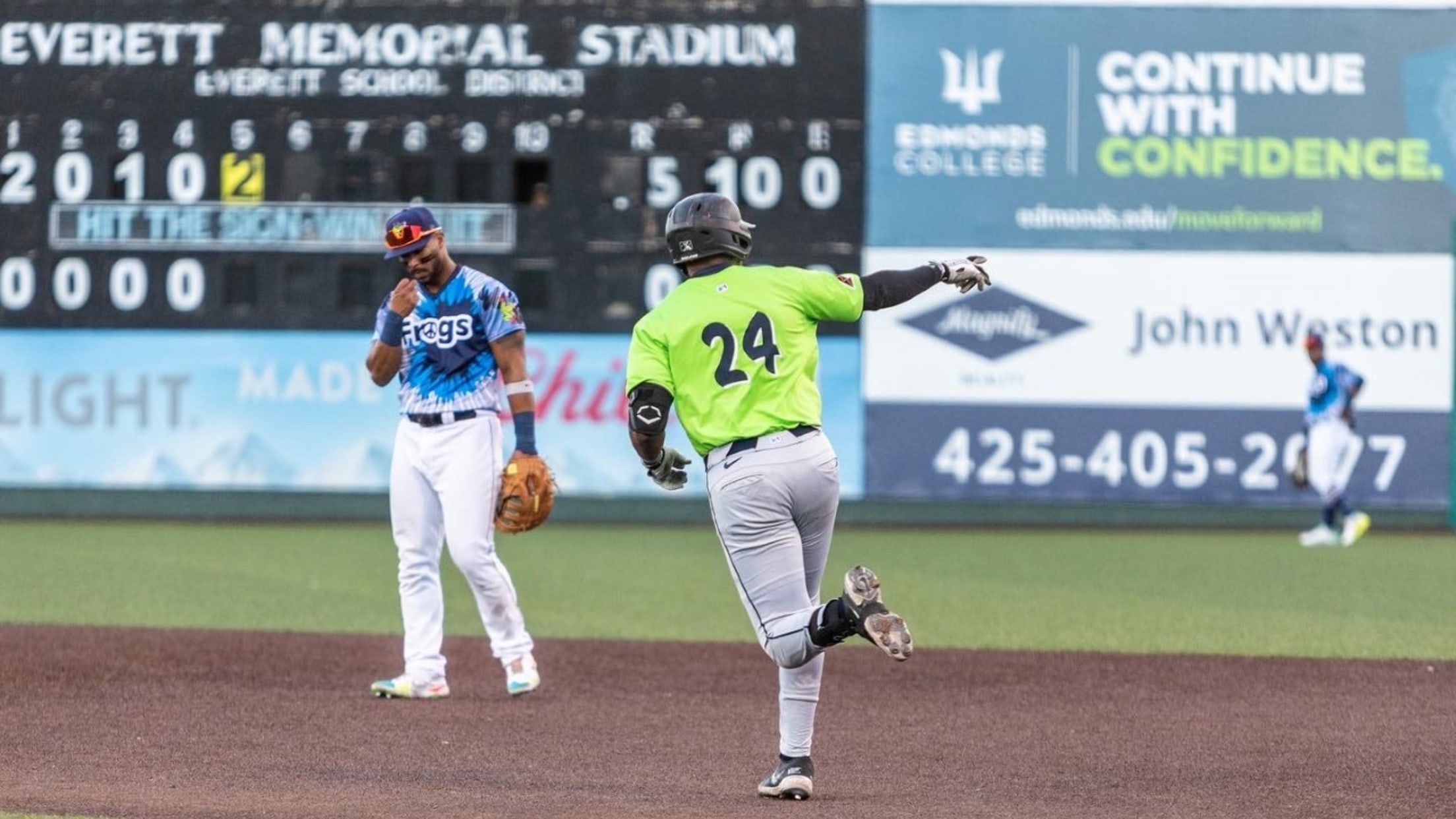 Everett, WA (August 6, 2022) – One of the best offensive performances of the season came at Funko Field on Saturday, as the Hops scored 13 runs on 18 hits. Caleb Roberts, Ryan Bliss and Neyfy Castillo all hit two-run home runs, A.J. Vukovich and Deyvison De Los Santos both
Everett, WA (August 6, 2022) – One of the best offensive performances of the season came at Funko Field on Saturday, as the Hops scored 13 runs on 18 hits. Caleb Roberts, Ryan Bliss and Neyfy Castillo all hit two-run home runs, A.J. Vukovich and Deyvison De Los Santos both had four-hit games and Jordan Lawlar scored four runs. Scott Randall was brilliant over six scoreless innings, in the 13-2 rout of Everett. Hillsboro has tied their longest winning streak of the season at four, outscoring the AquaSox 34-13 during the stretch.
Caleb Roberts got the Hops on the board in the first inning yet again, the eighth time in the last nine games that they have scored in the first frame. Roberts' two-run home run was his fifth long ball of the year, while picking up RBIs 38 and 39.
The Hops scored again in the third inning, as Deyvison De Los Santos picked up his first of four hits, an RBI double to make it 3-0.
Hillsboro broke the game open in the fifth, putting together five straight hits, three of which were for extra-bases. Lawlar and De Los Santos singled, Vukovich and Patino each hit RBI doubles and then Neyfy Castillo went deep to dead center field, giving the Hops a 7-0 lead.
Four more runs were scored in the sixth inning, on four hits and two walks. Ryan Bliss hit his second home run of the series, the third two-run homer of the game for the Hops. Hillsboro was up 11-0 after six.
Everett starter, Juan Mercedes, lasted 4.1 innings, allowing eight hits and four earned runs. Kelvin Nunez, who was making his NWL debut out of the bullpen, was tagged for seven hits and seven runs over 1.1 innings. Hillsboro starter, Scott Randall, stuck out six in six innings without allowing a run or walk.
The AquaSox tallied a run in the seventh and eighth, but the star of the late innings was Trent Tingelstad. Tingelstad, a 24-year-old outfielder who was born in Everett, came on to pitch the ninth inning against the top of the Hops' order. Tingelstad retired the side one-two-three, in his professional pitching debut, topping out at 59 MPH. Tingelstad was the only Everett "pitcher" in the game to not allow a base runner.
Hillsboro was 8-for-13 with runners in scoring position, with all nine starters hitting safely in the game. Eight-of-nine scored a run and five had multi-hit games (Lawlar, De Los Santos, Vukovich, Castillo and Ortiz).
Hillsboro (44-55) and Everett (48-52) will play the series finale at Funko Field on Sunday. First pitch at 4:05, with the pre-game show starting at 3:50 on Rip City Radio 620.