"Holy Cow Me-How": Barons Walk Off
Michalczewski's walk-off double caps furious ninth-inning rally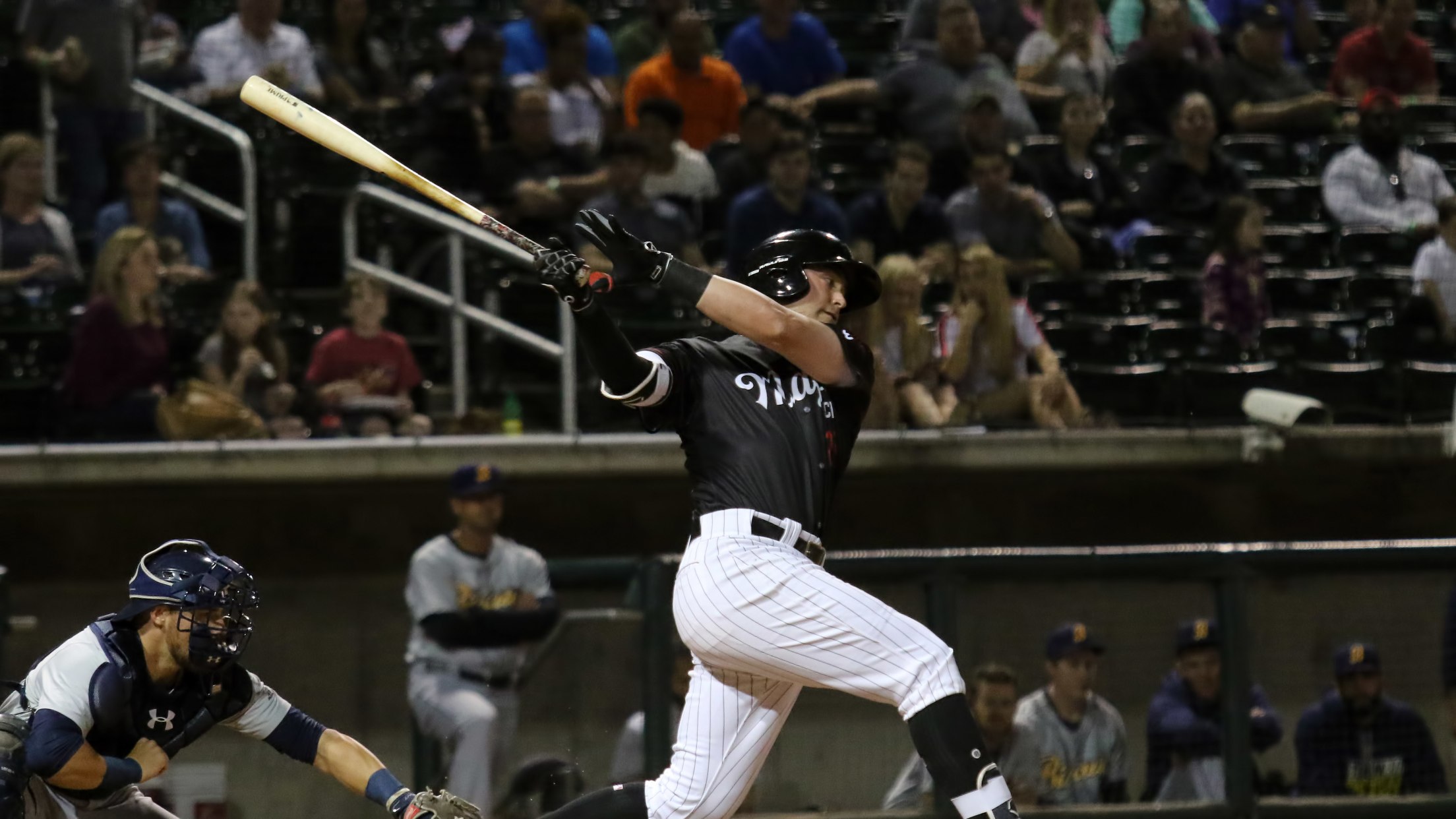 Trey Michalczewski drove in three runs in Birmingham's win on Friday night. (Michael Wade)
After falling behind early, the Birmingham Barons (19-21) clawed all the way back to complete an improbable comeback and get the 12-11 win over the Montgomery Biscuits (16-24) Thursday night at Regions Field. Moment That Mattered: In the bottom of the ninth inning down 11-9, Trey Michalczewski hit a three-RBI double to
After falling behind early, the Birmingham Barons (19-21) clawed all the way back to complete an improbable comeback and get the 12-11 win over the Montgomery Biscuits (16-24) Thursday night at Regions Field.

Moment That Mattered:

In the bottom of the ninth inning down 11-9, Trey Michalczewski hit a three-RBI double to give the Barons the come-from-behind win by a score of 12-11.

They said it:

"Wow," Michalczewski said when asked how he felt about the walk-off win. "I didn't try to alter my swing; I just took a pitch I liked and drove it to the left side, thankfully giving us the win."

Facts and Figures:

Rough pitching performances from both teams allowed both sides to combine for 23 runs in the contest. Starting in the second inning, the Barons saw a one-run game turned into a growing deficit

; the Barons fought back to overcome their early inning struggles, thus sealing an incredible win.

Quotable:

"I got the hit and saw Rose cross the plate and the next thing I knew I was swarmed by black jerseys. It was awesome and something I will not forget," Michalczewski said.

Turning Points:

In the bottom of the second inning the Barons bats came alive with a two RBI single byJohnny Giavotella in his first home at bat as a Baron. Danny Mendick also drove in a run on an RBI double, followed by a balk, which scored Matt Rose from third. The Barons took the lead in the inning 5-4 when Zack Collins collected his 17th RBI of the season. In the bottom of the seventh inning Barons center fielderRyan Brett hit his second home run of the season to cut the Biscuits lead to 10-7. In the bottom of the ninth with no outs Eloy Jiménez was able to record a sac fly collecting his 28th RBI of the year and cutting the Biscuits lead to 11-9.
By the Numbers:

In his first career start at Regions Field Barons' starter Matt Tomshaw (L, 0-2) lasted 5.0 innings, allowed seven earned runs, gave up ten hits, and struck out only two batters. Michalczewski's walk-off was the second for the Barons this season.

Up Next:

The Barons and the Biscuits will play game two of the series on Friday night at Regions Field. Right-hander Dane Dunning (2-0, 2.78) will get the start for the Barons, while Zach Lee (5-1, 2.06) gets the nod for the Biscuits. Curt Bloom will have the call on 960 WERC News Radio and the iHeart Radio app.