Honey Butter Chicken Biscuits Roll Wednesday Night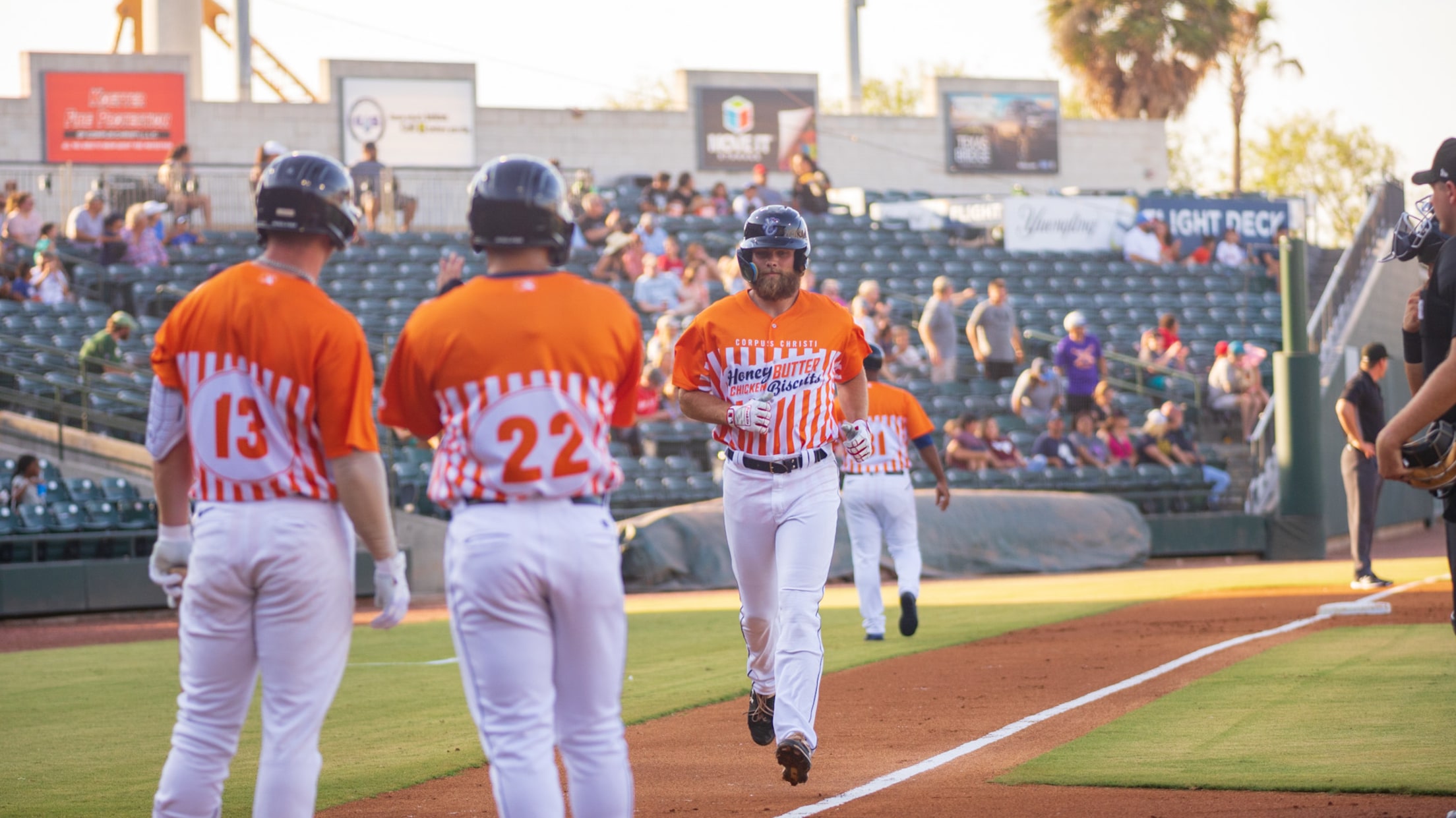 (Ben Zaragosa)
Box Score CORPUS CHRISTI – Justin Dirden went 3-for-5 with a double, home run and four RBIs as the Hooks, playing as the Honey Butter Chicken Biscuits, earned a 10-3 victory over Northwest Arkansas Wednesday night at Whataburger Field. Following its 8-3 win Tuesday, Corpus Christi notched 13 hits, with
CORPUS CHRISTI – Justin Dirden went 3-for-5 with a double, home run and four RBIs as the Hooks, playing as the Honey Butter Chicken Biscuits, earned a 10-3 victory over Northwest Arkansas Wednesday night at Whataburger Field.
Following its 8-3 win Tuesday, Corpus Christi notched 13 hits, with six going for extra bases. Each man in the Hooks lineup recorded a knock, with Dirden, Wilyer Abreu and Shay Whitcomb recording multi-hit games.
Abreu doubled twice and his drive in the sixth, as part of a five-run frame, nearly cleared the fence in left-center for a grand slam.
Dirden, who his hit his 14th home run of the year in the first, has seven hits in his last 14 at-bats. The production includes four two-baggers, a triple and one home run.
Also going deep Wednesday was Joe Perez, who gave the Hooks a 5-3 lead with a solo blast in the fifth. Perez went 3-for-4 Tuesday in his first Texas League action since May 30.
Cody Deason picked up his first Double-A win, spreading thee runs over five innings. Chandler Casey blanked the Naturals in the sixth, seventh and eighth while Jonathan Sprinkle turned in a 1-2-3 ninth.
The Hooks hunt for a third consecutive win Thursday night with Jaime Melendez on the hill. First pitch 6:35.