Hooks Play Long Ball to Take Opener in SA
Valdez pens first multi-homer game at Double-A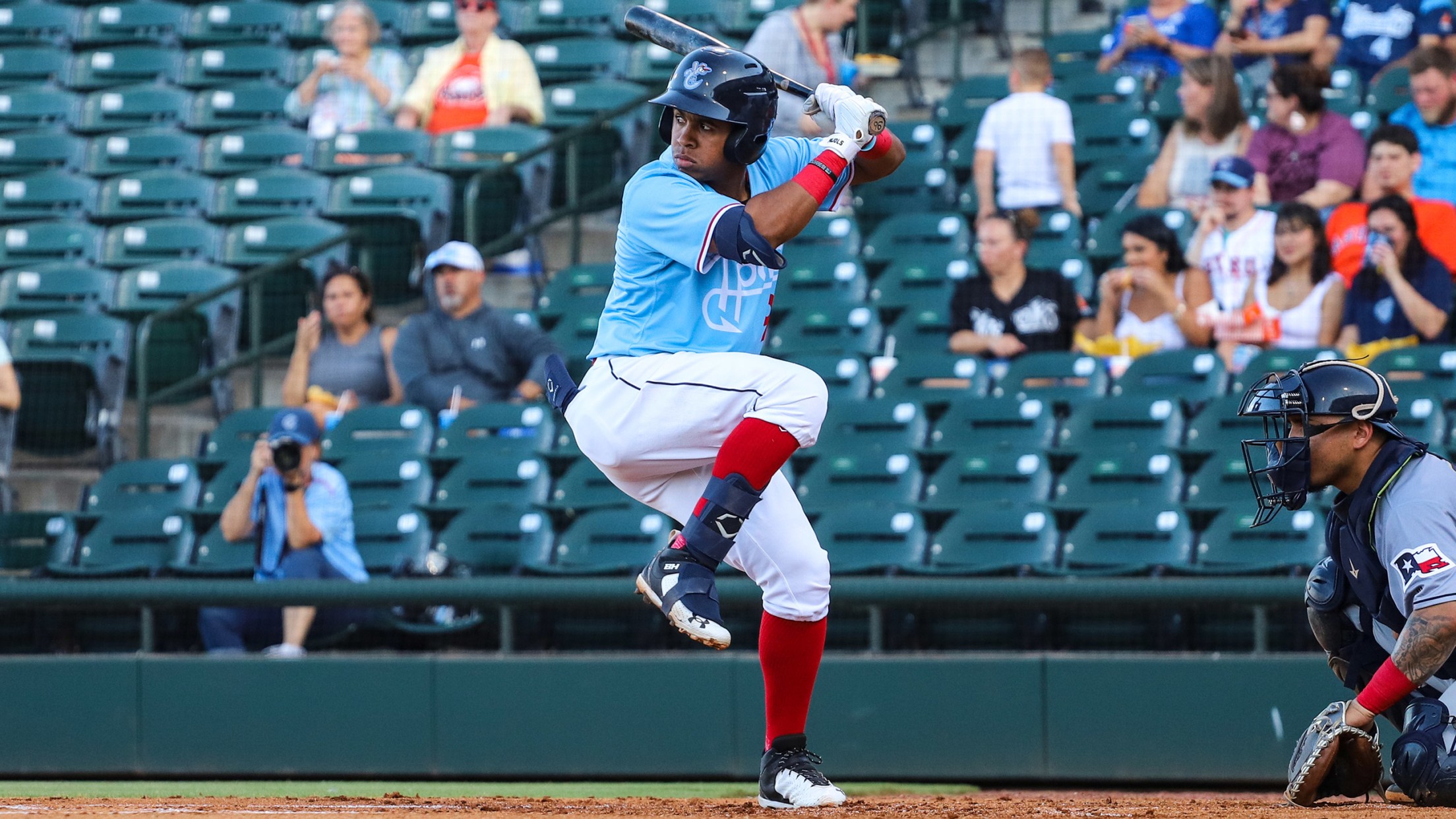 (Daniel Reiner)
SAN ANTONIO – Corpus Christi clubbed four home runs Tuesday night, including a pair by Enmanuel Valdez, to beat the Missions, 9-4, before 4,561 fans in the series opener at Wolff Stadium. The slugging Hooks were also backed by a strong performance by R.J. Freure, who hurled five frames of
SAN ANTONIO – Corpus Christi clubbed four home runs Tuesday night, including a pair by Enmanuel Valdez, to beat the Missions, 9-4, before 4,561 fans in the series opener at Wolff Stadium.
The slugging Hooks were also backed by a strong performance by R.J. Freure, who hurled five frames of one-run ball to earn his first Double-A win.
Valdez pulled the first pitch he saw from Carlos Belen for a two-run dinger over the wall in right, giving CC a 2-1 advantage in the second.
The Hooks made it 5-1 in the fifth by sending eight men to bat for three runs against Brandon Komar. Cesar Salazar ignited the rally with a lead-off home run to right field, his eighth in 29 games for Corpus Christi.
The Missions made it a one-run game in the sixth by plating three against Jimmy Endersby. San Antonio tallied four walks and one hit – an RBI single by Kyle Overstreet – in the inning.
Joe Perez restored order in the seventh, launching an opposite-field home run to right off Sam McWilliams. The two-run salvo was the 18th home run of the year for Perez.
With the visitors ahead 7-4, Valdez salted the triumph with a two-out, two-run clout that cleared the scoreboard in right field.
The 22-year-old from San Juan, DR, leads the Astros system with 26 home runs and 88 RBIs.
Layne Henderson turned in 2 1/3 innings of scoreless relief while Devin Conn blanked the Missions in the eighth and ninth to notch his fourth save.
The Hooks aim for their third consecutive win Wednesday night with Brandon Lawson on the hill. First pitch 7:05.