Hooks Undone by Big Innings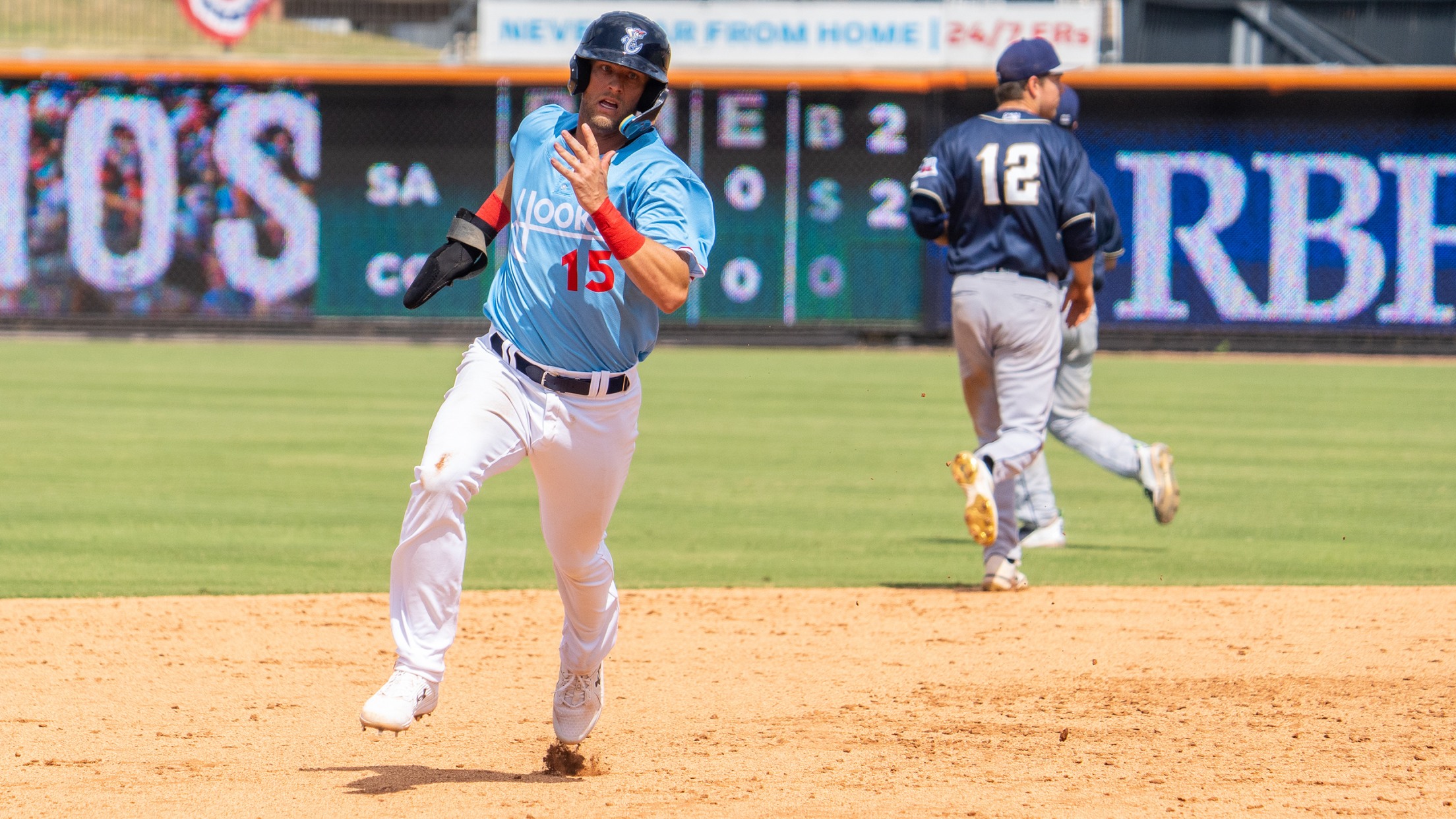 Grae Kessinger's first pro triple cleared the bases with two out in the ninth inning Thursday night. (Marcus Sarate)
MIDLAND - The RockHounds fashioned four spots in the fourth and fifth innings Thursday night, upending the Hooks, 10-5, before 3,483 fans at Momentum Bank Ballpark. Midland expanded on its 1-0 advantage in the fourth by sending eight men to the plate. Jeremy Eierman snapped an 0-for-24 spell by hitting
MIDLAND - The RockHounds fashioned four spots in the fourth and fifth innings Thursday night, upending the Hooks, 10-5, before 3,483 fans at Momentum Bank Ballpark.
Midland expanded on its 1-0 advantage in the fourth by sending eight men to the plate. Jeremy Eierman snapped an 0-for-24 spell by hitting a two-run home run over the left-field bullpen against Misael Tamarez. The Hounds ultimately cashed in on two walks and a wind-aided, pop-fly double in the frame. Following a sac fly by Max Schuemann, Chase Calabuig contributed with a two-out RBI single into right.
Hooks right-hander Layne Henderson, who recorded two outs in the fourth, was unable to finish the fifth. With the bases full, Jojanse Torres entered and then walked in a run before Shane Selman cracked a three-run double to right-center for a 9-0 lead.
Meanwhile, Jack Cushing was in command on the hill for Midland, holding the Hooks to three baserunners over the first five innings.
Corpus Christi found the scoreboard by plating a pair in the sixth, which snapped Cushing's scoreless streak at 18 innings. Grae Kessinger legged out an infield hit and Enmanuel Valdez reached via a bad-hop single. Yainer Diaz and Justin Dirden drove them in via an RBI safety and sac fly, respectively.
Kessinger belted the first triple of his career in the ninth, a shot to right-center that cleared the loaded bases to make it a 10-5 affair.
Corpus Christi seeks to level the series at 2 Friday as Adrian Chaidez makes his Double-A debut. Lefty Ty Damron is set to start for Midland. First pitch 7 PM.