Hoppers 7-run 2nd inning sinks Intimidators
Sox 3rd round pick Gonzalez triples twice to pace offense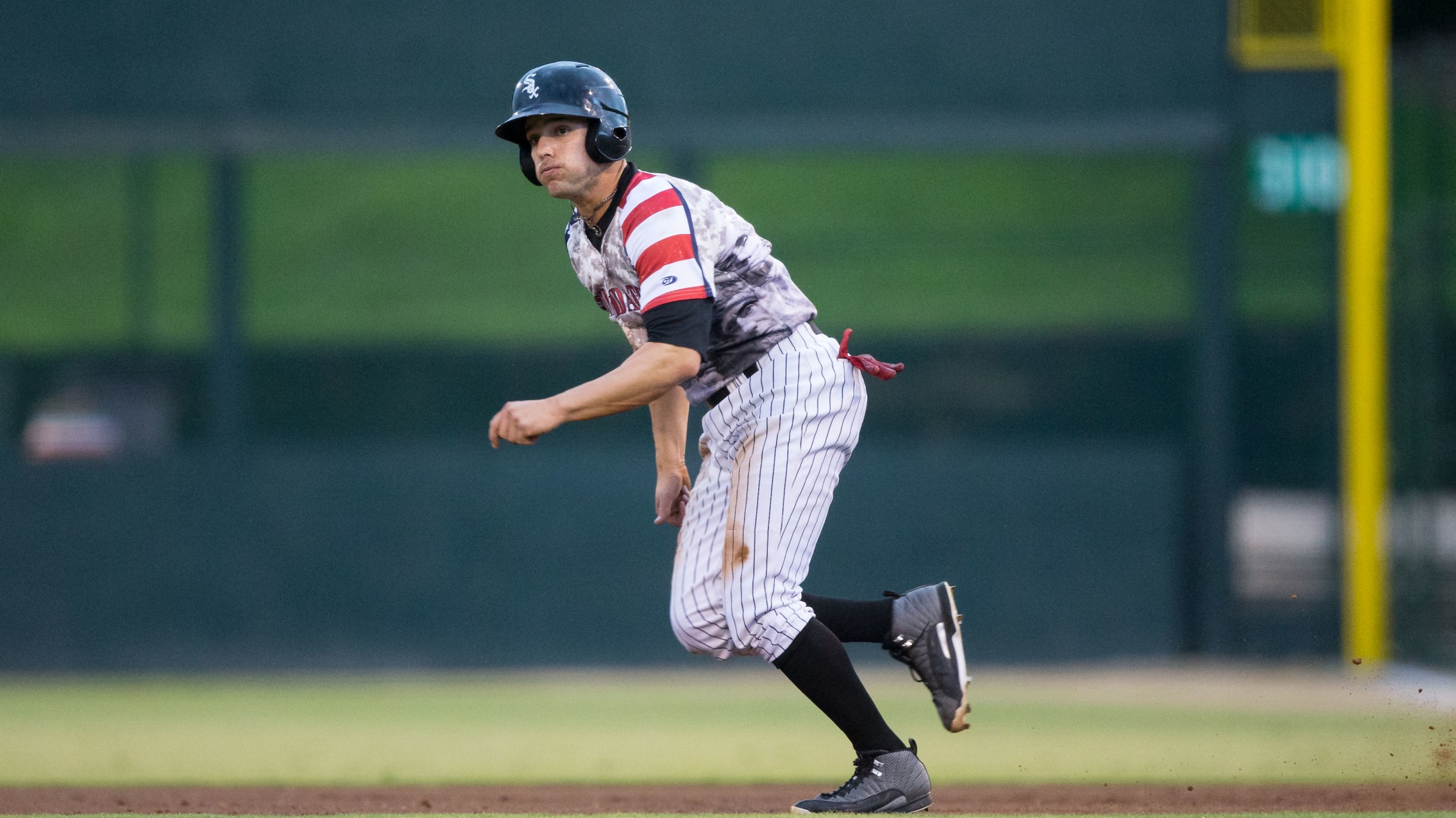 Luis Gonzalez, the White Sox third round pick from the June 2017 First-Year Player Draft, hit a pair of triples against Greensboro on August 23, 2017. (photo by Brian Westerholt/Four Seam Images)
KANNAPOLIS, N.C. (Aug. 23, 2017) - Left fielder Luis González hit two triples to tie the franchise record, but the Intimidators fell 9-3 to the Grasshoppers on Wednesday night at Intimidators Stadium supported by Carolinas HealthCare System. Kannapolis (25-34 Second Half, 64-63 overall) gave up seven runs in the second
KANNAPOLIS, N.C. (Aug. 23, 2017) - Left fielder Luis González hit two triples to tie the franchise record, but the Intimidators fell 9-3 to the Grasshoppers on Wednesday night at Intimidators Stadium supported by Carolinas HealthCare System. Kannapolis (25-34 Second Half, 64-63 overall) gave up seven runs in the second inning as Greensboro mounded a 9-0 lead and cruised to victory.
Hoppers starter Michael King (10-8) earned the win, allowing three runs (two earned) on five hits over 6.0 innings. Yosmer Solorzano (3-11) took the loss, working two outs into the second inning before being lifted from the game.
Kannapolis relievers J.B. Olson, Ben Wright, and Danny Dopico combined to work 7 and 1/3 innings, limiting Greensboro to a run on seven hits with 13 strikeouts and a walk to stifle the opposing bats the rest of the way.
For the second straight night, Greensboro scored the game's first run in the top of the first inning. Solorzano plunked Aaron Knapp, and the Hoppers lead off man stole second base before scoring on a Trenton Hill 2-out base hit for a 1-0 lead.
In the second, Greensboro sent 12 to the plate. An error by Jake Burger opened the door for six unearned runs, capped by Jarett Rindfleisch's 3-run home run (6) to effectively end the night for Solorzano.
Gonzalez helped the Intimidators get on the board in the fourth inning, hitting a leadoff triple and scoring on an Alex Call RBI-groundout. Gonzalez led off the sixth with his second triple, and Call cashed him in again with a double. Burger grounded out to cash Call to pull the Intimidators within six, 9-3.
The two triples by Luis Gonzalez matches the most by an Intimidators hitter, last accomplished on May 3 when Antonio Rodriguez had a pair of triples against Augusta. The South Atlantic League record for triples in a game is three, set by Spartanburg's George Bell on Aug. 10, 1979.
Kannapolis wrap up this 3-game series on Thursday at 7:05 p.m. with the final Bark in the Park and Thirsty Thursday of the season. Fans are invited to bring their dogs to the ballpark on Thursday, plus drinks will be discounted at the concessions stand and beer garden all game long. Kannapolis sends RH Yosmer Solorzano (3-10, 6.22 ERA) to the mound on Thursday against Greensboro's RHP Michael King (9-8, 3.18 ERA). This week's final home stand of the regular season also features a Stars & Stripes jersey silent auction on Friday night, and tickets are available by calling the F&M Bank Box Office at 704-932-3267, or by visiting IntimidatorsBaseball.com.