'Houma Houdini' almost conjured up two Crowns
Batting Triple Crown winner almost won for pitching too in 1948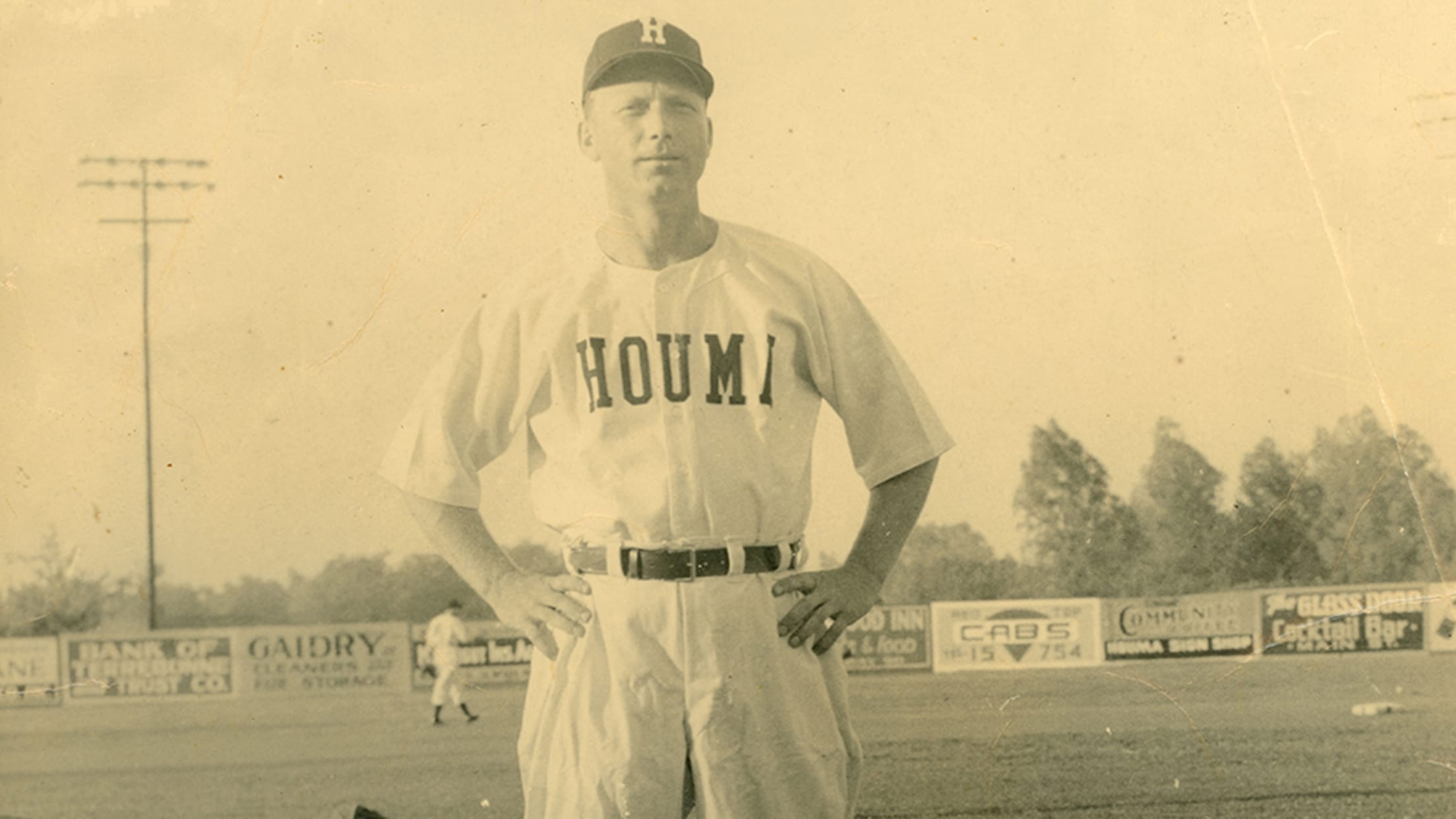 Roy "Tex" Sanner narrowly missed out on two Triple Crowns for the Houma Indians in one season. (Evangeline Baseball League Collection, Nicholls State University)
Minor League Baseball is known for its rich history, dating back more than 100 years. While much has been written about the best teams and top players who have graced the Minors, there remain many stories either untold or largely forgotten. Each week, MiLB.com will attempt to fill that gap
Minor League Baseball is known for its rich history, dating back more than 100 years. While much has been written about the best teams and top players who have graced the Minors, there remain many stories either untold or largely forgotten. Each week, MiLB.com will attempt to fill that gap and explore these historical oddities in our "Cracked Bats" feature.
The story of "The Houma Houdini" is one even ardent baseball fans aren't familiar with. Yet the tale of what Roy "Tex" Sanner accomplished in 1948 rivals any in the annals of Minor League history.
Sanner, a quiet Kansas native who toiled and often starred in the Minor Leagues for nearly two decades, made magic that summer in the Evangeline League, turning the Class D circuit into his own personal playground. The 28-year-old outfielder and pitcher won the league's Triple Crown in 1948 while playing for Houma (La.). He batted .386 with 34 homers and 126 RBIs while his 31-game hitting streak was the best the Evangeline League saw in its 21-year existence.
Though those feats are impressive, there were five other Triple Crown winners in the Minor Leagues in 1948 and Sanner's numbers were bettered by four of those players. What set him apart and made his season so extraordinary was the fact he nearly won the pitching Triple Crown that year as well, going 21-2 in 23 games with a 2.58 ERA and 251 strikeouts. Sanner missed out on the dual Crown by one win, eight strikeouts and a little more than two-tenths of a point (0.21) on his ERA.
"It wasn't the [caliber of play in] the league, he was that good," said Sanner's son, Roy Sanner Jr. "He was really good. He was a heck of a pitcher and they had a hard time figuring out where to play him because he was a good pitcher and a heavy hitter. They kept moving him from the outfield to pitching.
"The pitching would hurt his hitting and vice versa. But he was a heck of a player and he set a few records. As far as I know, no one broke those records."
So why have so few people ever heard of Sanner or what he did in 1948? He posted solid to outstanding numbers at almost every stop he made during a 17-year Minor League career. Part of the reason why his legacy remains shrouded in such anonymity was the fact he never reached the Major Leagues despite being under contract with the Brooklyn Dodgers for much of his career.
Aside from speaking with his son, the only substantive source of information on Sanner that could be found during exhaustive research came from an article that appeared in Nine: A Journal of Baseball History and Culture in 1993. The piece detailed his life as a Kansas farm boy who moved to Arkansas just before his teen years and developed into a strapping 6-foot-2, 200-pounder who fell in love with baseball.
Sanner's exploits in semi-pro and church leagues drew rave reviews in the Deep South and caught the attention of a Brooklyn scout who signed the youngster in 1941, shortly before America entered World War II. Sanner, who was 4-F because of an enlarged heart and therefore was not eligible to enlist, was sent to Topeka of the Class C Western Association in 1942 and proceeded to lead the league in victories (20) and strikeouts (204).
His effort earned him an invitation to Major League Spring Training the following season, with the Dodgers feeling he could contribute in The Show. But that's where the story gets a bit muddled. According to Paul Leslie, the author of the article in Nine, Sanner exhibited some quirky behavior and behaved more like a bumpkin than a ballplayer when he arrived at training camp in Bear Mountain State Park, some 30 miles north of New York City.
Sanner, according to the story, was not used to city life and didn't seem inclined to change his approach, so the Dodgers sent him back to the Minors. But Sanner's son didn't mention his father's aversion to city life. He simply admitted his father told some tall tales and seemed to place most of the responsibility on the Brooklyn front office.
"The problem with dad is that he would have played the game for nothing," Sanner Jr. said. "He never had an agent or anything like that, so that hurt him, especially with the Dodgers. They held his contract for several years and they had a falling out, him and [manager] Leo Durocher.
"I don't really know what happened. Dad didn't talk about it a whole lot. It was a big mystery. But he got into it with someone and that basically destroyed his career. Dad would tell tales from time to time and he told me he got into a fistfight with Durocher and that's what basically ended his career."
So Sanner set out on a journey that took him to places like Cheyenne, New Orleans, Montreal, and yes, Houma, over the next 17 years. And it was in Houma that his legend was born. He hit .292 with 17 homers and 74 RBIs in 384 at-bats in 1947 and went 7-2 with a 2.65 ERA, according to the 1947 Baseball Guide and Record Book, setting the stage for his monumental 1948 season.
Sanner's exploits on the mound and at the plate quickly gained attention in the South. He lost his second start of the season and didn't lose another game until August. He completed 22 of the 23 games he started and allowed only 144 hits in 199 innings. According to Leslie, Sanner generally took five days off in between starts. On one occasion he took 10 days off, sometimes not pitching in part because he suffered from migraine headaches.
But when he pitched, there were few that were better.
"He had a heck of a fastball and an awesome knuckleball," Sanner Jr. said. "The knuckleball slowed his fastball down because he loved to throw it. It just fell off the table. And they didn't have anyone clocking his fastball back then, but it would jump up at you when it came in. He was throwing it pretty doggone fast."
Sanner was no less impressive at the plate, winning the Triple Crown in 492 at-bats. He also led the league in doubles (35) and total bases (329) while walking only 19 times, according to The Baseball Guide. He batted .408 with 26 RBIs during his hitting streak, breaking the record of 30 consecutive games set earlier that season by Thibodaux's Gus Ploger.
Through the end of July, he was leading the circuit with a .402 average and tied for the league lead with 17 victories. But August proved to be a turbulent month for Sanner, who may have begun to feel the pressure of his big season. His hitting suffered, if you can call batting .333 for the month suffering. But there was a noticeable difference after his average had hovered just over the .400 mark for much of the season.
While Leslie attributes part of the slump to the pressure, he went into detail about how several teams in the Texas League were taking notice of Sanner and entering into a bidding war to gain his services. Eventually Dallas offered Houma $10,000 for Sanner and the team's star player -- as was custom in the Evangeline League -- asked for $3,000 of the purchase price.
The two sides feuded over what was reported to be a $2,000 compromise, one which Houma apparently never paid out. So Sanner quit the team at the end of August, costing himself a chance to win the league's pitching Triple Crown. According to Leslie, he went home to Arkansas and eventually pitched for Dallas, a fact supported by a game story in the Sept. 13 edition of The San Antonio Express.The Sporting News reported in its Sept. 8, 1948 edition that Sanner returned to Houma after spending three days away from the club.
Either way, he was through with Houma and the Evangeline League, leaving an impression as lasting as any in the Minor Leagues.
"Was he bitter? Yes and no," Sanner Jr. said. "I think he just kind of took everything with a grain of salt. He thought he should have been in the big leagues. He used to watch the pros on television all the time and talk about how terrible they were and how good the players used to be."
No one will ever know how Sanner would have fit in with Brooklyn. Could he have been the missing piece that would have turned the Dodgers into a baseball dynasty in the late '40s and early '50s instead of the Yankees? Perhaps.
Instead, he retired in 1957, went to trade school and became what his son called "a gentleman plumber" until he passed away after suffering a heart attack in 1982.
Kevin Czerwinski is a reporter for MiLB.com.