Hounds Mount Late Charge for Win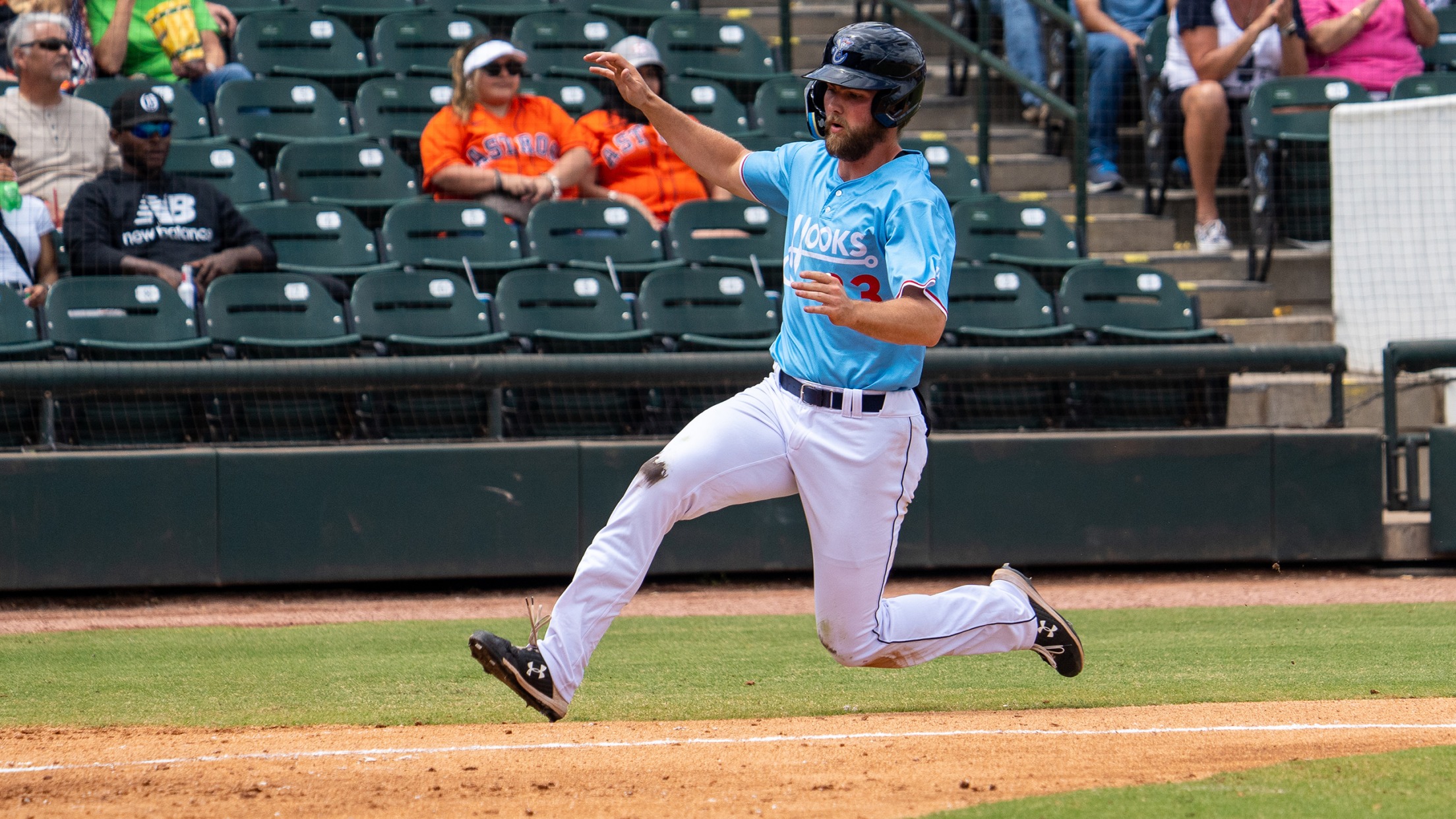 Justin Dirden, batting .459 this month, ranks second in the Texas League with 12 doubles. (Marcus Sarate)
MIDLAND - A marker in the seventh and two shutout innings from Garrett Acton made Midland's third lead stand up in a 9-5 win over the Hooks before 5,551 fans Friday night at Momentum Bank Ballpark. Corpus Christi has dropped two in a row after the clubs split the first
MIDLAND - A marker in the seventh and two shutout innings from Garrett Acton made Midland's third lead stand up in a 9-5 win over the Hooks before 5,551 fans Friday night at Momentum Bank Ballpark.
Corpus Christi has dropped two in a row after the clubs split the first two games of the series.
Justin Dirden, batting .459 this month, went 3-for-5 to pace the Hooks offensively. Dirden, who cracked a two-out RBI single in the first, recorded two doubles on the night. His 12 two-baggers on the year rank second in the Texas League.
CC starter Adrian Chaidez made 35 pitches in his first Double-A frame as the RockHounds struck for two runs to answer in the home half.
Grae Kessinger put the Hooks back in front with a mammoth two-run shot to left in the second. Kessinger, riding a six-game hitting streak, has plated five runs in his last 2 games.
Grae Kessinger clears the 15-foot wall in left for his 4th home run of 2022!

Grae with 5 RBIs over his last 2 ABs. pic.twitter.com/KcKT7McP5s

— Corpus Christi Hooks (@cchooks) May 14, 2022
Kyle McCann made it 5-3 in the third by sending his second long ball of the series over the fence in right.
Two batters later, Devin Conn entered for Chaidez and dispatched all four men he faced, bridging the gap to Jose Bravo.
The Hooks made it a one-run affair in the fifth. Luke Berryhill worked a walk from Ty Damron, went first to third on a Dirden double, and then scored via a Cesar Salazar sac fly. Dirden and Salazar collaborated again in the seventh to even the score. The formula was double and opposite-field single against Chester Pimentel.
After blanking Midland in the fifth and sixth, Bravo surrendered three singles in the seventh. McCann's two-out knock put the Hounds in front for good at 6-5. The home club then salted the contest with three in the eighth.
Angel Macuare makes the start for CC Saturday. Colin Peluse is set to take the ball for Midland. First pitch 7 PM.