Martin continues strong start for Buies Creek
Astros No. 10 prospect allows two hits over six scoreless innings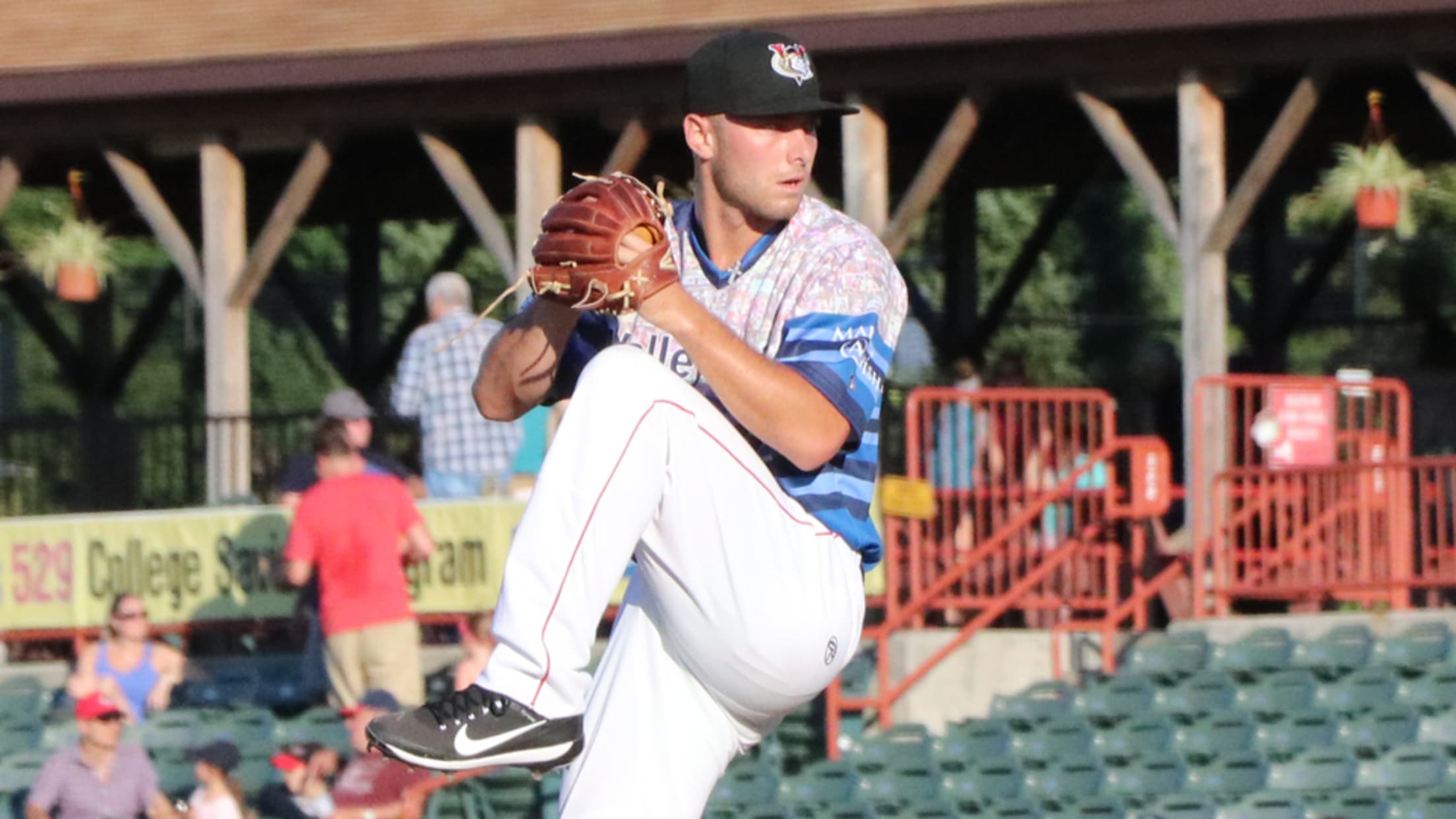 Corbin Martin attended high school in Cypress, Texas, just northwest of Houston. (Tri-City ValleyCats)
Corbin Martin is facing full-season hitters for the first time, but he's got a knowledgeable tour guide showing him the way.The Astros' No. 10 prospect allowed two hits over six innings to run his season-opening streak to 10 frames without an earned run as Class A Advanced Buies Creek finished off
Corbin Martin is facing full-season hitters for the first time, but he's got a knowledgeable tour guide showing him the way.
The Astros' No. 10 prospect allowed two hits over six innings to run his season-opening streak to 10 frames without an earned run as Class A Advanced Buies Creek finished off a series win with a 5-0 blanking of Salem on Sunday afternoon at Jim Perry Stadium.
Gameday box score
"I'm just attacking the zone," Martin said after his first win of the year. "[Catcher Chuckie Robinson] has been calling a great game for me, and trusting him, having a batterymate like that, it always helps. Even when I was walking people, I was trusting the defense behind me. We made some really good plays. The game started off with a barehand snag by our shortstop [Anibal Sierra]. Just getting a game going like that, it's very ensuring to know how good the defense is behind you and you can trust that."
Robinson earned MiLB.com Organization All-Star honors last year after batting .274/.330/.463 in 108 games and helping backstop Class A Quad Cities to a 3.63 team ERA, fifth-best in the 16-team Midwest League. Martin, selected out of Texas A&M in the second round of last year's Draft, skipped over Quad Cities to start this season with Buies Creek, where Robinson has been an asset.
"I can't even tell you if I even shook [off a sign] that game," Martin said. "It's almost like he's in the pitcher's mind and you trust him and know that if you don't make your pitch he's going to knock it down or do his best job to make it look better. Knowing that, it's a lot easier to be comfortable in throwing a pitch that he calls."
Martin didn't allow a hit until the fifth inning, although he worked around baserunners early. After plunking Jerry Downs and walking Kyri Washington leading off the second, the right-hander coaxed a double play ball from Ryan Scott and got out of the inning on Jhon Nunez's comebacker.
In the fourth, Martin walked Chris Madera and Downs with one out but fanned Washington and got Scott to bounce to second. Trenton Kemp was left at first after his one-out single in the fifth, and Martin did the same to Madera in the sixth, striking out the side around the center fielder's one-out knock to finish his day.
"I'm just trusting it and knowing that even if I'm walking people or something, I'm one pitch away from getting a double play or getting out of an inning," said Martin, who struck out six to counter three walks. "Not getting frustrated with that fact because you're always going to walk people, it's just all about moving on to the next guy."
Beyond his budding relationship with Robinson, Martin had another tool at his disposal on Sunday. It was the eighth time the teams have faced each other this season.
"It was nice because I got to watch them a couple times," Martin said. "We've played them already seven, eight times, so I guess being locked in when we're playing them [is key], watching our other pitchers' success against them, just knowing that you can make some pitches in certain situations that they're capable of swinging at. After you've faced the lineup one time through, you know what they're swinging at and what they're not swinging at, what they're going to hit. It's just being knowledgeable in that."
Martin made 10 appearances, including four starts, between the Rookie-level Gulf Coast League and Class A Short Season Tri-City last summer and put up a 2.20 ERA, .174 opponents' average, 0.89 WHIP and 43 strikeouts over 32 2/3 innings. He credited endurance during the offseason to his strong 2018 start -- he yielded an unearned run on one hit over four innings against Lynchburg on Monday.
"I'd say just getting after it in the weight room, not throwing for a little while and getting the arm some rest, getting in shape for the long season because it's going to be the longest season I've ever had by far," he said. "I think that was the biggest point. I was able to work out with a lot of guys back at A&M, which helped. I'm glad I'm in the position I am right now."
Through 10 Carolina League innings, Martin has fanned 13 while walking five and allowing three hits. And he's picking up things he can hone.
"Our pitching coach [Drew French] walks out there and he says there are some pitches I'm guiding," he said. "Knowing going back out there that I can trust myself rather than trying to force the spin on a ball, that's probably the biggest thing I took out of today."
Carlos Sierra worked the final three innings for his first save of the season, limiting the Red Sox to one hit.
Astros No. 15 prospect Ronnie Dawson went 3-for-5 out of the leadoff spot and connected on his first homer of the season, to pace Buies Creek.
Tyler Maun is a contributor to MiLB.com. Follow him on Twitter @TylerMaun.