River Bandits' Donato hurls one-hit gem
Astros prospect fans career-high 11 over seven shutout innings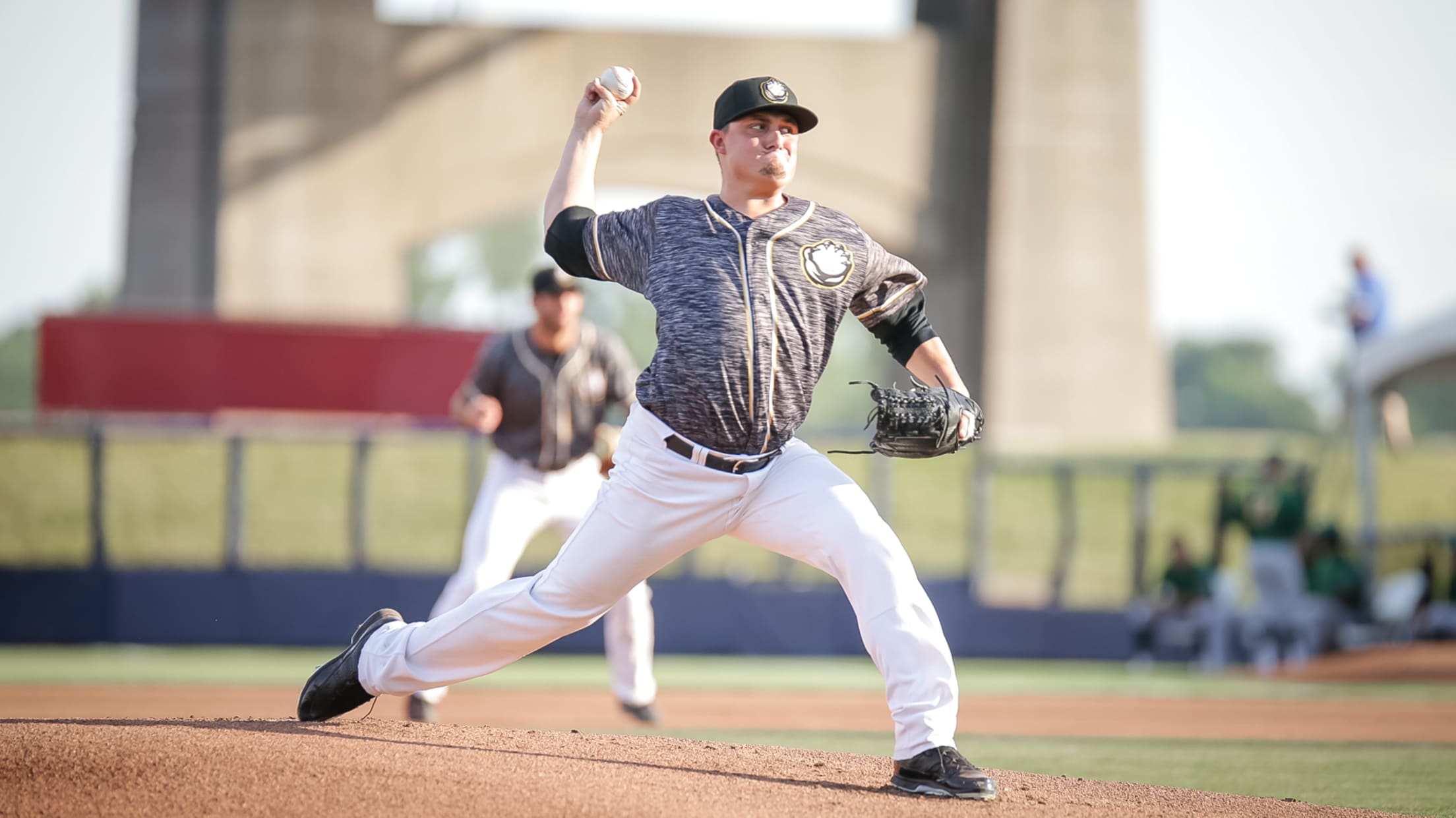 Chad Donato is 7-0 with a 1.64 ERA in 13 games, including 10 starts, across two levels. (Rich Guill/Quad Cities River Bandits)
Chad Donato's start on Sunday night looked a lot like his last one -- with one big difference.Using a newfound slider, the Astros prospect allowed one hit and recorded a career-high 11 strikeouts over seven innings, pitching Class A Quad Cities to a 1-0 blanking of Peoria at Modern Woodmen
Chad Donato's start on Sunday night looked a lot like his last one -- with one big difference.
Using a newfound slider, the Astros prospect allowed one hit and recorded a career-high 11 strikeouts over seven innings, pitching Class A Quad Cities to a 1-0 blanking of Peoria at Modern Woodmen Park.
It was the second straight scoreless start for Donato (4-0), who held Cedar Rapids to two hits over seven frames on Monday. He fanned five in that game but eclipsed his previous career best of 10 for Class A Short Season Tri-City in his second start of the season on June 20.
Unlike that outing, Donato had a new weapon in his arsenal.
"I added the slider today," he said. "I've been working on it for three or four weeks now in the bullpen. Today, everything was clicking. I could throw my fastball for strikes and be aggressive with my off-speed and put guys away."
Donato started working with the slider in Spring Training but didn't get around to developing it until the end of July. After testing it out in warmups, it seemed like the right night to let it fly.
Gameday box score
"I've been really attacking it with the throwing program and the bullpen this past three weeks," he said. "Today, I went out there and just threw it. It clicked and it was great. It was smooth and I was able to put guys away with it. It's a good pitch to add to the collection.
"When I showed up at the field today I started using it, and it was just as hard as it could be and clicking. I got in the bullpen before the game and was messing around with it and was able to throw it hard through the zone. I watched it bite and it was just clicking. I was comfortable with it and threw a couple of them and got swings and misses."
Even without the slider last time out, he gained the confidence to try new things when he took the mound on Sunday.
"I had the seven innings and a couple hits and was throwing the ball through the zone," he said. "I let my defense work. It feels good to get strikeouts like I did today, but last time the defense was sharp. Having that confidence in the back of your mind, you're not scared to give up a hit if you're missing your spots."
Donato retired the first five Chiefs before giving up his lone hit, a line drive single to center field by Wood Myers with two outs in the second. He stranded the runner by punching out Brandon Riley.
The right-hander whiffed four of the next five batters before pitching around a one-out walk to Cardinals No. 17 prospect Luken Baker in the fourth. Riley walked with one out in the fifth but was picked off before Donato got Nick Plummer swinging to end the frame.
The 23-year-old finished up with two perfect innings, striking out four of his last six batters, including Julio Rodriguez swinging on his 91st and final pitch. Donato fanned third-ranked Cardinals prospect Nolan Gorman three times.
"I learned a lot using the slider tonight, getting ahead in counts early," he said. "I was throwing a bunch of curveballs on 3-2 counts because it's one of the confident pitches I have. I wouldn't say the slider is that confident yet, but being able to throw it in counts I'm already ahead in, if I miss, I miss, but today it was working and I had good break on it."
Hansel Paulino closed the door for his first Midwest League save, allowing a hit and a walk while striking out three.
Chandler Taylor drove in the game's only run with a double in the fifth after Jonathan Lacroix and Scott Schreiber started the inning with back-to-back doubles.
Marisa Ingemi is a contributor to MiLB.com. Follow her on Twitter @Marisa_Ingemi.